Ferns on ferns
Posted: March 2, 2021
Filed under: fresh ferns, Penny Black
| Tags: Penny Black stamps, Ranger Distress inks
12 Comments
After I had added some ferns to a recent floral card I knew the PB 'fresh fern' stamp wanted to be the star of its own card. I started by making this card and just kept on playing with the fern stamp and a variety of blue and green inks.
On the card above I stamped with forest moss, chipped sapphire and lucky clover then blended inside the fronds with a fine tip paintbrush and water. I overlapped some of the ferns and added some diluted ink around the ferns once I'd filled the panel. This one is finished with a sentiment from PB 'family sentiments.'
I think this second card is my favourite; I know it is very diluted and abstract but the glimpses of fern appeal to me even more than whole fern images. I stuck with forest moss and chipped sapphire because they are always winners and added iced spruce. I stamped on partly wet watercolour paper and dabbed the stamping dry before repeating the process.
The hot pressed watercolour panel had masking fluid splattered on it before I started so that's why there are white dots here and there. I finished this one off with a stamp from the PB 'inspirational sentiments' set.
I added even more water to this next panel. As with the previous one I had masking fluid dots on the watercolour paper and worked with chipped sapphire, forest moss and stormy sky ink. After each print I painted water over the whole panel which spread some ink over the background and left some staining the paper. On the last two prints I didn't blend with a paint brush so the ferns just softened on the damp paper.
I finished this one off by stamping the sentiment from PB 'pansy gaze' in versafine clair shady lane ink. After completing this one I thought I should stop diluting everything and stay inside the lines, just to see how it looked.
Same three inks and a size 0 paintbrush were all I needed for this very clean print of the 'fresh fern. I popped a sentiment from PB 'million thanks' up over the tip of the fern and kept it all very simple.
So tell me, which one suits you? Blended and blurry or crisp and clean?
(Compensated affiliate links used when possible)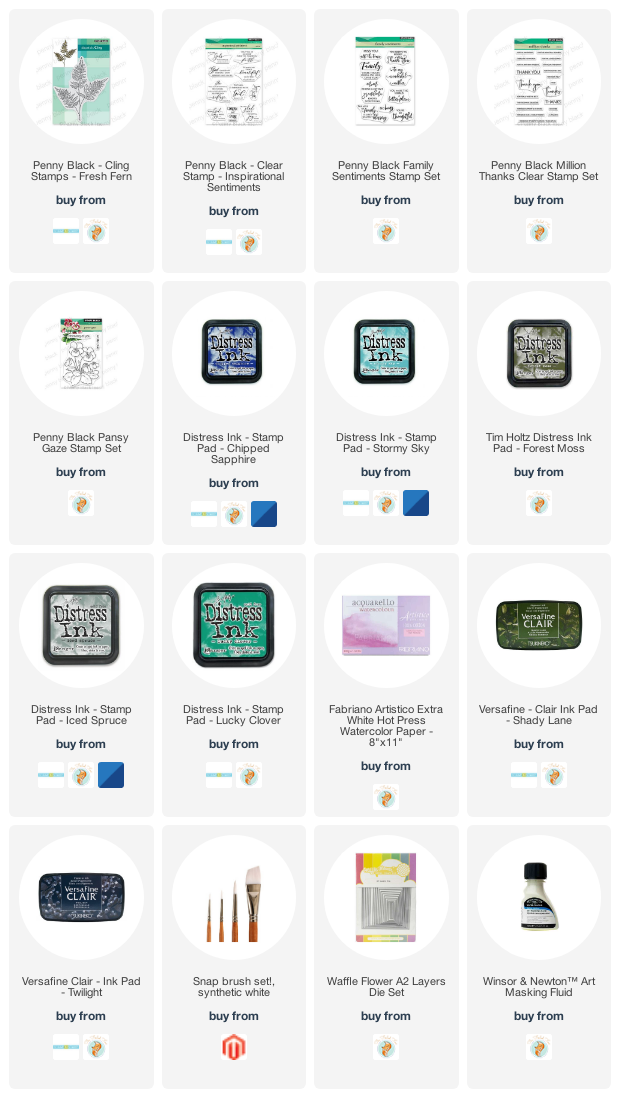 ---