2021 Bullet journal – an intro
Posted: January 23, 2021
Filed under:
Bullet Journal
| Tags: Bullet Journal, Ranger archival inks
4 Comments
New Year, new journal. I started a bullet journal/dot journal in 2018 and used it off and on for the last three years. I created some pretty spreads with coloured pens and carefully planned layouts but also some loosely organised lists and scribbled reminders. I used it for meal planning, book logging, exercise records and blog planning. I switched between different coloured pens and went through a phase of adding old magazine pics to my layouts. There were lists of cards sent and received, chore lists and notes about craft products waiting to be used in projects. I abandoned it for months at a time and came back to it with new ideas. It was handy and it gave me a chance to work out how a bullet journal could work for me.
The first journal was a Fabriano dot journal which was a great size and price; it sat flat and had pages you could easily remove (a plus and a minus). My new dot journal is a little more upmarket; it is a Dingbats notebook from the Earth collection with a hard cover, sewn binding, slightly heavier weight dotted paper, numbered pages and a few designated key and index pages at the beginning. The fact that is is my favourite colour with an embossed image symbolising the Great Barrier Reef on the front is just a bonus. It has two ribbon bookmarks and a pen holder on the side.
After learning from my first bullet journal experience I plan to use the new one as both a planner and a recorder. I already have pages ruled up to log books read in 2021. I've created a chore list to keep track of when I last cleaned this or that part of my house. My exercise log is up to date with days I've done boot camp, x-country skiing, walking or running. Those are all pages for the whole year. I've also designed and started using some January pages I will share with you next weekend. I'm hoping to post bullet journal pages on Saturday or Sunday starting today with my 2021 title page.
You know what it's like when you have a brand new notebook or journal; it can be nerve wracking to make a mark on the first page. I decided to keep it simple so I wouldn't mess it up. I sketched the numbers in pencil, went over them with a dark blue Stabilo fine 0.4 marker then used the same marker for the circles and lines. To add colour I punched circles from a post-it note and used it as a stencil to blend through with a range of archival inks. Safe and simple for my first page.
I will be trying different inks and markers through the year as I try to keep the bleed-through to a minimum. You can see some of the design through the back of the page so it will be interesting to see how other products compare.
I would love to hear if you are keep a bullet journal (BuJo), dot journal or something similar. There are thousands of inspirational designs and ideas out on the interwebs; I've spent more time than I should browsing through instagram and pinterest. If you have some hot tips or tried and true techniques please let me know. If you've never heard of bullet journaling, don't worry, I'll be back with cards on Monday!
(Compensated affiliate links used when possible)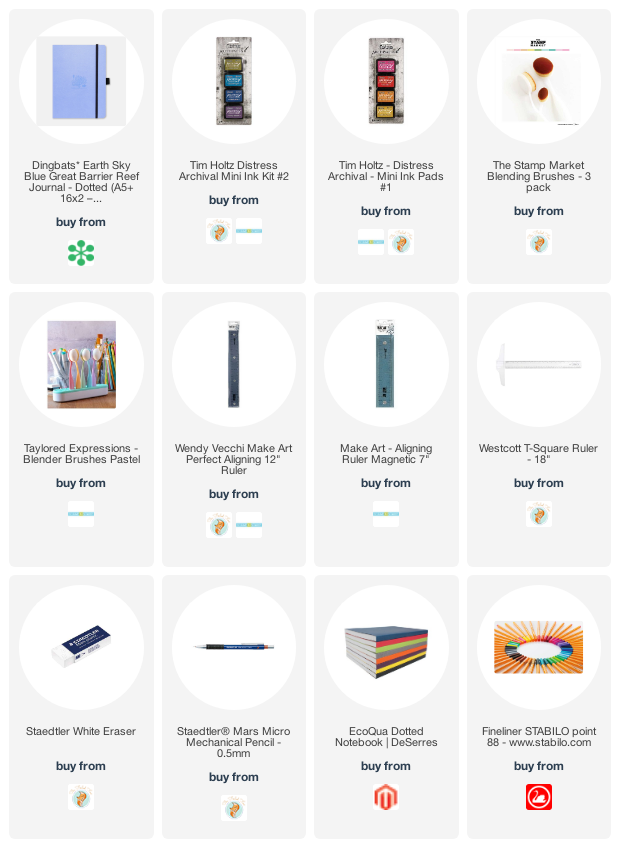 ---