Wish upon a star
Posted: January 22, 2021
Filed under: Celebrations, Dies, Penny Black, We R Memorykeepers
| Tags: Papertrey ink, Penny Black creative dies
14 Comments
Shaker cards are very very rare around here: I think I've only put one on the blog before today. I bought the nesting star dies recently on whim (I think they are discontinued but other companies make similar dies ). This card is for a little girl who turns five next week so I thought a little shimmer and shake might be fun.
I had the plan in my head with a starry sky watercolour panel for either the front of the shaker panel or the background then decided both would be best. I had pretty micro beads in six different colours so I thought it would be cool to co-ordinate the sequins, beads and inks.
Making the watercolour panels was very straightforward; I smooshed Papertrey ink cubes on the glass mat, spritzed shimmer spray (homemade water + gold pearlex powder) on the inks then swiped the panel through the ink several times until it was mostly covered. I finished the coverage using a paintbrush to add ink here and there. There was masking fluid already on the panel before I started so that added to the night sky look.
Once I started doing the 'shaker card' steps I remembered why I don't make shaker cards. For me this one had an extreme fiddliness factor! I will happily spend hours no-line watercolouring an intricate flower but taping around all the points of five stars to seal the shaker area of each one was above and beyond! But then I put the micro beads, sequins and stars in each section, attached the watercoloured background, turned it over and…happy sigh, it was as cute as I'd hoped.
I won't describe the process for making a shaker card; I think you would be better off watching a video from someone who has made more than two! I know there are many ways to build them up but my layers were: die-cut star watercolour layer, acetate layer, foam layer with star die-cuts then watercolour background layer. When I had all the layers stuck together I attached it to a square of shimmer blue cardstock and die cut the PB 'make a wish' sentiment from the same cardstock three times for stacking. I realise now I should have cut it from a brighter colour but the glue is stuck!
I'm happy with how it turned out and I love how it shakes (the micro beads move a lot while the sequins cling to the acetate) but I think it might be another five years before I make another one. How about you, do you whip up the occasional shaker card?
(Compensated affiliate links used when possible)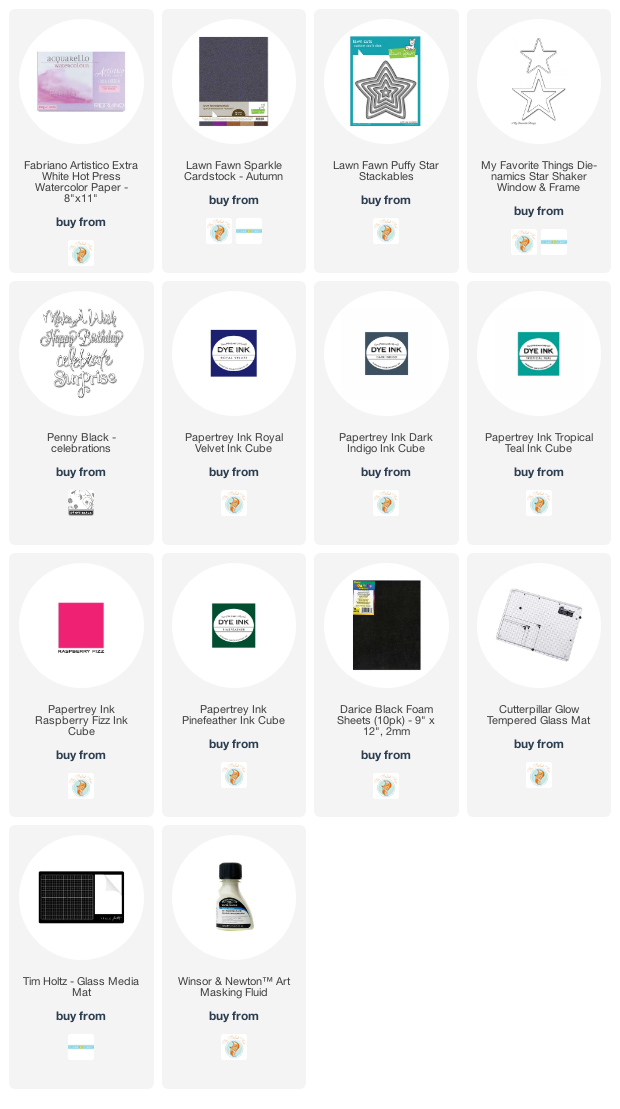 ---