Posted: January 22, 2021
Filed under: Celebrations, Dies, Penny Black, We R Memorykeepers
| Tags: Papertrey ink, Penny Black creative dies
14 Comments
Shaker cards are very very rare around here: I think I've only put one on the blog before today. I bought the nesting star dies recently on whim (I think they are discontinued but other companies make similar dies ). This card is for a little girl who turns five next week so I thought a little shimmer and shake might be fun.
I had the plan in my head with a starry sky watercolour panel for either the front of the shaker panel or the background then decided both would be best. I had pretty micro beads in six different colours so I thought it would be cool to co-ordinate the sequins, beads and inks.
Making the watercolour panels was very straightforward; I smooshed Papertrey ink cubes on the glass mat, spritzed shimmer spray (homemade water + gold pearlex powder) on the inks then swiped the panel through the ink several times until it was mostly covered. I finished the coverage using a paintbrush to add ink here and there. There was masking fluid already on the panel before I started so that added to the night sky look.
Once I started doing the 'shaker card' steps I remembered why I don't make shaker cards. For me this one had an extreme fiddliness factor! I will happily spend hours no-line watercolouring an intricate flower but taping around all the points of five stars to seal the shaker area of each one was above and beyond! But then I put the micro beads, sequins and stars in each section, attached the watercoloured background, turned it over and…happy sigh, it was as cute as I'd hoped.
I won't describe the process for making a shaker card; I think you would be better off watching a video from someone who has made more than two! I know there are many ways to build them up but my layers were: die-cut star watercolour layer, acetate layer, foam layer with star die-cuts then watercolour background layer. When I had all the layers stuck together I attached it to a square of shimmer blue cardstock and die cut the PB 'make a wish' sentiment from the same cardstock three times for stacking. I realise now I should have cut it from a brighter colour but the glue is stuck!
I'm happy with how it turned out and I love how it shakes (the micro beads move a lot while the sequins cling to the acetate) but I think it might be another five years before I make another one. How about you, do you whip up the occasional shaker card?
(Compensated affiliate links used when possible)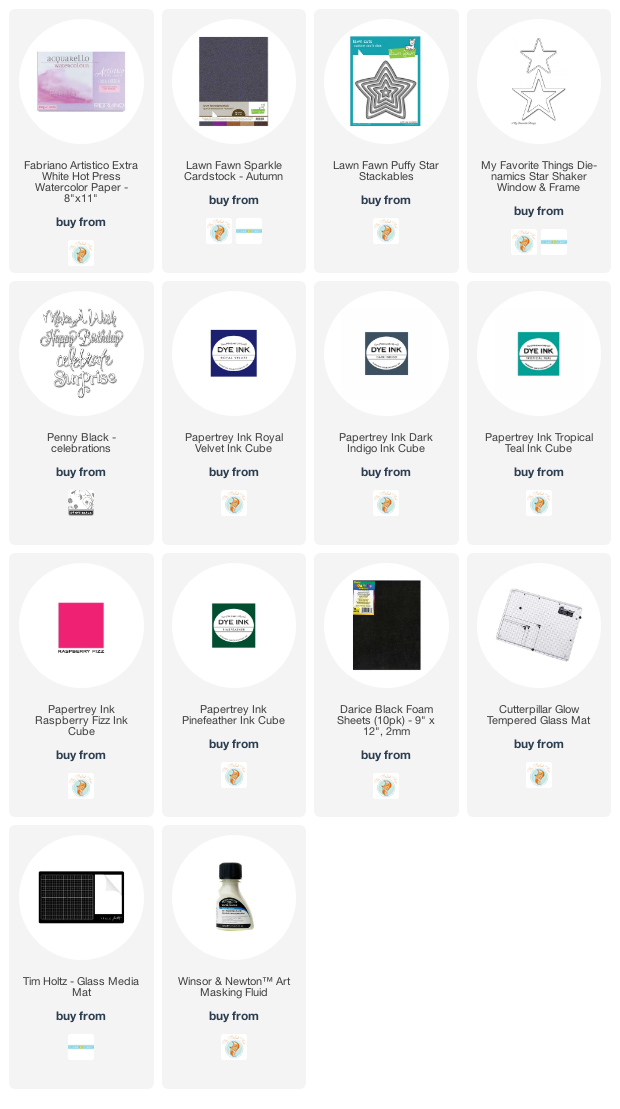 ---
Posted: November 8, 2014
Filed under: Celebrations, Dazzlers
| Tags: Penny Black creative dies, Penny Black stamps, Ranger Distress inks
5 Comments
Look! It's not all autumn leaves and snow scenes around here. I pulled out a set of  flower/circle pattern transparent stamps and gave them the watery treatment. I stamped them on watercolour paper in three different distress inks then spritzed the panel lightly and let them bleed into each other a bit. After trimming my panel I added both some ink splatter and some dark sponging around the edge with barn door ink. After heat embossing the diecut sentiment in silver I wanted a little silver on the patterned panel too so I flicked my silver wink of stella pen. It wasn't quite silvery enough so I sprinkled some embossing powder over the same area and it stuck to the wink of stella ink making it possible for me to heat it and achieve a fine sprinkle of silver. You can just see it in the top left of detail photo below.
Stamps:  Dazzlers (PB)
Creative Dies: Celebrations (PB)
Inks:  Fired Brick, Festive Berries, Worn Lipstick distress inks (Ranger) Versamark (Imagine Crafts/Tsukineko)
Cardstock: Fabriano 100% cotton hot pressed watercolour paper, Neenah Natural white cardstock, red cardstock
Also: Silver embossing powder, Silver cord, Wink of Stella silver marker
---
Posted: May 23, 2014
Filed under: CAS, Celebrations, Twirls
8 Comments
I think navy and white can be very elegant. I was aiming for simple but elegant when I created this card. The flourish pattern from the Penny Black "Twirls" set is stamped in Chipped Sapphire distress stain (I stamped off on scrap paper first so the imprint wasn't too wet). To finish I flicked a little stain over the pattern after stamping, added a navy strip of card stock and the die cut sentiment. This design might work as a wedding card especially if you knew the colour scheme to follow.
Using navy and white reminds me of a polka dot dress when I was nine; I loved it. I wouldn't mind having a navy and white polka dot dress again. Perhaps something like this one I pinned recently:
Supplies:
Stamps: Twirls (PB)
Dies: Celebrations (PB)
Inks:  Chipped Sapphire Distress stains (Ranger)
Cardstock: Neenah Classic Crest Solar White 110lb smooth, Navy cardstock
---