Posted: October 26, 2020
Filed under: Art Journal, Christmas bush, Darkroom Door, sketched alphabet, torn text
| Tags: Art Journal, Darkroom Door stamps, Fabriano art journal
2 Comments
After making a Christmas card with the new Darkroom Door Christmas Bush stamp set I was keen to use the silhouette stamps for a different project. I decided to fill a journal page spread with them and chose a different colour scheme to do so. I think they look a bit like violets.
I taped the edges of the pages which frames the layout, keeps the pages flat and protects any pages underneath which are poking out. I painted absorbant ground over the whole area as a base before stamping and painting.
I wanted to have layers of flowers and so I tore a ripped edge on some masking paper and attached it across both pages. I used blending brushes to apply colour over the torn edge then did generational stamping in blueprint sketch, shaded lilac and peeled paint distress inks. Once the top section was completed I masked again, further down the page this time and repeated the process twice.
For highlights and details I used markers and gold paint to add details to the petals and centres to the flowers. I also used gold embossing to make a print border and title with the Darkroom Door 'torn text' and 'sketched alphabet' stamps. The Christmas Bush stamps proved to be very versatile as I thought they would when I first saw them.
Supplies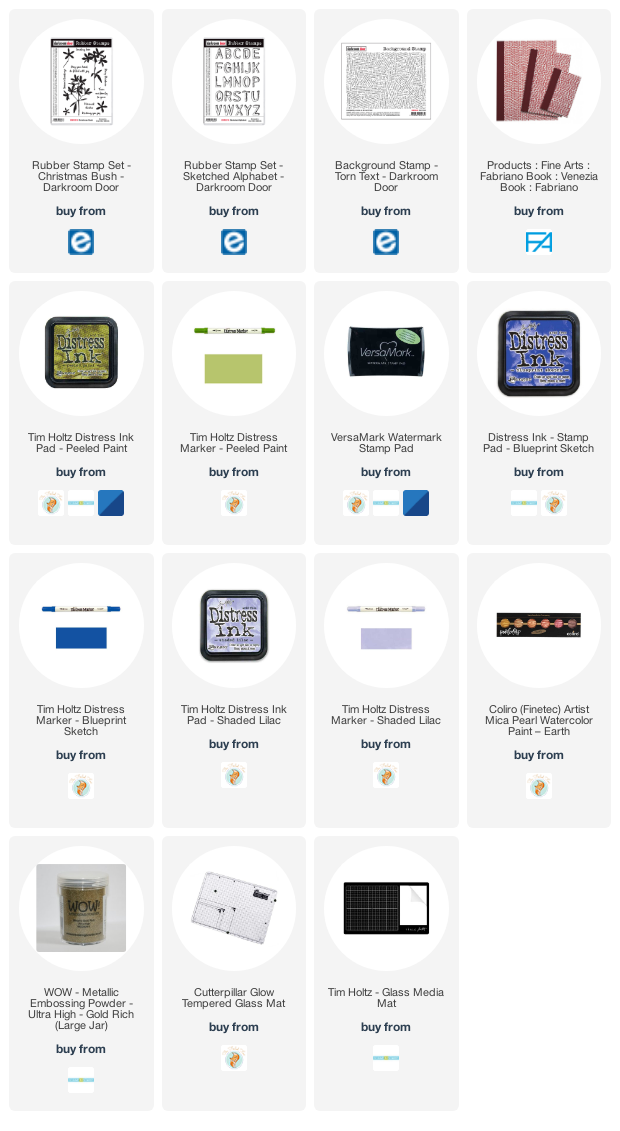 ---
Posted: October 9, 2020
Filed under: Darkroom Door, fine leaves, sketched alphabet
| Tags: Darkroom Door stamps, Ranger Distress inks, Ranger Distress stains
3 Comments
I paired the new DD 'sketched alphabet' with leaves again, this time from the set 'fine leaves' which have a hand drawn sketch style of their own.
I had left over ink on my glass mat the other day after creating a dramatic sky in greys and blues. Rather than waste the ink I swiped a piece of watercolour paper through it picking up as much as possible and spritzing with water to move the ink around. The watercolour panel already had masking fluid splattered over it hence the white dots over the finished design.
I stamped the letters first in hickory smoke archival ink then covered a couple with masks I made for a previous card before stamping leaves from the fine leaves set in iced spruce and stormy sky. I filled most of the panel with leaves and painted them with both ink colours. I added some ink splatter and then coloured the letters with a blue watercolour marker to help them stand out a bit more. I stamped one of the sentiments from the DD 'baby sentiment set' to complete the card. I think this one could have several uses, maybe retirement, new house, new job or the like.
Supplies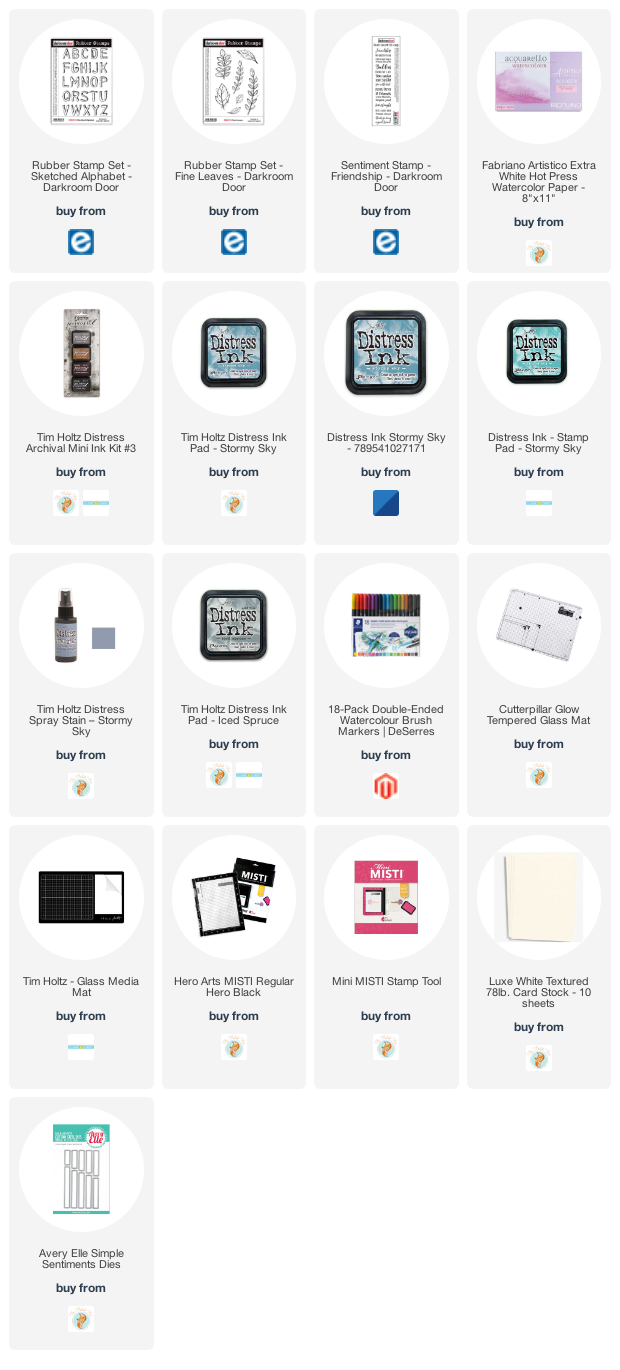 ---
Posted: September 28, 2020
Filed under: Darkroom Door, Leaves, sketched alphabet
| Tags: Darkroom Door stamps, Ranger Distress inks, Ranger Distress stains
5 Comments
I've been creating with Darkroom Door products over the weekend including the new 'sketched alphabet' set. I thought the sketched letters looked a bit like pieces of wood which set me thinking about branches and leaves, which made me think of the eucalyptus leaves in the DD ' leaves' set which made me want to have the letters hidden among some leaves, which led to this card.
I can tell you it wasn't a quick card to make. A fair amount of time was taken working out how I would make the concept work. On the back of this panel there is an unfinished attempt which helped me simplify my concept a bit. I stamped all the letters I was using on masking paper and cut them out. Then I stuck them out on the watercolour panel to get the spacing right. I removed a few of the masks and stamped some leaves in faded jeans and peeled paint distress inks, just a few which would appear to be in front of the letters. I stamped the leaves then, masked them and stamped and embossed the letters with versafine vintage sepia. Once the letters were embossed it wasn't too hard to paint around them with bundled sage and stormy sky distress stains.
Once the background was dry I masked all the letters and leaves and stamped more leaves to fill the panel. I painted all the leaves in peeled paint, faded jeans and forest moss distress inks then added some splatter. After I removed the letter masks I decided to colour them in with a brown marker to make them stand out more. I blended some faded jeans around the edges of the panel to frame the design.
I was just about finished by this point but thought some gold splatter would be nice, which it was, but that led to gold edges on one side of all the letters. There were a couple more steps in there somewhere but you get the idea and I think I would be able to do it faster a second time!
Supplies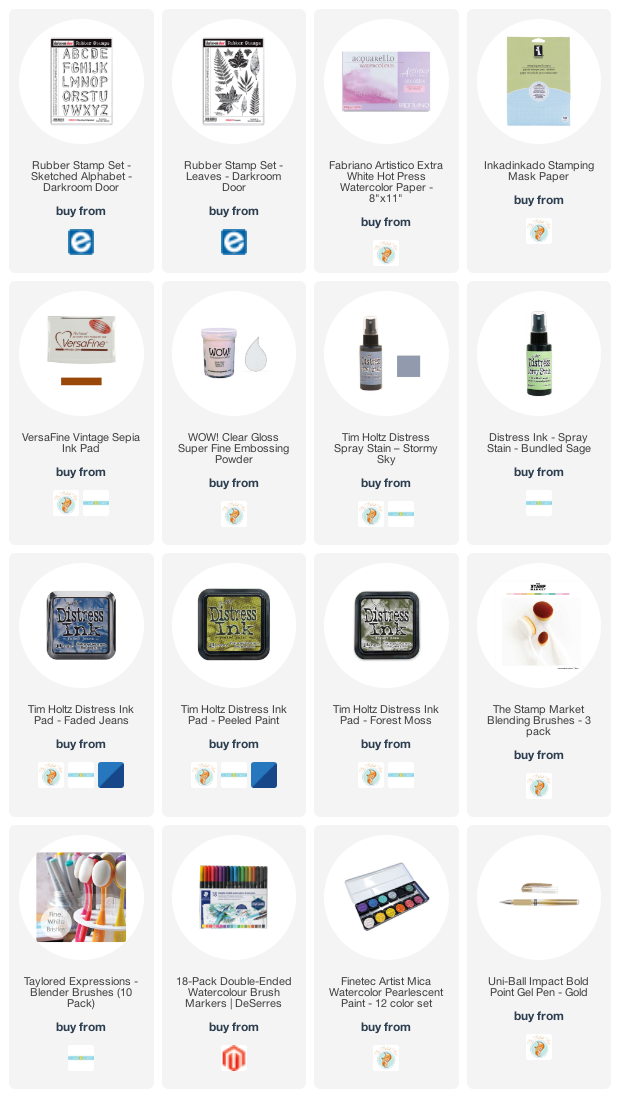 ---