Rustic Birthday
Posted: September 28, 2020
Filed under: Darkroom Door, Leaves, sketched alphabet
| Tags: Darkroom Door stamps, Ranger Distress inks, Ranger Distress stains
5 Comments
I've been creating with Darkroom Door products over the weekend including the new 'sketched alphabet' set. I thought the sketched letters looked a bit like pieces of wood which set me thinking about branches and leaves, which made me think of the eucalyptus leaves in the DD ' leaves' set which made me want to have the letters hidden among some leaves, which led to this card.
I can tell you it wasn't a quick card to make. A fair amount of time was taken working out how I would make the concept work. On the back of this panel there is an unfinished attempt which helped me simplify my concept a bit. I stamped all the letters I was using on masking paper and cut them out. Then I stuck them out on the watercolour panel to get the spacing right. I removed a few of the masks and stamped some leaves in faded jeans and peeled paint distress inks, just a few which would appear to be in front of the letters. I stamped the leaves then, masked them and stamped and embossed the letters with versafine vintage sepia. Once the letters were embossed it wasn't too hard to paint around them with bundled sage and stormy sky distress stains.
Once the background was dry I masked all the letters and leaves and stamped more leaves to fill the panel. I painted all the leaves in peeled paint, faded jeans and forest moss distress inks then added some splatter. After I removed the letter masks I decided to colour them in with a brown marker to make them stand out more. I blended some faded jeans around the edges of the panel to frame the design.
I was just about finished by this point but thought some gold splatter would be nice, which it was, but that led to gold edges on one side of all the letters. There were a couple more steps in there somewhere but you get the idea and I think I would be able to do it faster a second time!
Supplies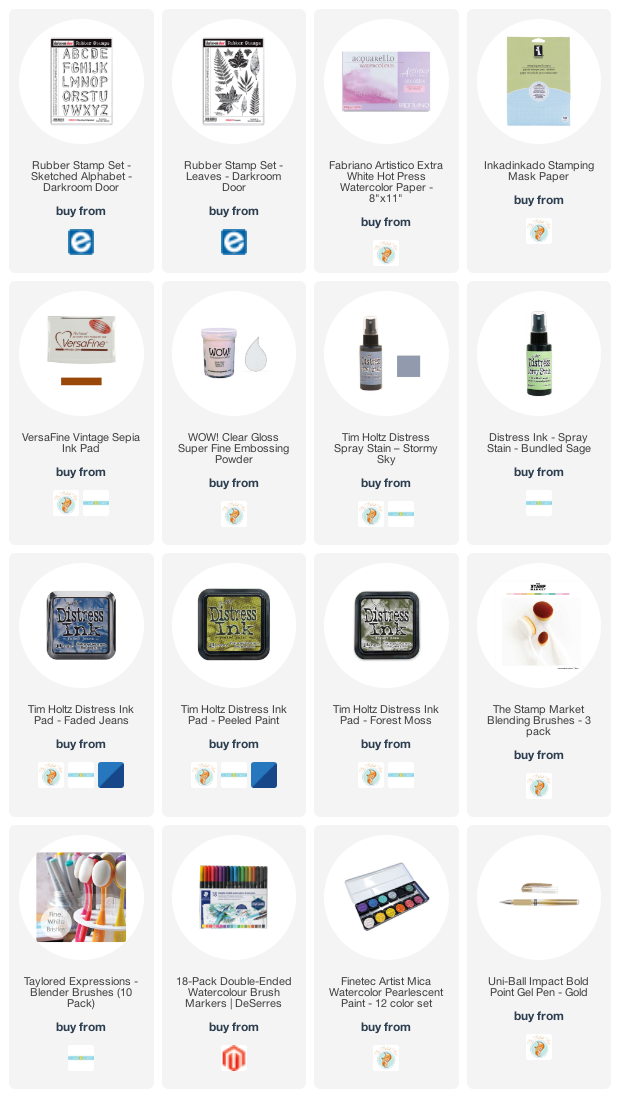 ---