Posted: October 9, 2020
Filed under: Darkroom Door, fine leaves, sketched alphabet
| Tags: Darkroom Door stamps, Ranger Distress inks, Ranger Distress stains
3 Comments
I paired the new DD 'sketched alphabet' with leaves again, this time from the set 'fine leaves' which have a hand drawn sketch style of their own.
I had left over ink on my glass mat the other day after creating a dramatic sky in greys and blues. Rather than waste the ink I swiped a piece of watercolour paper through it picking up as much as possible and spritzing with water to move the ink around. The watercolour panel already had masking fluid splattered over it hence the white dots over the finished design.
I stamped the letters first in hickory smoke archival ink then covered a couple with masks I made for a previous card before stamping leaves from the fine leaves set in iced spruce and stormy sky. I filled most of the panel with leaves and painted them with both ink colours. I added some ink splatter and then coloured the letters with a blue watercolour marker to help them stand out a bit more. I stamped one of the sentiments from the DD 'baby sentiment set' to complete the card. I think this one could have several uses, maybe retirement, new house, new job or the like.
Supplies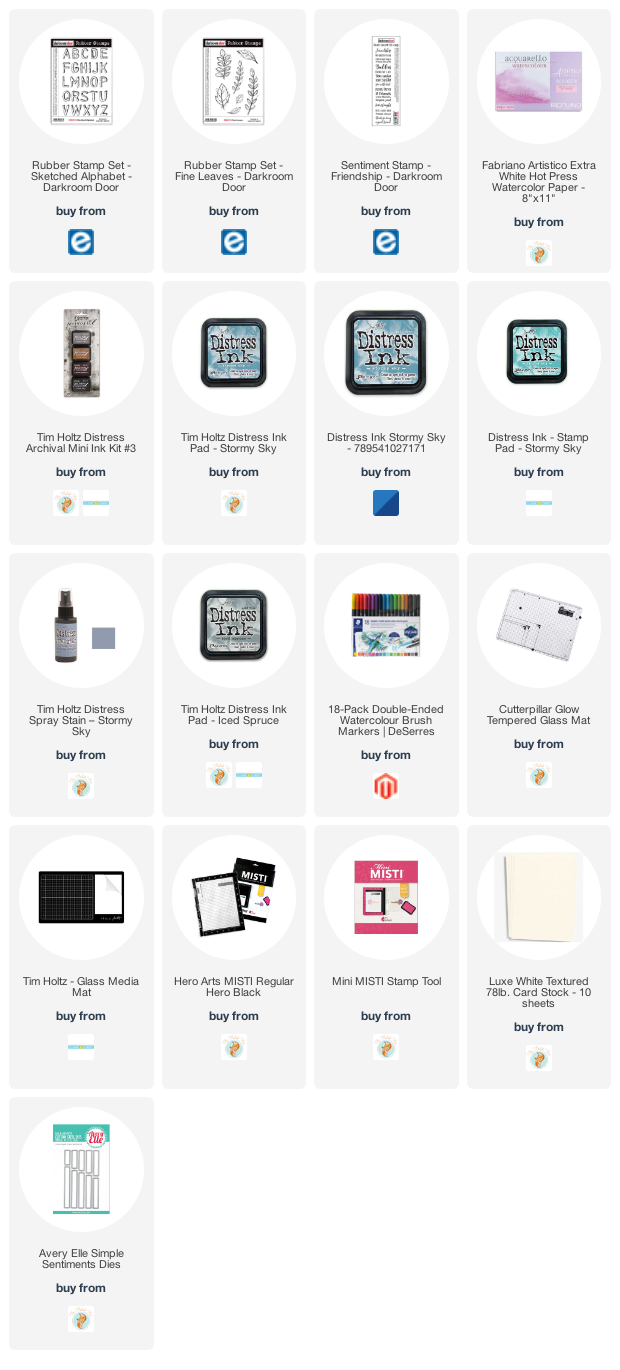 ---
Posted: April 27, 2018
Filed under: fine leaves, Shimmerz
| Tags: Darkroom Door stamps, Faber-Castell Polychromos Colour Pencil, Shimmerz
10 Comments
I have a couple more shimmery leafy cards to share today. I created these with leaf stamps from Darkroom Door and Shimmerz spray paints. The panel started out as a square that I intended to turn into a large square card but when it was complete I decided to slice it up!
I began by stamping the two smallest leaf stamps from the Darkroom Door 'fine leaves' set in gold ink on hot pressed watercolour paper. I stamped in gold so I could see where I had stamped, versamark makes it tricky to do that. After I had filled three quarters of the panel I embossed with gold powder and started spritzing the panel with heliotrope shimmerz spritz spray. Can I point out right how that heliotrope's full name is 'Walking a Tight Heliotrope' Shimmerz Spritz Spray! I also spritzed with Bamboo Leaf shimmerz spritz spray and let them blend and pretty much flood the panel. I dried it before adding more spray a couple of times then splattered some droplets over the dried panel.
I wanted the leaves to stand out just a tiny bit more so I used a dark blue and an olive green pencil to shade around each leaf so they appear to be lifting slightly off the paper. Once I'd decided to create two cards I matted both panels in gold shimmer cardstock and added embossed sentiments.
The chipped sapphire ink was exactly what I needed for the little sentiment above so I stamped in versamark first then over the top with chipped sapphire which made it possible to emboss in clear powder and get a blue sentiment.
Supplies
Stamps: fine leaves (DD), all occasions (DD)


Ink: versamark, chipped sapphire, encore gold


Shimmerz Sprays: Walkin' on a tight Heliotrope, Bamboo Leaf


Paper: hot pressed watercolour paper, neenah natural white,  gold shimmer cardstock


Also: WOW gold metallic rich embossing powder, Faber Castell polychromos pencils

---
Posted: April 25, 2018
Filed under: fine leaves, Shimmerz
| Tags: Darkroom Door stamps, Shimmerz
8 Comments
It's all about experimentation on the blog today. I have some new inky products and some freshly cut stamps. The Foiled Fox team was kind enough to send me some Shimmerz sprays to play with so I teamed them up with the emboss resist techniques and the fine leaves stamps from Darkroom Door.
To make the panel above I embossed the leaves in gunmetal embossing powder; it's a new one from Ranger which is not as shiny as silver but shinier that just grey. I like it. I sprayed some shimmerz sprays on my craft mat and swiped the embossed panel through it to pick up colour. I dried it then repeated with a couple of different colours which built up some variety and depth around the leaves. I wanted the leaves to be more prominent so I picked up shimmerz blue and yellow with a paint brush and painted inside some of the leaves. The spritzed background was also done with shimmerz, just heliotrope and blue.
I found a scrap of light blue cardstock to mat the panel then added all the layers to a natural white card base.
The sprays are quite strongly pigmented but the colours dry with a softness to them. As I was creating these panels I was wiping excess spray onto a couple of journal pages to build up some background colour. I'm excited to try a few more colours and techniques.
My second panel was completed in a similar way but I added way more shimmerz spray both by swiping off my craft mat and spraying directly on the embossed panel. The leaves and sentiment are embossed with white powder this time.
It's a shame you can't see how pretty the shimmer is on the painted panel and also the gold shimmer cardstock I used to mat it. I love the way embossing catches colour in confined spaces making that one central leaf a mix of dark blue, light blue, yellow and green
As you can probably imagine I did more experimenting, so I'll be back with a few more ideas later in the week.
Supplies
Stamps: fine leaves (DD), all occasions (DD)


Ink: versamark


Shimmerz Sprays: Jen B Blue, Eggnoggin', Walkin' on a tight Heliotrope

Paper: hot pressed watercolour paper, neenah natural white,  gold shimmer cardstock, blue cardstock


Also: WOW opaque white embossing powder, Ranger gunmetal embossing powder

---