Posted: February 19, 2021
Filed under: Alexandra Renke, Heather lowercase die set, My Favorite Things, ornamental star stencil, Pink Fresh studio, YAY for you
| Tags: Alexandra Renke, My Favorite Things, Pink Fresh studio, Ranger Distress stains
7 Comments
I've been wanting to work with some of my new stencils and the CAS Mix Up challenge is currently a embossed stencil challenge so I got to work. I taped the Alexandra Renke ornament star stencil to a piece of hot pressed watercolour paper and started sponging some versamark ink through the stencil. I soon switched to just squishing the versamark ink pad directly on the stencil as that was faster. I embossed the star in clear powder then put the panel in a box so I could spray some stain over it without decorating myself or my desk.
I sprayed seedless preserves, faded jeans and speckled eggs distress stains over the panel from 20-30cm away and ended up with a pretty speckled panel. I wanted to make the spotted sprayed area transition from speckled to solid so I painted water over one edge then spritzed water next to the painted area which achieved my goal leaving some of the panel barely touched by water. It took quite a while to dry and impatient me did smudge some of the speckles but they are underneath the die cut letters now so no harm done.
I applied tape to the back of a piece of co-ordiating cardstock then cut the letters s,t,a,r out using the 'Heather lowercase alphabet' die set from Pink Fresh studio. I searched through my stamps and dies to find a sentiment I could alter to say 'you're a' and ended up using part of a stamp from the MFT 'Yay for You' set stamped in versafine monarch ink.
When I was doing the spray over embossing step I realised this stencil is probably going to pair up with spray stains again in an art journal page, the speckled effect over the lacy star is just so pretty.
I'm excited to participate in a challenge again, it has been a while! There is still time to get involved if, like me you have stencils that are waiting patiently to be the star or even the background of a card.
(Compensated affiliate links used when possible)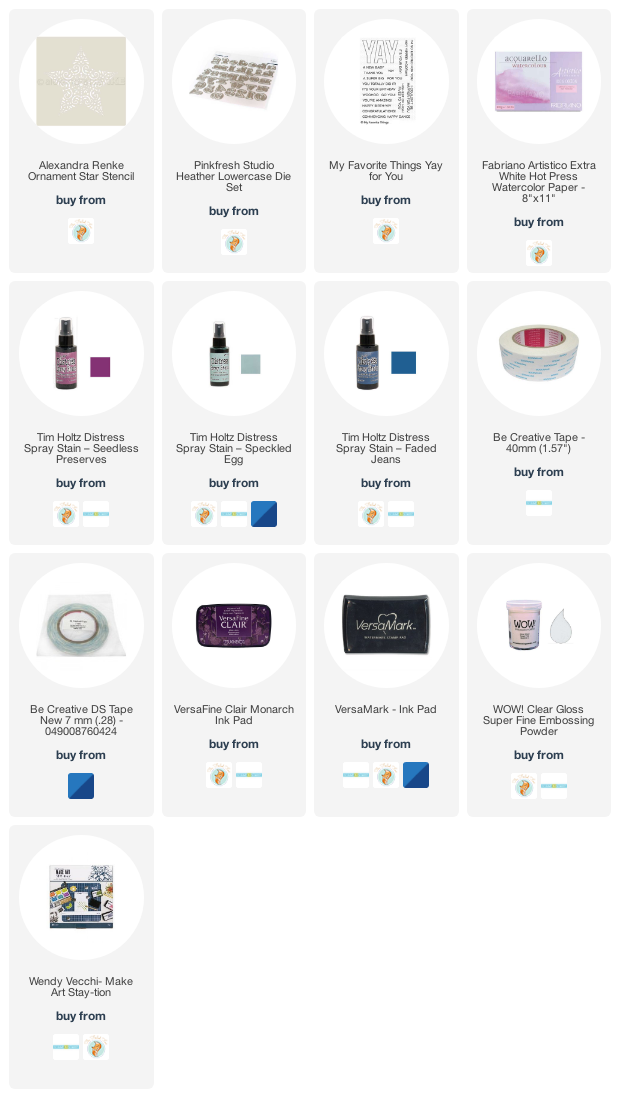 ---
Posted: January 28, 2019
Filed under: poppy flower dies, poppy flower stamps
| Tags: Alexandra Renke, Penny Black stamps
4 Comments
After making a gift set of cards with the 'blissbloss' stamp I was inspired follow the same process with another stamp set. This time I used Alexandra Renke's pretty poppy stamp set and her poppy dies. I used Catherine Pooler inks for the watercolour effect on the poppies and for the tiny sentiments.
I started with a 10″x7″ panel of hot pressed watercolour paper. There are five poppy stamps in the set so I positioned them randomly over the panel while in the stamp positioner. I inked the petals first in samba ink then dabbed some rockin' red ink on the sides or edges but not covering the whole flower. I spritzed then stamped. I wiped off the stamps then inked the stems in eucalyptus ink and stamped again.  I moved the panel and repeated the process to fill the panel with poppies. In order to get even spacing I had to clean and reposition the stamps a couple of times but eventually I had the panel covered. At this point I changed my mind and crowded in a few more flowers in a couple of areas using the CP bellini ink along with CP samba to make paler poppies.  I added some eucalyptus ink splatter and some gold splatter using one of the gansai tambi gold paints then called it complete.
To create the cards I cut some panels to 5 ½" so they would stretch the length or height of the card and used co-ordinating cardstock to frame and mat the panels. I also cut several poppies using the Alexandra Renke poppy flower dies in light peach, dark peach and light gold cardstock. I don't have a formula for creating five cards from the panel; basically I played with ideas until they looked ok!
The poppy stamp set has the same seven sentiments in English, French, German and Spanish so I stamped sentiments on a few of the panels using the same word in four languages to fill spaces between the poppies. On one card I needed a larger sentiment so I used a Penny Black stamp from the 'happy  snippets' set.
I used light weight vellum over one of the watercolour panels to soften the colours and make the die cuts stand out.
I'm hoping to sell cards at a market in the not too distant future so having a few gift sets might be a good idea.
Supplies
Stamps: poppy flower set (Alexandra Renke)


Dies: poppy flower dies (Alexandra Renke)


Cardstock: hot pressed watercolour, Neenah cream, light weight vellum, light gold, dark peach, light peach


Inks: samba, rockin' red, bellini, eucalyptus (Catherine Pooler)


Paint: gansai tambi starry colours


Also: stamp positioner, diamond glaze, gold cord

---
Posted: December 3, 2018
Filed under:
mandala
| Tags: Alexandra Renke, distress oxide inks, WOW embossing powders
7 Comments
I know what you are thinking. What could have inspired me to create a sparkly pink and purple birthday card? A sweet five year old girl! She loves texture so I am hoping the raised glitter embossing, surprisingly silky sparkle ribbon and the raised sentiment will also appeal.
I used a beautiful quarter circle stencil by Alexandra Renke which I am looking forward to using on future projects. I blended four colours of distress oxide inks on neenah solar white cardstock first as I wanted to add the glittery embossing powder over the top. I made sure the ink was totally dry and also used a powder tool before pressing versamark ink through the stencil onto the panel. The embossing powder is WOW fairy dust which is very silvery and sparkly despite what my photos show.
I wrapped the panel with a bit of silky smooth glitter ribbon brought home from France by my partner in craft, embossed the MFT sentiment in silver powder and popped it up over the ribbon. All the product names are linked below. I realize this may not seem like a little girl card, after all there are no princesses, unicorns or cute animals. Since my children became grownups I haven't really made many child cards. Do you make cards for children? What sets them apart from your other cards?
Supplies
Stencil: mandala (AR)


Stamp: birdie brown greetings galore


Inks: blueprint sketch, picked raspberry, dusty concord, seedless preserves distress oxide inks & versamark


Also: Ranger silver embossing powder, WOW fairy dust embossing powder, silver ribbon

---