Posted: March 9, 2022
Filed under: Alexandra Renke, Art Journal
| Tags: Alexandra Renke, Art Journal
10 Comments
These two pages began as 'clean up' pages after completing pages in another art journal. I had some pink and brown paints left over and also some blue with brown. I used an old key card to lift the excess paint and swiped it onto the pages in my 6×6 kraft journal.
I didn't have a plan straight away but a few weeks later I pulled out an Alexandra Renke stencil which I'd never used and decided to do a couple of simple landscape pages.
The stencil exposes only the edges of the birch trees which I wanted to be black so I mixed some black gesso with some black texture paste to make it thicker then spread it through the stencil onto the painted pages. Once it dried I painted the white spaces first with white gesso but it wasn't opaque enough so I used Dr Ph Martin's Bleedproof white paint.
After completing the trees I painted some snow covered hills with the same white paint and diluted them with water to reveal the land underneath. This is the opposite technique to my usual watercolour technique where I paint the shadows or hills and dilute the tops.
So far I have tried distress sprays, gel pens, acrylic paints and texture paste on the kraft pages. As long as I include some light colours in my designs the brown background words really well. Next experiment? Collage, stamping or maybe coloured pencils.
Supplies
(Compensated affiliate links used when possible)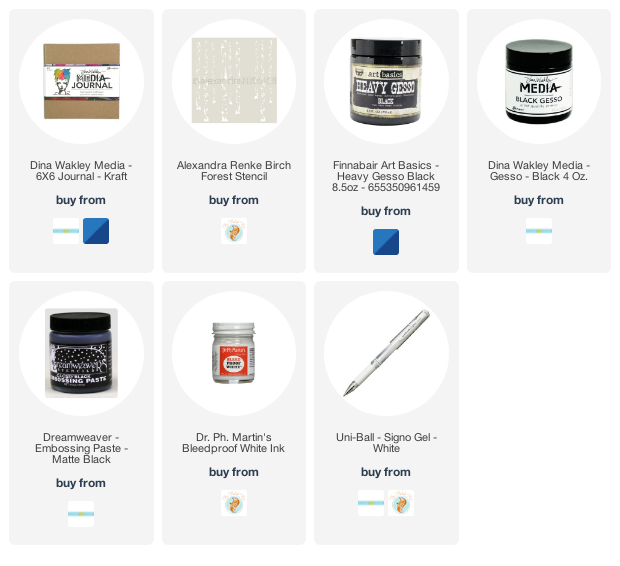 ---