Posted: April 15, 2019
Filed under: little lowercase letters, painted prints
| Tags: Catherine Pooler inks, My Favorite Things
10 Comments
He is risen indeed. Jesus came to earth; he gave his life and he rose from the dead. It was because of his great love for us.
Although much snow has disappeared this week there are not many signs of life in my garden, definitely no tulips yet. I will look forward to the real ones while I create gardens with the stamped ones! Here in Ottawa we enjoy the Tulip Festival each May and in Canberra where I lived for many years, Floriade is held each September. Both festivals feature massed flowers some in blocks of colour, others mixed like confetti. It was the blocks of coloured tulips that inspired this card. I've added a photo from each festival below.
I began by taping hot pressed watercolour paper to my glass mat and spritzing water over the whole panel. First I stamped the yellow tulips from MFT's 'painted prints' set in Catherine Pooler's shea butter ink. Because the paper was wet the ink bled into the surrounding area but still hinted at tulips shapes especially when I stamped the second layer of the tulip in the same colour. I chose a different tulip and stamped a row in CP bellini ink underneath and finally CP 'rockin robin' ink for the foreground row. The paper was slowly drying as I did this so the foreground tulips, stems and leaves were more distinct than the background (first) ones.
I die cut my words from the painted panel and popped them up on three layers of die-cut white cardstock letters. I put stick-it adhesive on the back of the cardstock before I cut all my little letters but forgot to put it on the back of the painted panel so I used a Lawn Fawn glue pen. The marvy jewel picker also came in handy as did some teeny tweezers; fiddly jobs like small stacked die cut letters tend to take me a while but I am finding it easier using tools rather than fumbling with my fingers. Jennifer McGuire did a fabulous video with stacked letters a couple of weeks ago and referred to this technique as the 'eclipse' technique. I think that sounds rather classy and clever so I will now use that terminology too.
Here is the real thing, above in Canberra, below in Ottawa.
Hope you have a blessed Easter.
Supplies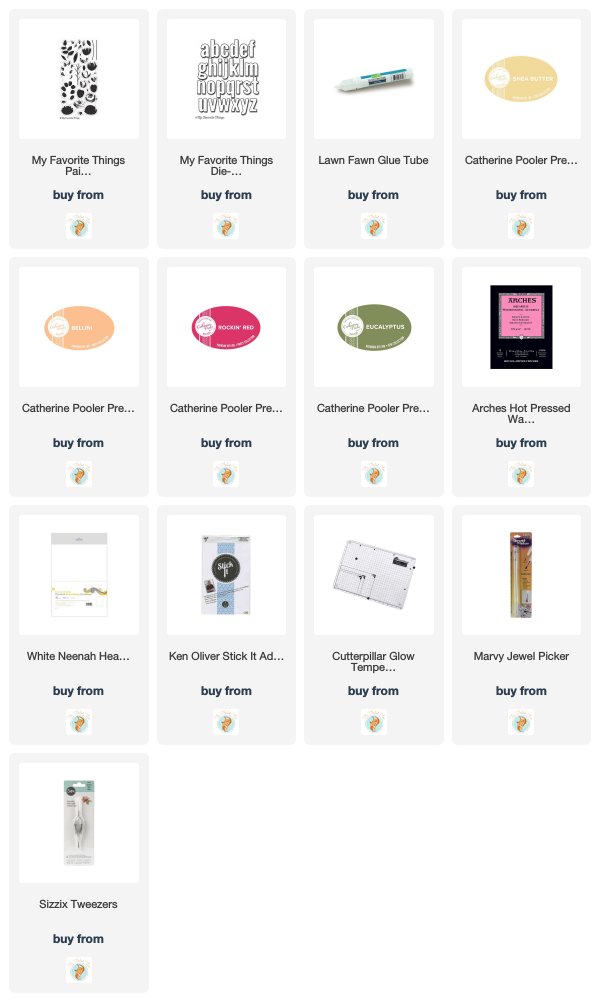 ---
Posted: July 18, 2018
Filed under: little lowercase letters, radiating half tone background, stitched blooms, YAY for you
| Tags: Catherine Pooler inks, My Favorite Things, WOW embossing powders
2 Comments
This is the last of my cards made featuring the stitched blooms dies paired with my homemade dotty watercolour panels. I embossed the radiating half tone stamp from MFT on watercolour paper three times then painted over the embossing with Catherine Pooler inks. I used pinks and yellows on one panel then blue and yellow on the others which ended up giving me blue and green variations. You can see the other cards made with the dotty panels here and the card stenciled through a leftover die cut negative here.
To create this card I attached a watercoloured dotty panel to adhesive backed foam and cut as many dots, leaves and flowers as I could. The watercolour paper attached to foam did make a thick panel for the die cutter to manage so a few passes were necessary.  I arranged all my little elements on a white panel along with some letters die cut using the 'little lowercase letters' dies from MFT and a sentiment from 'Yay for you' stamp set.
I love the dimension of the foam backed elements on this card and the teal/blue colour scheme; it pleases my matchy-matchy heart.
Supplies
Stamps: MFT Radiating halftone background stamp, Anything but basic friendship set (MFT)


Dies: MFT stitched blooms, MFT little lowercase letters


Inks:  Catherine Pooler's  shea butter, spruce, daydream


Paper: hot pressed watercolour paper, neenah solar white, teal


Also: white embossing powder, mono aqua liquid glue, 3D dots foam dot adhesive, adhesive backed foam, T-ruler

---
Posted: July 10, 2018
Filed under: Anything but basic friendship, little lowercase letters, radiating half tone background, stitched blooms
| Tags: Catherine Pooler inks, My Favorite Things, WOW embossing powders
3 Comments
Oh, Hi!
I am excited to have new cards to share and a WINNER to announce.  I teamed up with the Foiled Fox to host a giveaway just two short weeks ago and I'm very happy to announce that Lagene is the randomly chosen winner of the $25 gift voucher to spend at the delightful Foiled Fox online store.


Congratulations LAGENE, you will be hearing from the Foiled Fox any minute now!
I'm on the Foiled Fox blog today featuring this new funky background stamp, delightful stitched flower dies, sweet letter dies and the oh-so-juicy Catherine Pooler inks. I've been planning to make a card layered with floral die-cuts for a while so when the MFT stitched blooms arrived I decided to cut out a whole bunch so I could do some 'flower arranging'.If you look closely you can see the dots on the flowers and leaves are different sizes, that's because I used the MFT Radiating halftone background stamp to create some patterned paper. I stamped three panels of hot pressed watercolour paper and embossed with white powder. I then used some Catherine Pooler ink to paint one panel in pink, yellow and orange (inks listed below) and the other two  in greens and blue. Once the panels were dry I positioned the whole sheet of dies over the panel without separating any of them. I cut a whole set from both colour schemes then separated the dies so I could cut a few more individual flowers and leaves.
I arranged the pink, yellow and orange flowers with the green and blue leaves on a piece of white paper then, when I was happy with the layout I snapped a pic with my phone so I could recreate it and glue it all down in layers. I used liquid glue for the elements going directly on the white panel and two different thicknesses of dimensional adhesives to raise some of the flowers up higher. To create my little sentiment I adhered some white foam to pink cardstock then cut out the letters using the MFT 'little lowercase letters' dies. I used the same pink cardstock to mat the panel and my first flower arranngement was completed.
Because I had cut all the dies out of both colour schemes I had pink and yellow leaves left over along with green flowers. I decided to make a smaller arrangement on a narrow black panel and add a stamped sentiment from the MFT 'Anything but basic Friendship' stamp set. I stamped the whole sentiment in black on green cardstock then sliced it up to exclude those little words I didn't need!
I used a white gel pen and a T-ruler to add dots to my panel. When I had finished these two cards I still had an uncut dotted panel in blue/green tones and the negative sheets I had cut the flowers and leaves from. I'll share what I did with them later in the week.
Supplies
Stamps: MFT Radiating halftone background stamp, Anything but basic friendship set (MFT)


Dies: MFT stitched blooms, MFT little lowercase letters


Inks:  Catherine Pooler's bellini, shea butter, party dress, spruce, daydream, versafine clair nocturne


Paper: hot pressed watercolour paper, neenah black, neenah solar white, pink, green


Also: white embossing powder, mono aqua liquid glue, 3D dots foam dot adhesive, Kool tac clear foam roll, white gel pen, adhesive backed foam, T-ruler

---