Posted: February 19, 2020
Filed under: Alexandra Renke, Autumn dragonflies, Autumn plant rose, Penny Black, shall we dance, the sweetest sound
| Tags: Alexandra Renke cardstock, Penny Black creative dies, Penny Black stamps
7 Comments
I've been playing with pretty paper again and have the Foiled Fox to thank for this lovely Alexandra Renke design. Make sure you pop over to the Foiled Fox blog where I'm sharing my process in making today's cards. I believe I said it last time I worked with AR papers, the colours and patterns are so lovely I really don't want to add much over the top.
For both cards I covered the whole front with AR 'Autumn Plant Rose' paper. The delicate floral design covers most of the paper so I didn't want to add too much that would clash with the paper. I chose instead to die-cut cream flowers and birds as focal images, keeping them cream coloured and stacked made them stand out from the background pattern. The tall flower die is from Penny Black and is called 'shall we dance'. I like the way the long thin stems mimic the thin lines of the paper's design.
Adding the same die cut on the inside of the card was a must and simple to do after first adding stick it adhesive to the back of the patterned paper.
I used the same design idea and stacked three bird die-cuts for the second card and added a single patterned die-cut on the inside of the card. The die is called 'the sweetest song' and is another PB one.
I debated whether or not to add any sentiments and ended up deciding on one with and one without.
I will be doing more with this lovely paper and a pink abstract paper also by AR. I've linked the papers and supplies below and look forward to sharing more designs with you soon. Make sure you click over to the Foiled Fox and check out all the Alexandra Renke papers.
Supplies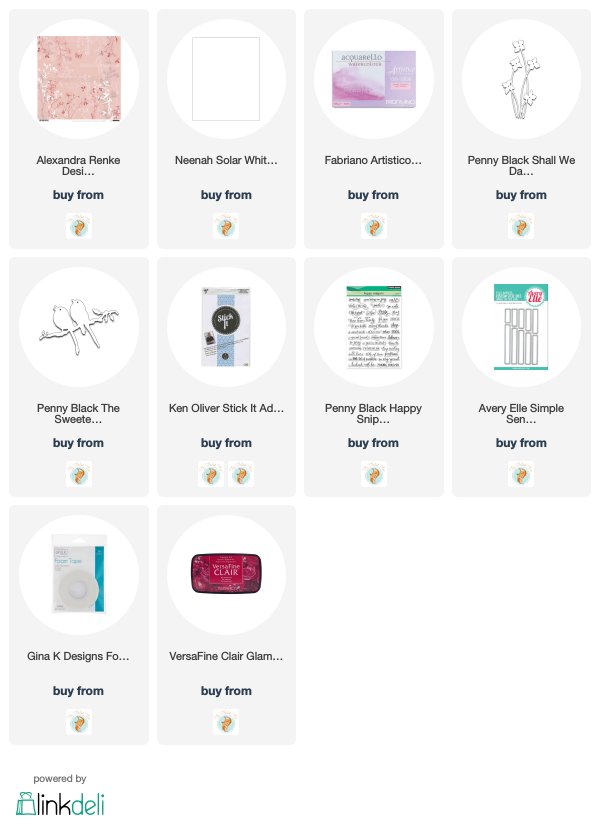 ---
Posted: February 5, 2020
Filed under: Alexandra Renke, Autumn dragonflies, little lowercase letters
| Tags: Alexandra Renke cardstock, My Favorite Things, Penny Black creative dies, Penny Black stamps, WOW embossing powders
9 Comments
I don't often use patterned paper on my projects but when I saw these Alexandra Renke designs from The Foiled Fox I wanted to make ALL THE THINGS and cover them with this paper! To be honest I just wanted to stick pieces of this 'autumn dragonfly' paper on the front of cards and call them done! The blue background is beautiful; the dragonflies are delicate and pretty and there are little gold lines here and there. What more do you need on a card front?
I did add a few of my own touches to the cards in the end but I might still make dragonfly paper card fronts which are simple and unadorned. Because of the little bits of gold here and there on the dragonfly wings I chose gold cardstock and embossing powder for my added elements. I swiped a versamark along edges of the dragonfly panels then embossed them with gold powder.
I used a co-ordinating Alexandra Renke paper on both card fronts. It's called 'autumn wild dark blue' and it looks like a painted page. I popped up the dragonfly pieces on foam and added a gold embossed sentiment plus letters or words die cut from gold shimmer cardstock. I used the PB …birthday die paired with part of a sentiment from PB 'good wishes' set. I did all the lining up of panels with the help of the Wendy Vecchi art staytion. The board is metallic and has a magnetic ruler which can hold a panel in place while lined up with the grid lines on the board. It has saved me quite a bit of time and fidddling!
I think this paper would look good as a notebook cover and maybe as the background for an art journal page. What do you create with your prettiest papers?
Supplies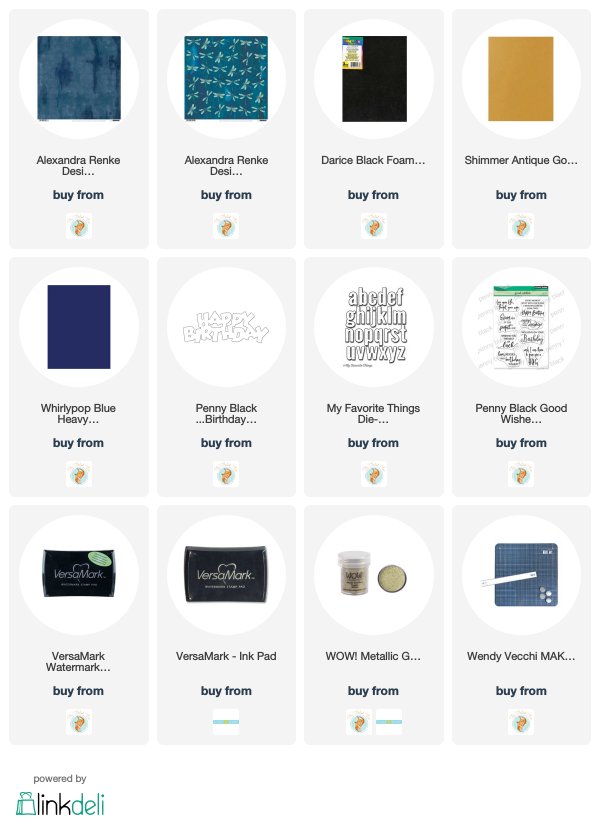 ---