Posted: May 18, 2023
Filed under: Classes, Dies, Echidna Studios, Flutters, gel press, online class, Penny Black, rustic birdhouse, strands
| Tags: Echidna Studios, gel press, gel printing, Penny Black creative dies, Penny Black stamps
4 Comments
A stencil gel print for you today. I created this distressed print on a large gel plate so I could pick up a card front and an envelope print at the same time. If you don't have a large plate you could just use the same paint colours and stencil on a second print. Just in case you didn't catch my news yesterday, my new online course Gel Print Journey is now available! (And there is a discount for blog readers TEAMBLOG10)
The stencil is called 'strands' and it is a digital design I created and have made available in the Echidna Studios etsy store. The bold print shown on the card above was made with copper, burgandy and purple paint so I chose a dark burgandy cardstock to cut dragonfly elements and a sentiment strip. Printing directly on the envelope is a easy way to co-ordinate with your card and I placed a sticker on the white envelope before printing to preserve white space for the address. I think I might make a video of this process because it's quick and effective, a combination I like.
The pattern on the second card is very muted because it is a ghost print, the leftovers on the plate after I pulled the one above. I cover this technique in my new online class using a range of different stencils and colour combinations.
Even though ghost prints are often patchy I like using them for collage or backgrounds as I have here. The line between cream and grey ended up looking like a path or lawn and I just like the unique grungy texture.
The dies and stamps I used to finish the cards are all Penny Black, those dragonflies on the first card are some of the first dies I ever got and they're still a favourite.
(Compensated affiliate links from Foiled Fox & ScrapNStamp)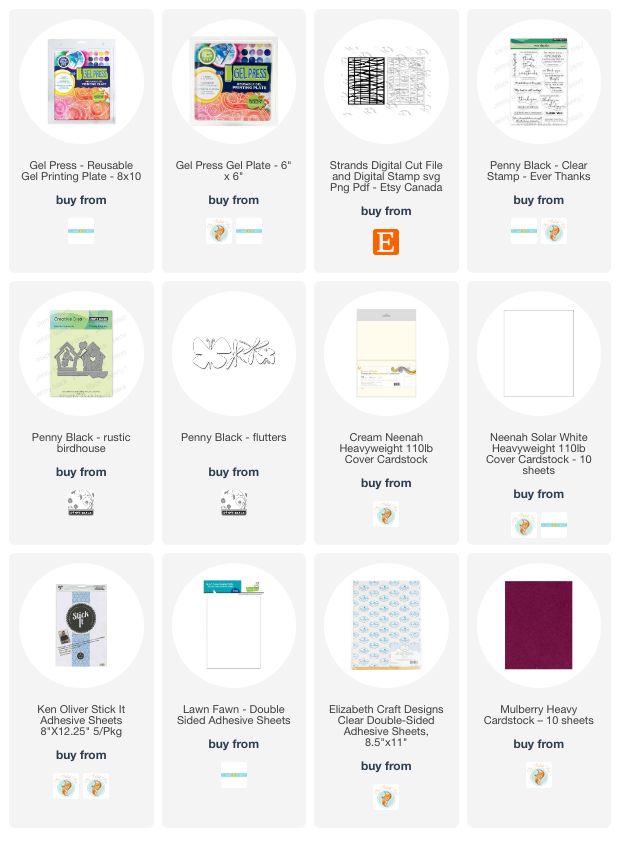 ---
Posted: January 3, 2022
Filed under: Penny Black, rustic birdhouse, Stampin Up
| Tags: Penny Black creative dies, Stampin Up
8 Comments
When I do any art journalling these days I do so with a large sheet of watercolour paper on my work surface. It is not the most expensive brand and it does have a bit of texture, currently I am using Canson XL. As I create any blending off the edge of an element ink ends up on the large sheet. Excess paint or ink is wiped off on the sheet. I try out a pen, ink or marker on the sheet to make sure it is the colour I want and has plenty of juice left in it. Consequently pattern and colour builds up on the sheet over time as journal projects are finished.
The most recent page I made involved brown and black paints so I often wiped the brush off on the large sheet. When painting strips of paper for tree trunks I lay those strips on the large sheet. I ended up with a rough painted area resembling woodgrain so I cut it off the larger sheet and die cut birdhouses from it with the PB 'rustic birdhouse' die.
I die-cut the frames from deep red and petrol blue, blended ink on white die-cut birds then put together two birdhouses.
The large piece of 'clean-up/practice' paper provided me with unique patterned paper for the birdhouses. The embossed background was created with the 'evergreen forest 3D folder' from SU.
Happy New Year everyone, I'm looking forward to sharing all sorts of things here on the blog this year and I can't wait to chat with you along the way.
Supplies
(Compensated affiliate links used when possible)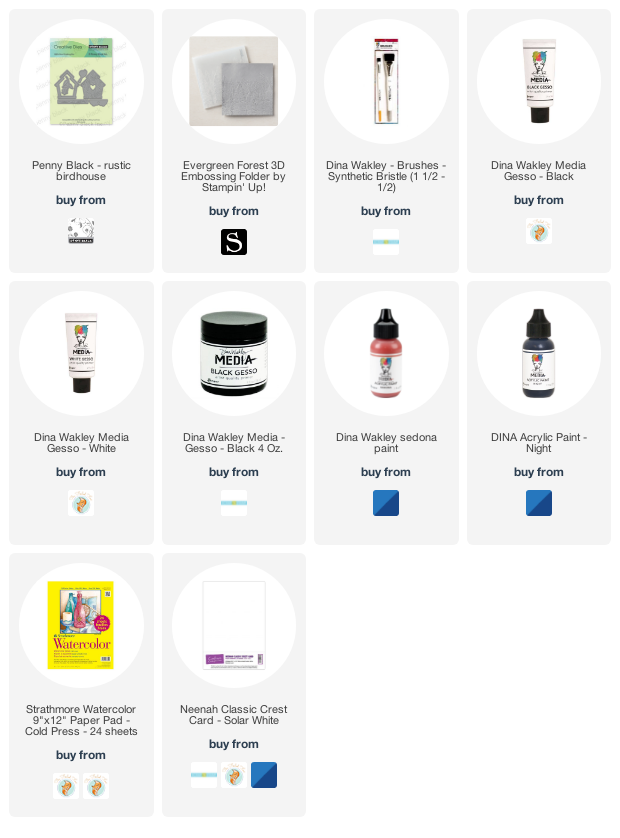 ---