Rustic Birdhouse
Posted: January 3, 2022
Filed under: Penny Black, rustic birdhouse, Stampin Up
| Tags: Penny Black creative dies, Stampin Up
8 Comments
When I do any art journalling these days I do so with a large sheet of watercolour paper on my work surface. It is not the most expensive brand and it does have a bit of texture, currently I am using Canson XL. As I create any blending off the edge of an element ink ends up on the large sheet. Excess paint or ink is wiped off on the sheet. I try out a pen, ink or marker on the sheet to make sure it is the colour I want and has plenty of juice left in it. Consequently pattern and colour builds up on the sheet over time as journal projects are finished.
The most recent page I made involved brown and black paints so I often wiped the brush off on the large sheet. When painting strips of paper for tree trunks I lay those strips on the large sheet. I ended up with a rough painted area resembling woodgrain so I cut it off the larger sheet and die cut birdhouses from it with the PB 'rustic birdhouse' die.
I die-cut the frames from deep red and petrol blue, blended ink on white die-cut birds then put together two birdhouses.
The large piece of 'clean-up/practice' paper provided me with unique patterned paper for the birdhouses. The embossed background was created with the 'evergreen forest 3D folder' from SU.
Happy New Year everyone, I'm looking forward to sharing all sorts of things here on the blog this year and I can't wait to chat with you along the way.
Supplies
(Compensated affiliate links used when possible)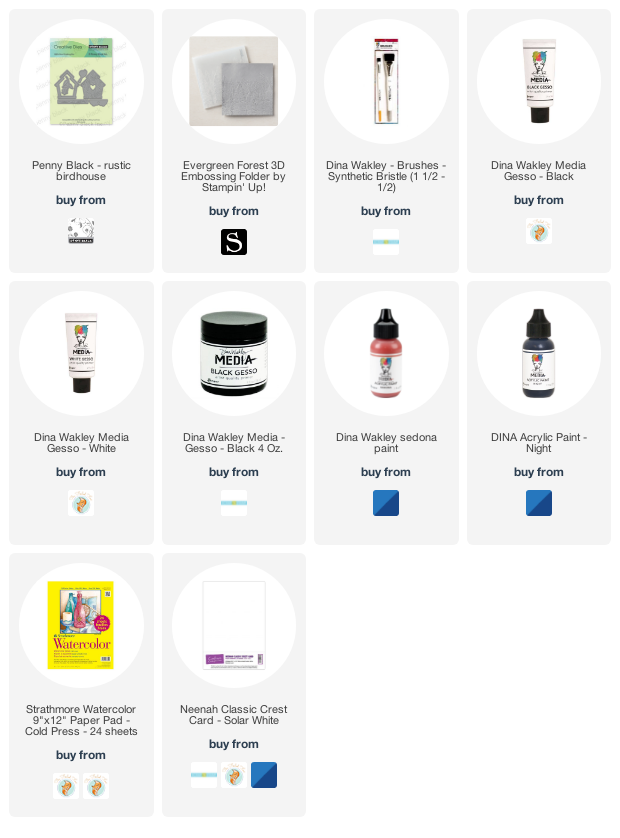 ---