Wintertide Blue
Posted: December 30, 2021
Filed under: Penny Black, wintertide
| Tags: Fabriano Watercolour Paper, Penny Black stamps, Ranger Distress inks, sennelier watercolours
10 Comments
This beautiful 'wintertide' stamp from Penny Black is a scene in itself and the first time I stamped with it I didn't add to it at all. This time I painted extra trees in the background for a bit more depth and atmosphere.
I began by punching a little circle mask from masking tape and placing it on the hot pressed watercolour panel. I wet the panel then painted a mix of dark blues and grey paint over some areas, leaving a few white patches. While the paint was wet I painted trees in the background which ended up with soft edges because I was working wet into wet. I sprinkled salt over the sky area and let the paint dry.
Once the paint dried I removed the salt and used a stamp positioner to stamp the 'wintertide' image in black soot and faded jeans ink. The little trees to the right of the feature tree were too small in comparison to the painted background trees so I painted taller trees over the top. I did a little blending of ink here and there but the stamp is so detailed with its branches and white space I tried not to fiddle with it too much. This will be the last post for 2021, I look forward to sharing projects, ideas and conversation with you here on the blog in 2022. Happy New Year!
Supplies
(Compensated affiliate links used when possible)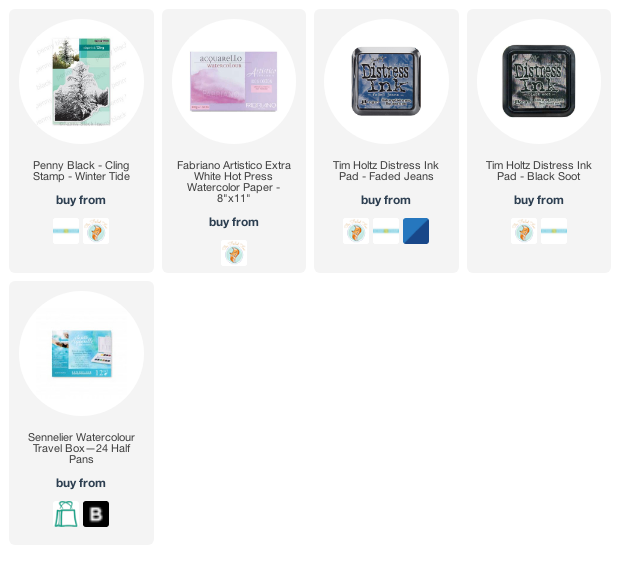 ---