Woodsy Winter
Posted: December 28, 2021
Filed under: Penny Black, woodsy
| Tags: Penny Black stamps, Ranger Distress inks, Ranger Distress stains
9 Comments
A winter scene for a winter birthday. Makes perfect sense especially when the recipient loves nature and spends as much time as possible enjoying the outdoors.
This card was a commission and I did plan it in my head before I began. I ended up making it twice, not because it didn't work but because I smudged the black ink (final stamping step) before it dried! I started by blending the sky in evergreen bough and speckled egg distress ink then stamped background trees in speckled egg ink. There are three trees in the Woodsy set from Penny Black so I repeated them to fill the top of the panel then changed to iced spruce to stamp another line of trees further down and hickory smoke to stamp another line. Each colour was darker than the previous and the trees more prominent and forward in the design. Once all but the black trees were stamped I painted all their trunks just by blending the stamped ink. I used the same inks to paint shadowy dips at the base of the trees then when that was dry stamped the final foreground trees in black soot ink.
To finish I splattered white paint over the scene. The origin of this card goes way back to a card I made in 2012 using the famous Stampin Up set 'lovely as a tree'.
Supplies
(Compensated affiliate links used when possible)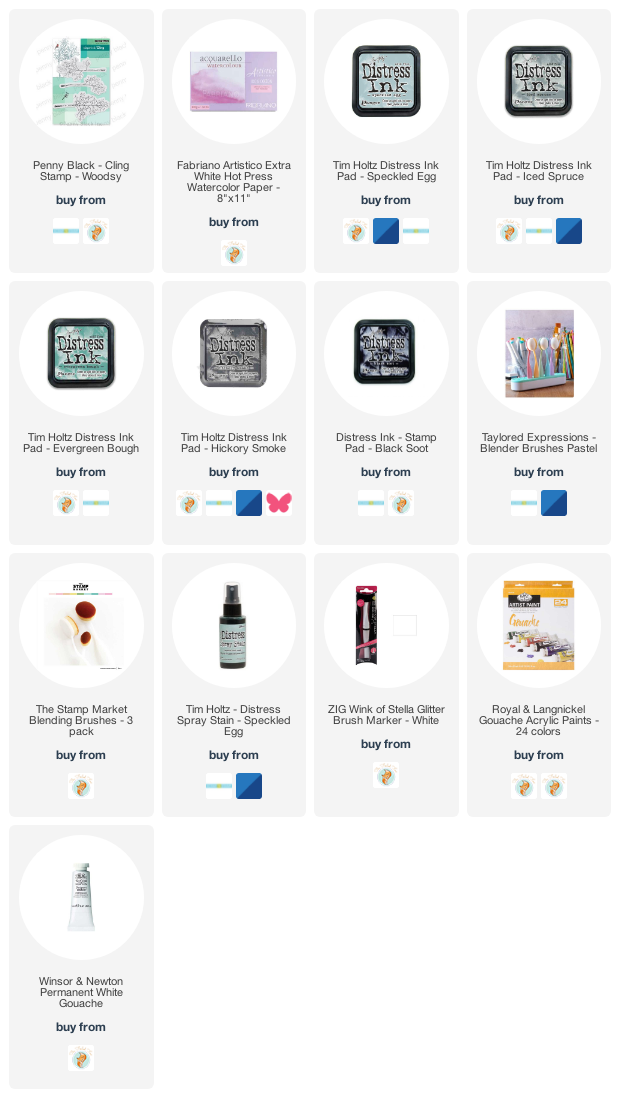 ---