Posted: December 28, 2021
Filed under: Penny Black, woodsy
| Tags: Penny Black stamps, Ranger Distress inks, Ranger Distress stains
9 Comments
A winter scene for a winter birthday. Makes perfect sense especially when the recipient loves nature and spends as much time as possible enjoying the outdoors.
This card was a commission and I did plan it in my head before I began. I ended up making it twice, not because it didn't work but because I smudged the black ink (final stamping step) before it dried! I started by blending the sky in evergreen bough and speckled egg distress ink then stamped background trees in speckled egg ink. There are three trees in the Woodsy set from Penny Black so I repeated them to fill the top of the panel then changed to iced spruce to stamp another line of trees further down and hickory smoke to stamp another line. Each colour was darker than the previous and the trees more prominent and forward in the design. Once all but the black trees were stamped I painted all their trunks just by blending the stamped ink. I used the same inks to paint shadowy dips at the base of the trees then when that was dry stamped the final foreground trees in black soot ink.
To finish I splattered white paint over the scene. The origin of this card goes way back to a card I made in 2012 using the famous Stampin Up set 'lovely as a tree'.
Supplies
(Compensated affiliate links used when possible)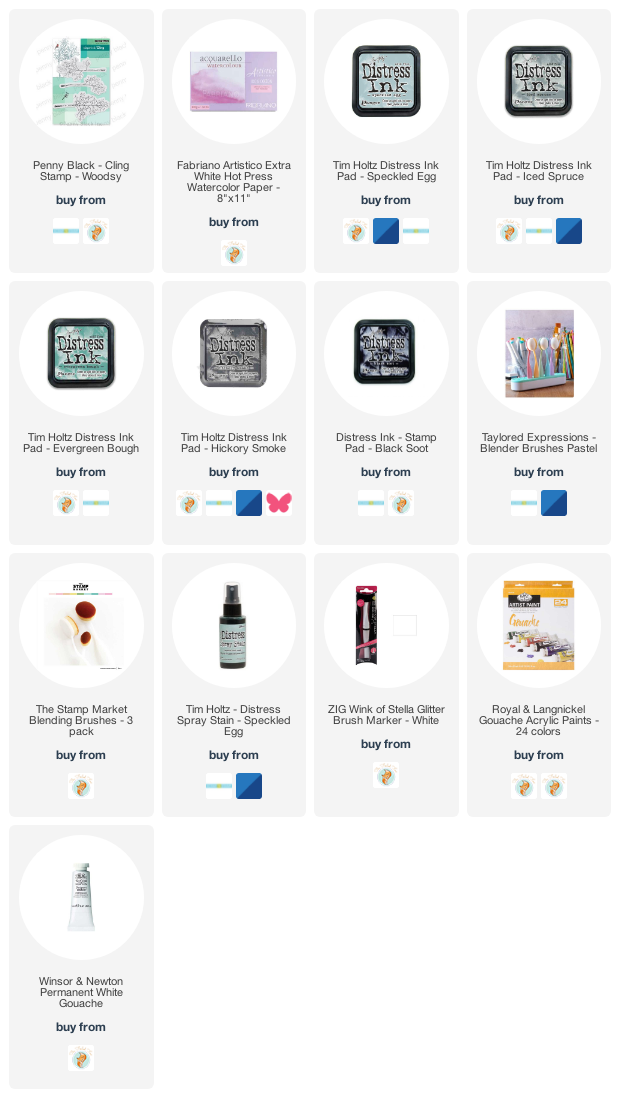 ---
Posted: October 20, 2021
Filed under: Brusho, woodsy
| Tags: Brusho, Penny Black stamps
8 Comments
This new set, 'Woodsy' from Penny Black will be fabulous for winter scenes but before I put it to work in the snow I decided to create an autumn vista with the three trees.
Hoping to create the colour mass I see when the trees are at their best I pulled out a few brusho powders. I didn't come close to the beauty outside right now but the brusho powders did not disappoint. If you have used brusho you will know they are unpredictable. I had a scene in mind and hoped the brusho would play its part.
First I stamped the three trees in 'fallen leaves' versafine clair ink and embossed in clear powder on hot pressed watercolour paper. To preserve the white tree trunks I used a clear embossing marker to cover the length of each trunk and embossed in clear powder again. With distress inks and blending brushes I blended speckled egg ink in the sky area and fossilized amber and brushed corduroy on the ground. I used simple post-it note masks to suggest hills and horizon.
Before sprinkling brusho over the panel I lay a paper mask over the sky at the top of the panel and ground at the bottom of the panel. I sprinkled sandstone brusho over the middle area then spritzed from 10″ inches above. I watched and waited as the colours began to appear and spread then added a little more brusho and water. I dried it with a heat tool before repeating the process. You have to be patient with brusho; if you add too much water too soon you will not have spots and dots of colour. Sandstone brusho is made up of several colours so I saw yellow, red, orange and brown appear, even a few blue dots too.
Once I had some nice patterns appearing I added a bit of yellow brusho and a tiny sprinkle of terracotta then left the panel alone while I ate lunch. After drying the panel thoroughly I blended more ink with the same post-it masks I had used at the beginning.
When I stopped I couldn't decide if the scene was artsy or just messy. I set it aside and tried a few other approaches for a brusho autumn scene but kept coming back to this one, the messy, artsy, woodsy one!
(Compensated affiliate links used when possible)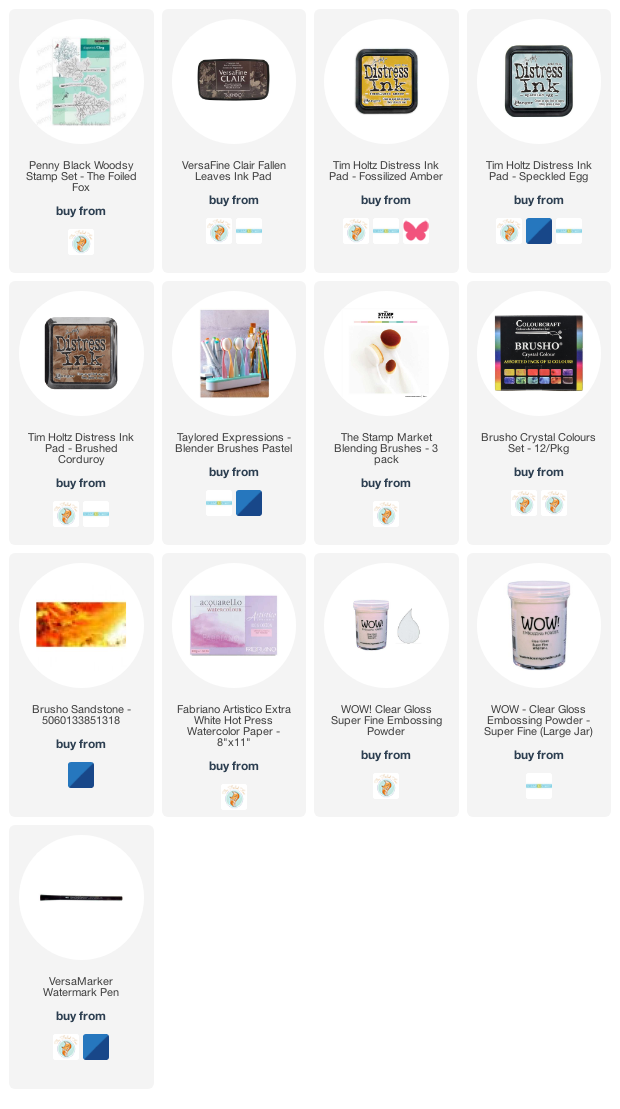 ---