Wintertide
Posted: January 17, 2020
Filed under: Penny Black, wintertide
| Tags: Fabriano Watercolour Paper, Penny Black stamps, Ranger Distress inks
11 Comments
As you can imagine, I was thrilled when I saw this stamp. Yes it is one stamp with all these beautiful trees in a snowy clearing! It's called wintertide and it definitely portrays what I am seeing outside these days.
I worked on hot press watercolour paper because I did plan to add a little water as I worked but the stamp is very detailed so I didn't want added water to blur the detail and lose all the snowy white areas. There are some white splatters in the sky made by splots of masking fluid splattered on the panel before I started stamping.
I kept the stamp in a stamp positioner so I could stamp one colour at a time starting with pine needles distress ink. I added other distress greens and blues bit by bit to give definition to the trees on the right and the bushy area in the foreground. I spritzed the stamp lightly with water after inking the area left of the big tree so the greens blended with each other. Once I had built up enough colour variation I dried the panel and added a frisket film circle mask before colouring the sky. I used blending brushes to apply tumbled glass and chipped sapphire distress inks to the sky and the snowy path.
This stamp is very detailed but that does not have to mean it is difficult to use. By stamping the whole image first in a light colour you are able to see where to change colours when adding ink with markers or ink pads. When I don't use markers I add ink to a large area with an ink pad(often a cube) then wipe it off the areas I don't want stamped. Jill Foster has a fabulous video tutorial for this stamp so check that out if you want some ideas.
Supplies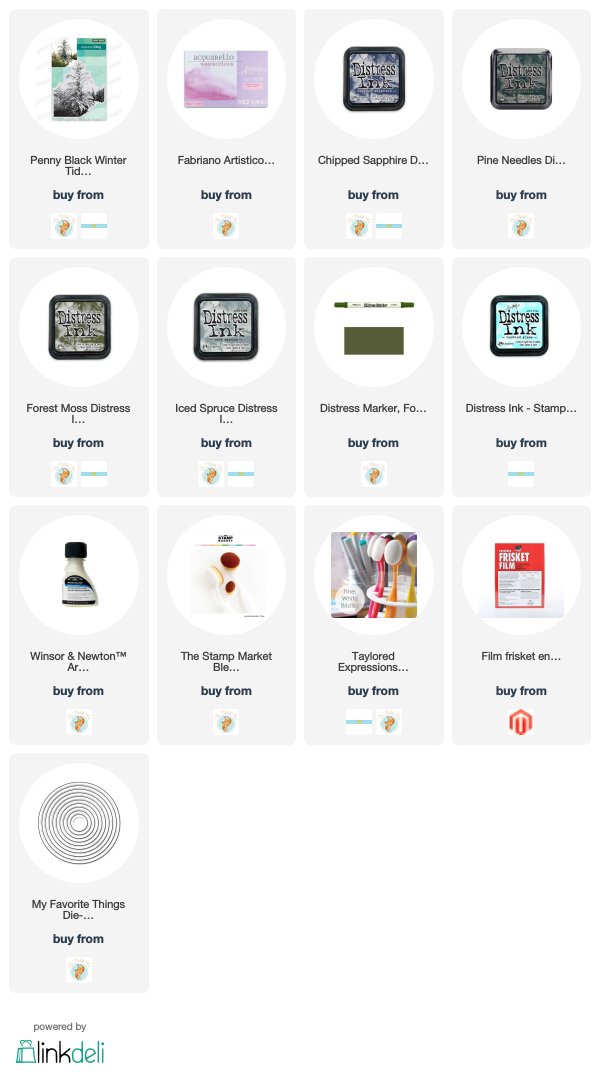 ---