Petal Profiles
Posted: April 30, 2020
Filed under: Papertrey Inks, petal profiles, secret garden
| Tags: Papertrey ink, Penny Black creative dies, Penny Black stamps
5 Comments
Even though I would never choose yellow as a favourite colour, the inks for these big bright flowers are definitely a happy sight. I have a complete (gasp…I know, very lucky) set of papertrey ink cubes now so of course I have to try them all out. Featured here are bright buttercup, canyon clay, aqua mist and tropical teal.
The sentiment is cut from teal cardstock even though it looks like it could be black. I inked the large flowers from Penny Black's 'petal profiles' acrylic set in buttercup then dabbed some canyon clay in the centre before spritzing and stamping. I then used a paintbrush to blend all the petals because I tend to like them blended rather than see the texture of the paper. Not always but often. I inked the smaller flowers with aqua mist, spritzed then stamped and while the ink was still damp on the paper I dropped a dot of tropical teal ink in the centre of each flower. The longer foliage from PB 'secret garden' set is also stamped in tropical teal and the splatter is the same. To pick up ink for centres and splatter I just smooshed the inkcube face down on my glass mat and added a drop of water.
I cut a strip of vellum and wrapped it round the stamped panel so I could add the die cut sentiment on top. The background is busy so a vellum separator helps it stand out enough to be readable. I used 'stick it' on the back of the sentiment from PB 'wishes'. The base is a lovely cream cardstock with some texture which matches my watercolour panels nicely, I was very happy when the Foiled Fox sent some my way. It's called 'luxe white textured' and it pleases my matchy-matchy heart.
Blooming in my garden now are several violets and star flowers along with one happy daffodil. I'm thinking perhaps the snow is gone for good…
Supplies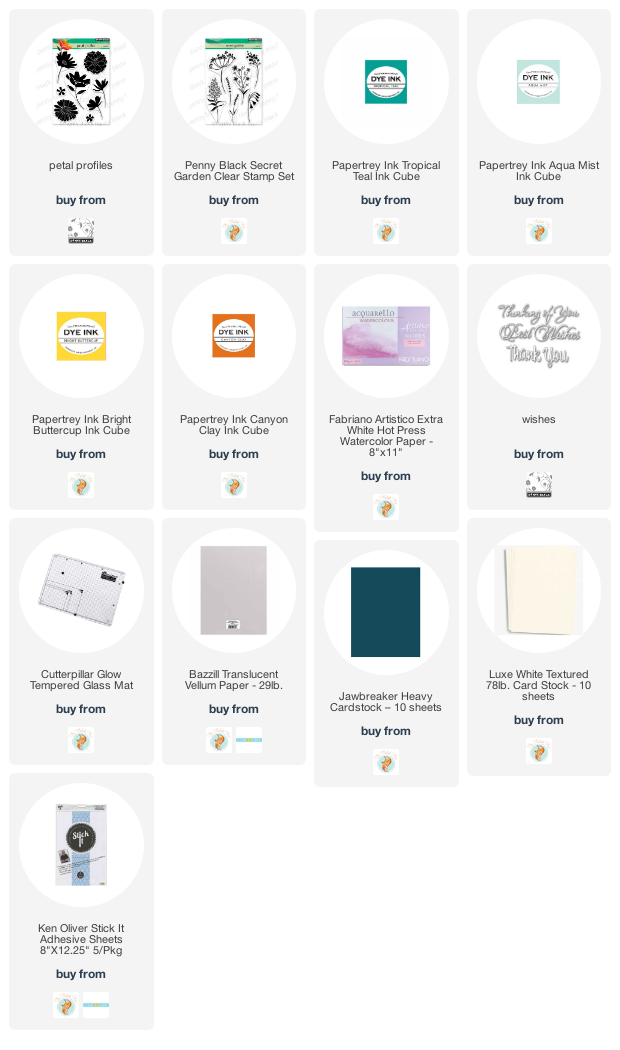 ---