Posted: May 19, 2020
Filed under: a garden, bench, buckets of flowers, hanging planters, Papertrey Inks, Penny Black
| Tags: Papertrey ink, Penny Black creative dies, Penny Black stamps
2 Comments
We've had all kinds of weather around here lately as we wait for the May long weekend before which outdoor planting is considered very risky!  My daughter has been starting seeds inside so we have quite a few little plants ready for the great outdoors as well as an order of seedlings to come.
These plants are looking pretty healthy, probably because they are not relying on me remembering to water them! I used papertrey ink cubes to colour left over pieces of hot pressed watercolour paper. I swiped the ink cubes across the paper in colour groups, they are juicy little inkpads so they work well direct to paper. I did a panel of two browns, also some greens, another with purples and one with orange, yellow, green. After inking the paper I spritzed water onto it until the ink moved and blended a bit, covering more of the panel and making some light and dark areas.
Once all the panels dried I used several die sets from Penny Black featuring little plants, pots and tools (they're all linked below). I also cut out the cute little bench die to be part of my scene. I could have cut all the elements from coloured cardstock but I love the variation of colour and depth achieved with watercolour.
I created two backdrops on hot pressed watercolour paper by swiping the spring rain ink cube back and forth to create a solid blue patch. Over the blue I arranged and rearranged my tiny die cuts until I had two little scenes. I used a jewel picker and liquid glue to attach all the elements, making a few errors in the process resulting in some more painting and die-cutting to make replacement pieces. Once everything was attached I hunted through my cardstock to find a matching blue for card bases and added a couple of sentiments from PB 'banner sentiments' set.
As I write this the long weekend is drawing to a close and I can report some planting has been done. A couple of readers shared on my last post their planting plans and routines; I'd love to know more plus any clues for keeping the critters away!
Supplies


https://linkdeli.com/widget.js?id=f5e8378456858c916708
---
Posted: May 3, 2019
Filed under: a garden, art deco window, Dies, garden box, hanging planters, Penny Black, window treatments
| Tags: Penny Black creative dies, Penny Black stamps, Tsukineko Versafine inks
5 Comments
Today's little garden cards contain unusually small die-cuts (for me) but I had fun arranging them and love the results. While I was putting these together I had Jill Foster's video using the same die sets on pause in front of me so I could get inspiration from all her ideas. Make sure you check out Jill's video; she includes plenty of tips and tricks and cool layouts.
There are three 'little garden' sets that co-ordinate well and between them there are oodles of leaves, flowers, pots, hanging baskets and fixtures to choose from. I chose a limited palette of black, kraft and a blue/green patterned panel for all four cards. My patterned panel was a shaving cream marbled panel so I was able to get variation in colour without having to change cardstock.
My garden box, a garden and hanging planters die sets are all still joined together so I cut everything from kraft, black and patterned then proceeded to create vignettes.
Once I had an arrangement that looked balanced I used my marvy jewel picker and lawn fawn glue tube to get everything attached to cream cardstock. The jewel picker saved my arthritic thumb joint; picking up little things is not good for it!
As you might imagine I still had plenty of little elements to spare after three cards and I remembered the 'art deco window' and 'window treatment' dies I had so I arranged another couple of pots inside the window and beside the patterned curtains.
I ruled some lines on the kraft card base to make it look like wood panels on the side of a house. The window frame dies cuts a window that opens on each side which is a cute touch.
This last simple scene is created with elements from the 'garden box die set' along with leftovers from 'a garden' and 'hanging planters' sets.
All the sentiments are stamped in versafine clair nocturne ink and taken from the 'grateful sentiments' and 'sending thanks' sets.
I had fun creating these little scenes despite the 'fiddliness factor' being a little higher than I am used to. I love the end result with the strong contrast between black, cream, kraft and blue/green pattern.
Supplies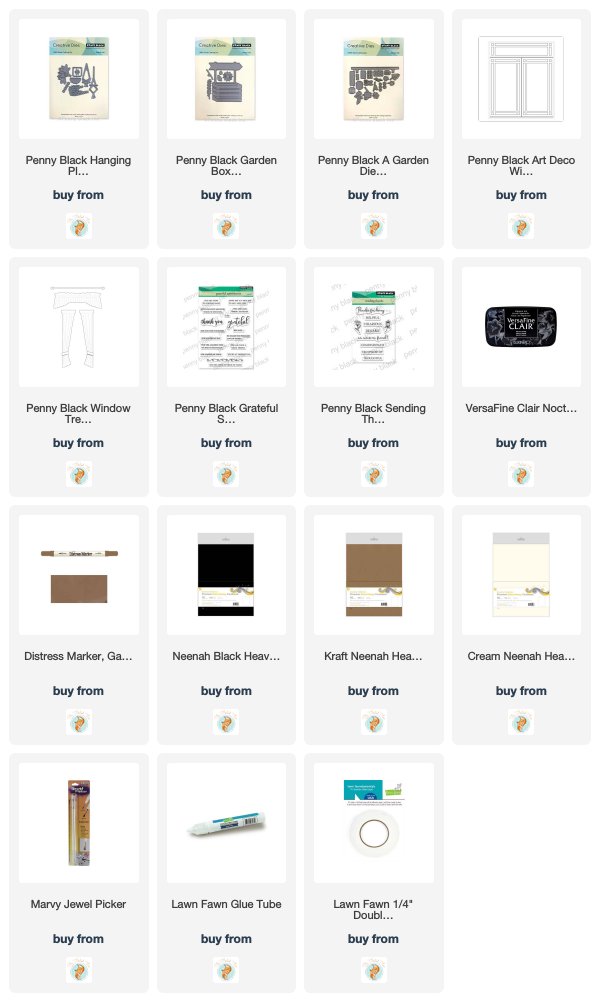 ---