Posted: February 8, 2021
Filed under: ...is coming, A2 layers, Additional A2 layers, buckets of flowers, hanging planters, Penny Black, pretty picket, silver linings, Waffle Flower
| Tags: Penny Black creative dies, Waffle Flower dies
2 Comments
Not my usual style, you know I don't often take the cute route (pun intended) but this little truck really appealed to me. As I worked on this card and looked through my dies for flowers I realised I could also turn it into an icecream truck or a pumpkin truck and maybe a postal delivery truck.
My initial plan was to die cut everything from kraft cardstock except for the flowers but once I'd done the truck and flowers I decided to add more colour with a picket fence and some clouds on a bright blue background. I used a blending brush to add 'brushed corduroy' distress ink around all the pieces of the truck and 'mermaid lagoon' around the blue panel. I've listed all the dies below; as you can imagine the fiddliness factor on this card was high but I persevered and the satisfaction factor is also high.
I haven't added a sentiment but feel that it could be good for many occasions so I will wait and see. I'd be happy to see a truck bursting with flowers in my driveway right about now when everything is covered in snow.
(Compensated affiliate links used when possible)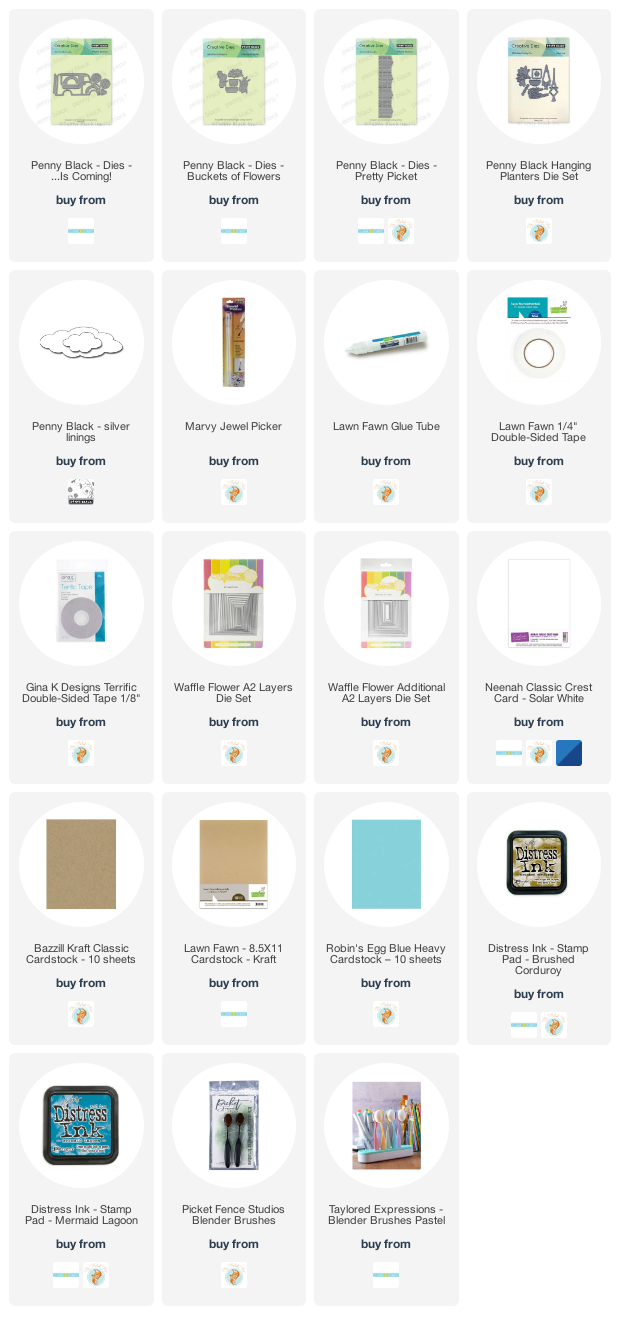 ---
Posted: May 19, 2020
Filed under: a garden, bench, buckets of flowers, hanging planters, Papertrey Inks, Penny Black
| Tags: Papertrey ink, Penny Black creative dies, Penny Black stamps
2 Comments
We've had all kinds of weather around here lately as we wait for the May long weekend before which outdoor planting is considered very risky!  My daughter has been starting seeds inside so we have quite a few little plants ready for the great outdoors as well as an order of seedlings to come.
These plants are looking pretty healthy, probably because they are not relying on me remembering to water them! I used papertrey ink cubes to colour left over pieces of hot pressed watercolour paper. I swiped the ink cubes across the paper in colour groups, they are juicy little inkpads so they work well direct to paper. I did a panel of two browns, also some greens, another with purples and one with orange, yellow, green. After inking the paper I spritzed water onto it until the ink moved and blended a bit, covering more of the panel and making some light and dark areas.
Once all the panels dried I used several die sets from Penny Black featuring little plants, pots and tools (they're all linked below). I also cut out the cute little bench die to be part of my scene. I could have cut all the elements from coloured cardstock but I love the variation of colour and depth achieved with watercolour.
I created two backdrops on hot pressed watercolour paper by swiping the spring rain ink cube back and forth to create a solid blue patch. Over the blue I arranged and rearranged my tiny die cuts until I had two little scenes. I used a jewel picker and liquid glue to attach all the elements, making a few errors in the process resulting in some more painting and die-cutting to make replacement pieces. Once everything was attached I hunted through my cardstock to find a matching blue for card bases and added a couple of sentiments from PB 'banner sentiments' set.
As I write this the long weekend is drawing to a close and I can report some planting has been done. A couple of readers shared on my last post their planting plans and routines; I'd love to know more plus any clues for keeping the critters away!
Supplies


https://linkdeli.com/widget.js?id=f5e8378456858c916708
---