Posted: May 6, 2022
Filed under: ...is coming, Dies, gel press, Metropolitan, Penny Black
| Tags: gel press, gel printing, Penny Black creative dies
3 Comments
This little green truck card was made on request, and probably not a focal point I would have come up with myself. The end result however made me very happy and all but the kraft buildings and road sign were cut from gel prints.
I could have cut all the components from coloured cardstock but I chose instead to use gel prints and mixed the green and blue paints on the gel plate in order to match the green of the truck requested. I love the added texture a gel print gives. The sky is very textured because it was printed on my damaged gel plate. I use it mainly as a palette where I mix colours or roll off excess paint. I pull prints off it now and again during a session and the patchy blue and white print made a perfect sky. I don't have a truck die but I did some mods to a van die-cut and 'ta-da' I had a little green truck on its way to graduation!
Would this be a good time to mention there are a couple of spaces left in next Friday's gel printing workshop?
Supplies
(Compensated affiliate links used when possible)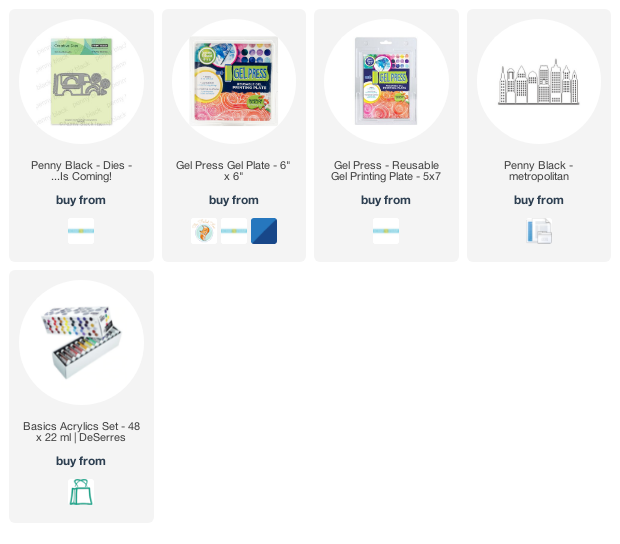 ---
Posted: February 8, 2021
Filed under: ...is coming, A2 layers, Additional A2 layers, buckets of flowers, hanging planters, Penny Black, pretty picket, silver linings, Waffle Flower
| Tags: Penny Black creative dies, Waffle Flower dies
2 Comments
Not my usual style, you know I don't often take the cute route (pun intended) but this little truck really appealed to me. As I worked on this card and looked through my dies for flowers I realised I could also turn it into an icecream truck or a pumpkin truck and maybe a postal delivery truck.
My initial plan was to die cut everything from kraft cardstock except for the flowers but once I'd done the truck and flowers I decided to add more colour with a picket fence and some clouds on a bright blue background. I used a blending brush to add 'brushed corduroy' distress ink around all the pieces of the truck and 'mermaid lagoon' around the blue panel. I've listed all the dies below; as you can imagine the fiddliness factor on this card was high but I persevered and the satisfaction factor is also high.
I haven't added a sentiment but feel that it could be good for many occasions so I will wait and see. I'd be happy to see a truck bursting with flowers in my driveway right about now when everything is covered in snow.
(Compensated affiliate links used when possible)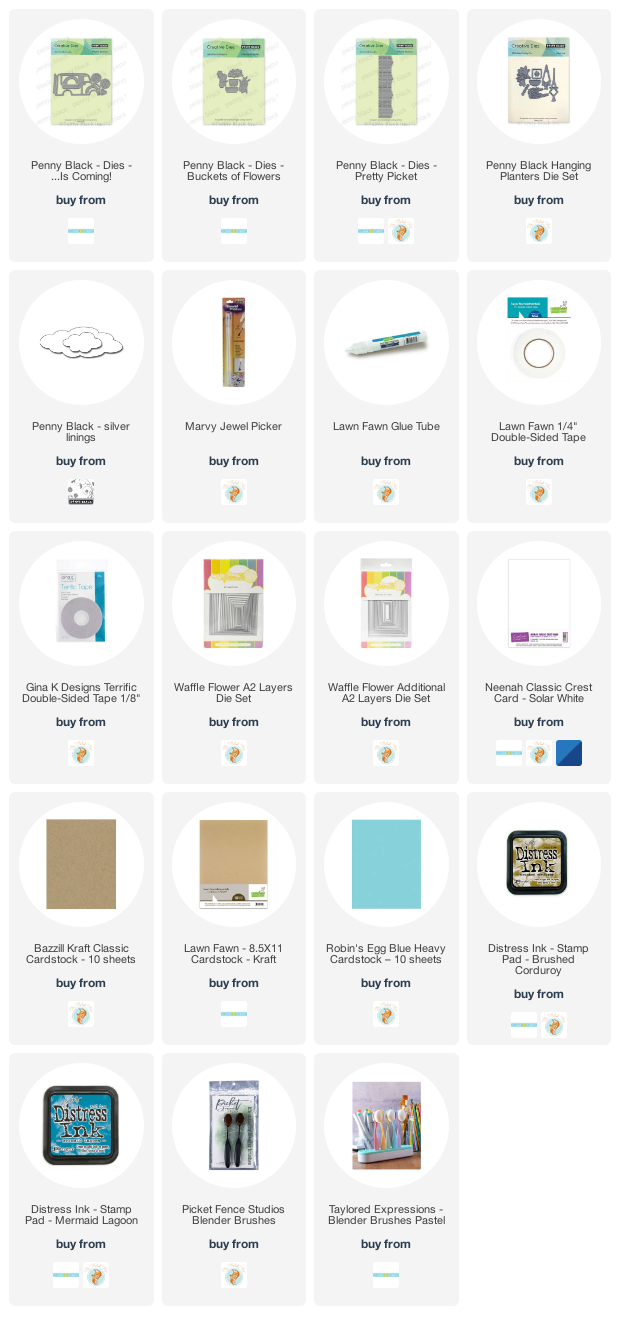 ---