Posted: January 25, 2021
Filed under: Brutus Monroe, Colorado Craft Company, Concord & 9th, Daisy & Dahlia, Karin brushmarkers, phrase builder you, Pink Fresh studio, simple serif alphabet dies
| Tags: brutus monroe embossing powder, Colorado Craft Company, Concord & 9th, Karin brushmarkers, Pink Fresh studio
9 Comments
I've teamed up with the Foiled Fox again, as I love to do and I'm sharing two cards featuring the Colorado Stamp Company's 'daisy & dahlia' stamp. I made a couple of cards last year with this stamp using a very different colour scheme.
On the card above I wanted to show you how much depth and variation you can get from single Karin brushmarkers. I was so happy to see the light and shadow I could achieve on each petal with one or two dabs of ink from the marker then blending with water. The blue flower on the right which is barely showing was coloured with a bold dark blue but as you can see it was possible to dilute it to a pale blue. I used the following Karin brushmarkers on the panel: black, henna, cool grey , rose wood, cyan, turquoise, royal blue.
It's not easy to see but you might notice a white on white embossed image on the card base; it's the same stamp providing a bit of texture. You can learn more about my process by visiting the Foiled Fox blog today
I kept some of the colours but went for a bolder look on my second card embossing the same large stamp in white on black cardstock. As you can see this stamp works as a coloured image and and a black and white image. White on red, red on white, blue on white, there are many colour combos which I'm sure would also look bright and beautiful.
Make sure you check out all the details on the Foiled Fox blog and take the time to check out Shauna's stunning floral card from last Friday; it is a beauty.
(Compensated affiliate links used when possible)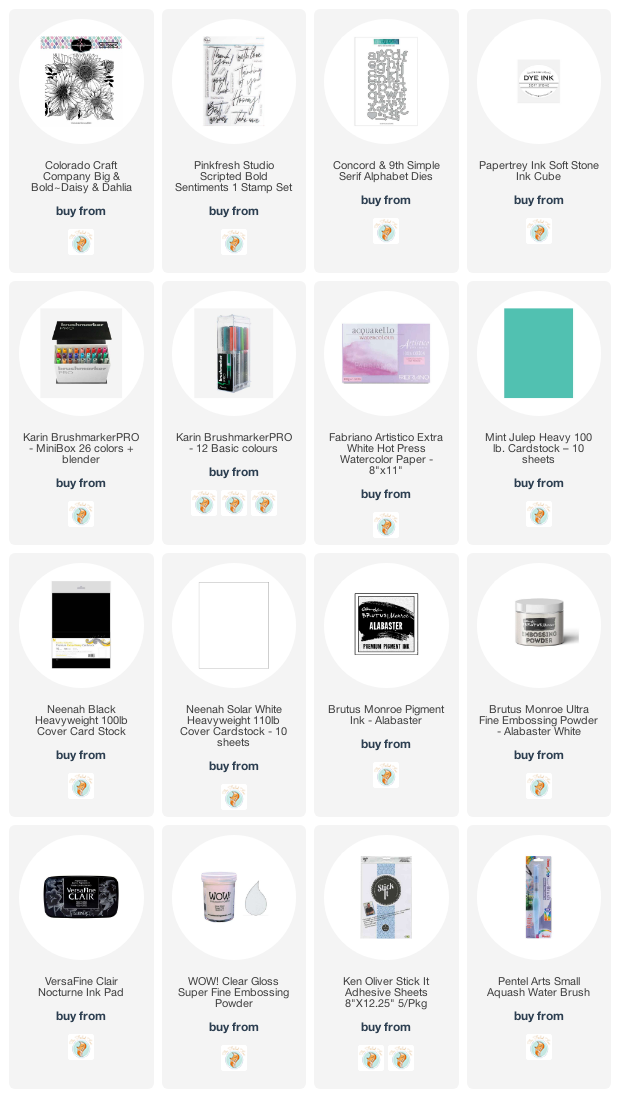 ---
Posted: November 2, 2020
Filed under: all the birthdays, Brusho, Colorado Craft Company, Concord & 9th, Daisy & Dahlia, Papertrey Inks
| Tags: Colorado Craft Company, Concord & 9th
8 Comments
This bunch of flowers is a single large stamp from the Colorado Craft Company and I'm over on the Foiled Fox blog today describing how it inspired me. It's called 'daisy & dahlia' and it is from the 'big and bold' collection.
For this square card I chose autumn tones, because despite that sprinkle of snow we had last week it is definitely still autumn. I used Papertrey ink cubes which are very juicy and blend well with water after they're stamped on watercolour paper.
I used one of the inks from the floral panel to stamp a bold birthday square with one of the stamps from Concord & 9th's 'all the birthdays' set.
On my second card I used a similar colour scheme but threw in the contrast of purple paint. I embossed the stamp on a rectangular panel with platinum embossing powder then sprinkled four different colours of brusho powder strategically on the panel.
If you have used brusho powders at all you will know you can't really be very strategic; it goes where ere it will! I still ended up with a red flower, an orange flower and a purple flower but my favourite bits are the ends of the petals that ended up multicoloured.
Once again I chose stamps from the C&9 'all the birthdays' set to create a purple sentiment band trimmed in quartz shimmer cardstock.
An idea I have yet to try with this big beauty is to stamp it in one colour to highlight the detail of the design. Make sure you pop over to The Foiled Fox for more details and tips on these cards and techniques.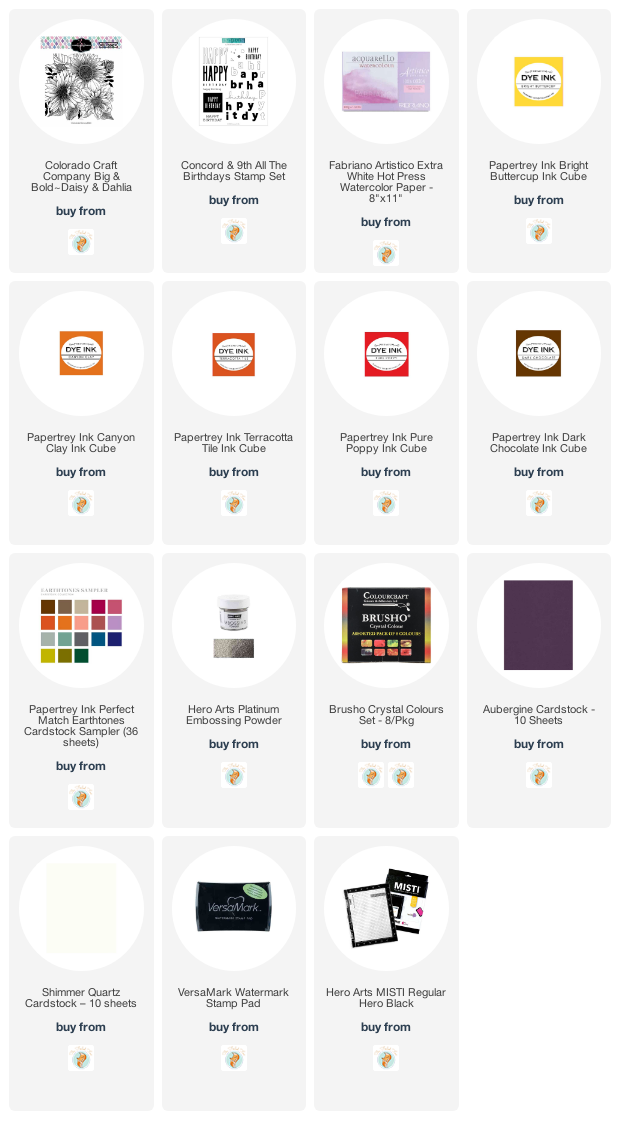 ---