Posted: February 6, 2021
Filed under: Bullet Journal, Dingbat notebooks, Hand lettered, Nature's Beauty, Papertrey Inks, Penny Black, Stabilo .88 fine line pens
| Tags: Bullet Journal, Dingbats notebook, Hand lettering, Papertrey ink, Penny Black creative dies
8 Comments
We are still in the thick of winter here in Canada so I chose a northern lights theme for my February journal pages. Like last month I masked a shape and did all the blending inside the shape. This time I masked a square and positioned a hilly mask to create a horizon. I used Papertrey Ink cubes and makeup brushes to blend the sky.
After blending a bold blue, green and purple sky I moved the horizon mask lower to lightly blend a snowbank shadow then positioned a die-cut mask for a deer and blended blue, then black through that. I did film the process just to give you an idea. It's portrait orientation for instagram and it is 4x normal speed but you can see the steps.
Below are a couple more February pages completed using the same theme. As you can imagine the combination wish list and to-do list took a lot of ink blending which ended up being visible through the paper on the next page. Maybe they bled through because I used more ink on this page for greater depth of colour or maybe these inks are juicier than distress inks; I'm not sure but you can see the bleed through if you look at the February calendar page in the next photo. I'm not too worried about the bleed through, once I have recorded things on the calendar page it will be less obvious I imagine.
I used Stabilo point 88 finelines for the lettering once again but do intend to try some other pens I have on hand (confession – I have many types of pens and markers on hand!)
Last month I did a modified version of the traditional 7 x 6 grid for the January calendar page and a separate habit tracking page. This month I combined the calendar and habit tracker on a list style page. I will record any appointments and outings (you know, the exciting ones like the grocery store) on the left hand side and note down what we cooked, how much water I drank and whether I took all my vitamins on the right hand side. Do you struggle to drink enough water each day? I am the worst in my family but I have become much better since I put a reminder app on my phone. I also am quite good taking my supplements at breakfast but not so good the rest of the day!
I have a couple more pages to get done for February which I hope to share next week. Thanks for dropping by. Let me know if you are a bullet journal user; I'd love to hear what you use it for.
(Compensated affiliate links used when possible)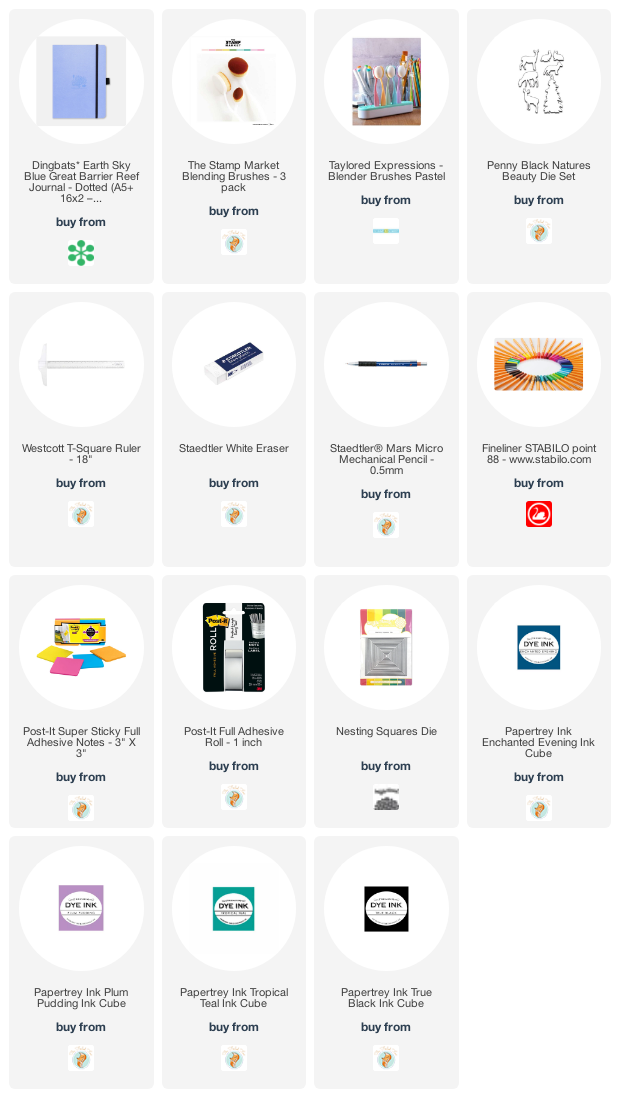 ---
Posted: October 29, 2015
Filed under: Nature's Beauty, Tiny Tree
| Tags: Penny Black creative dies, Tsukineko Memento inks
6 Comments
You know I have said before, 'You can never have too many tree stamps!' Well if you find yourself running short you can always make a few tree stencils to help you through that difficult time. I was happy to see some new tree dies in the latest release from Penny Black and decided to make my own stencil by die-cutting a row of trees using two different sized tree dies.
I used a piece of Plaid stencil plastic and cut a row of trees with the die from 'Nature's Beauty' set and a smaller tree from the 'Tiny Tree' set. I sponged a gradated sky with two blue inks then sponged two greens through the stencil. I was going to spritz the images quite generously to make the colours bleed together but I decided to stop after a couple of spritzes because the watermarks and texture from the paper already looked interesting. I diecut a single tree from the stencil plastic also so I could sponge isolated trees then painted the shadows of the snow drifts around them. The foreground tree was sponged and spritzed the same way then die cut and popped up on some die cut fun foam for added dimension.
I decided to inlay the word Joy which was not a brilliant idea because I had already attached the thick watercolour paper to the green cardstock mat and die cutting an intricate word ended up being rather tricky.
Supplies:
Dies: Nature's Beauty, Tiny Tree, Greetings (PB)
Inks:  Memento Northern Pine, Cottage Ivy, Summer Sky, Danube Blue (Imagine Craft/Tsukineko)
Cardstock: Cold Pressed Canson, Green cardstock
Also: fun foam, Plaid stencil blank
---