Posted: February 6, 2021
Filed under: Bullet Journal, Dingbat notebooks, Hand lettered, Nature's Beauty, Papertrey Inks, Penny Black, Stabilo .88 fine line pens
| Tags: Bullet Journal, Dingbats notebook, Hand lettering, Papertrey ink, Penny Black creative dies
8 Comments
We are still in the thick of winter here in Canada so I chose a northern lights theme for my February journal pages. Like last month I masked a shape and did all the blending inside the shape. This time I masked a square and positioned a hilly mask to create a horizon. I used Papertrey Ink cubes and makeup brushes to blend the sky.
After blending a bold blue, green and purple sky I moved the horizon mask lower to lightly blend a snowbank shadow then positioned a die-cut mask for a deer and blended blue, then black through that. I did film the process just to give you an idea. It's portrait orientation for instagram and it is 4x normal speed but you can see the steps.
Below are a couple more February pages completed using the same theme. As you can imagine the combination wish list and to-do list took a lot of ink blending which ended up being visible through the paper on the next page. Maybe they bled through because I used more ink on this page for greater depth of colour or maybe these inks are juicier than distress inks; I'm not sure but you can see the bleed through if you look at the February calendar page in the next photo. I'm not too worried about the bleed through, once I have recorded things on the calendar page it will be less obvious I imagine.
I used Stabilo point 88 finelines for the lettering once again but do intend to try some other pens I have on hand (confession – I have many types of pens and markers on hand!)
Last month I did a modified version of the traditional 7 x 6 grid for the January calendar page and a separate habit tracking page. This month I combined the calendar and habit tracker on a list style page. I will record any appointments and outings (you know, the exciting ones like the grocery store) on the left hand side and note down what we cooked, how much water I drank and whether I took all my vitamins on the right hand side. Do you struggle to drink enough water each day? I am the worst in my family but I have become much better since I put a reminder app on my phone. I also am quite good taking my supplements at breakfast but not so good the rest of the day!
I have a couple more pages to get done for February which I hope to share next week. Thanks for dropping by. Let me know if you are a bullet journal user; I'd love to hear what you use it for.
(Compensated affiliate links used when possible)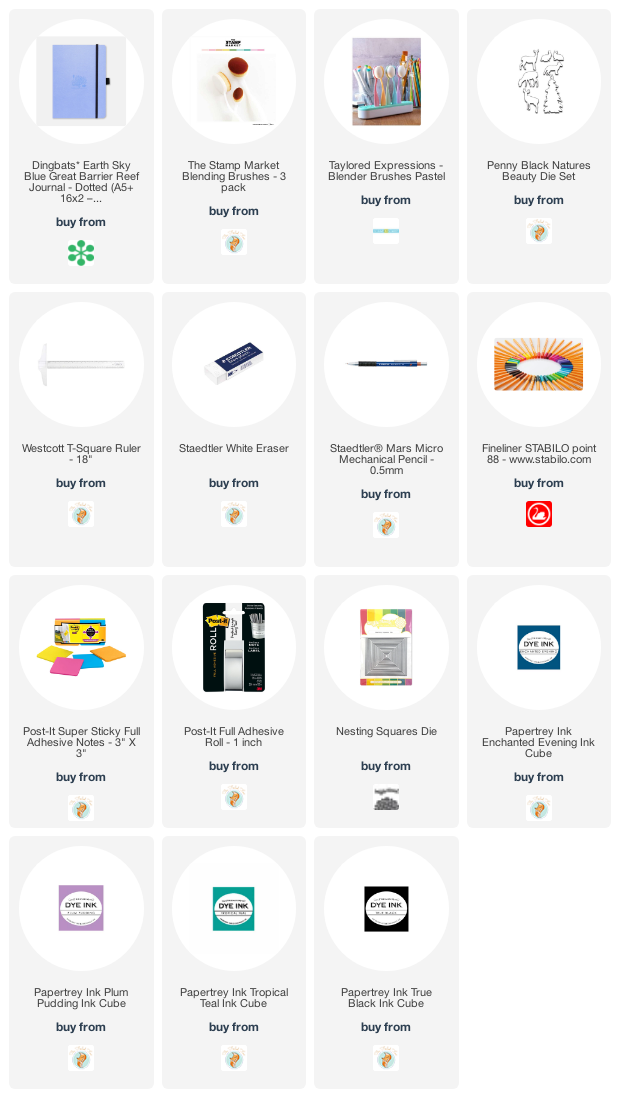 ---
Posted: January 30, 2021
Filed under: Bullet Journal, Dingbat notebooks, Stabilo .88 fine line pens
| Tags: Bullet Journal, Dingbats notebook, Ranger Distress inks
15 Comments
As I mentioned last weekend I have started a new journal or bullet journal or BuJo for short. This is the second one I've used and I am enjoying the process of working out what I need and don't need to include. As you can imagine I am also enjoying making it pretty but in ways that don't take all the time I should be spending on the 'to do' list I write in the journal!
This is my January title page; I know it's almost February and I should be sharing the Feb page but I will catch up and start sharing ahead by March (I hope). I'm going to have a different theme for each month, otherwise I would get sick of them I'm sure. The January theme as you can see was mountains and trees. Start with what you know, right?
I die cut a 3¾" circle from a large post it then tore some more post-it edges to mask mountain tops while I blended a blue sky with chipped sapphire and stormy sky distress inks and blending brushes. Not too surprising that I would pick my favourite blue distress inks for my first theme. After blending the dark sky I turned the torn edge of the post it on its side to blend shadows on the mountain sides with stormy sky ink. I drew the trees with a Stabilo point 88 dark blue and a Papermate flair grey.
For the month double page spread I used the same products and method but added a circle mask for the moon before blending the sky. At present I don't have activities outside the home other than groceries and exercise so I am recording those along with birthdays and the meals we make just so I remember what we've eaten lately and for ideas later when I don't know what to cook.
During January I have also been using a habit tracking page for water consumption, vitamins and correspondence, a to-do list page and a project tracking page for design work, blogging and class planning. I'm still working the kinks out of the layouts and content but I used the same mountain and trees theme.
(Compensated affiliate links used when possible)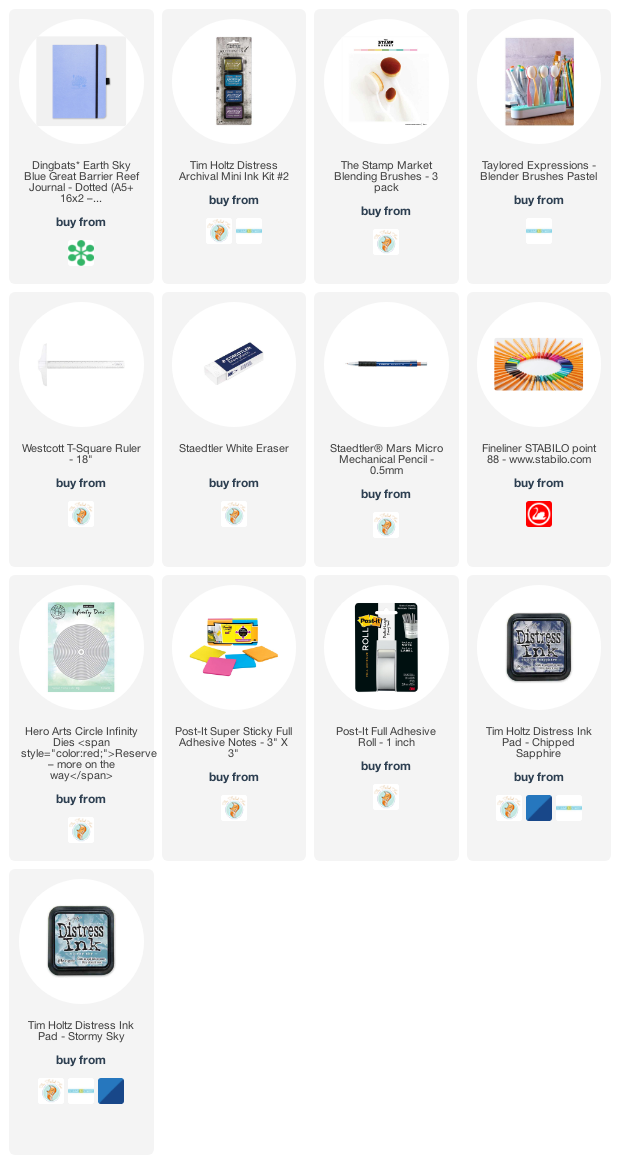 ---