Posted: May 27, 2020
Filed under: balloons!, City Stacks dies, Concord & 9th, Papertrey Inks, Penny Black, sennelier watercolours, simple serif alphabet dies
| Tags: Concord & 9th, Papertrey ink, Penny Black creative dies, sennelier watercolours
8 Comments
I'm not sure if I have ever posted a baby card on my blog; if I have it was so long ago I can't remember! This one is a commission for a friend; she asked me months ago and I totally forgot. When she texted the other day to see if it was ready I admitted it was not but I would make sure it was by the next day! I was happy to have thought up a concept all those months ago and my idea came together without hiccoughs.
I painted pink, yellow and orange paint on watercolour paper, added water then let it blend and bleed together. Once it was dry I used the Penny Black 'Balloons!' die set to cut three balloons then cut the strings and bows from unpainted watercolour paper. I added stick-it adhesive to the back of some peach coloured cardstock then cut two sets of letters to stack for the words using the C&9 'simple serif alphabet' dies.
To create the cloudy sky I cut post-it masks using the cloud die from C&9 'city stacks' die set then blended over the edges on a background panel and an envelope using Papertrey ink cubes in 'sweet blush' and 'lovely lady'. I cut a very narrow mat of pale rose cardstock to frame the panel and attached everything to a cream card base.
I wondered about cutting more balloons to put inside but instead painted some of the same pink, yellow and orange paint on my glass mat, spritzed it generously to dilute it then placed an extra panel of watercolour paper on top to pick up a pale wishy-washy print.
Seeing that I rarely make baby cards this might become my design of choice when I do need one; I'll just change the colour scheme to keep things interesting.
Supplies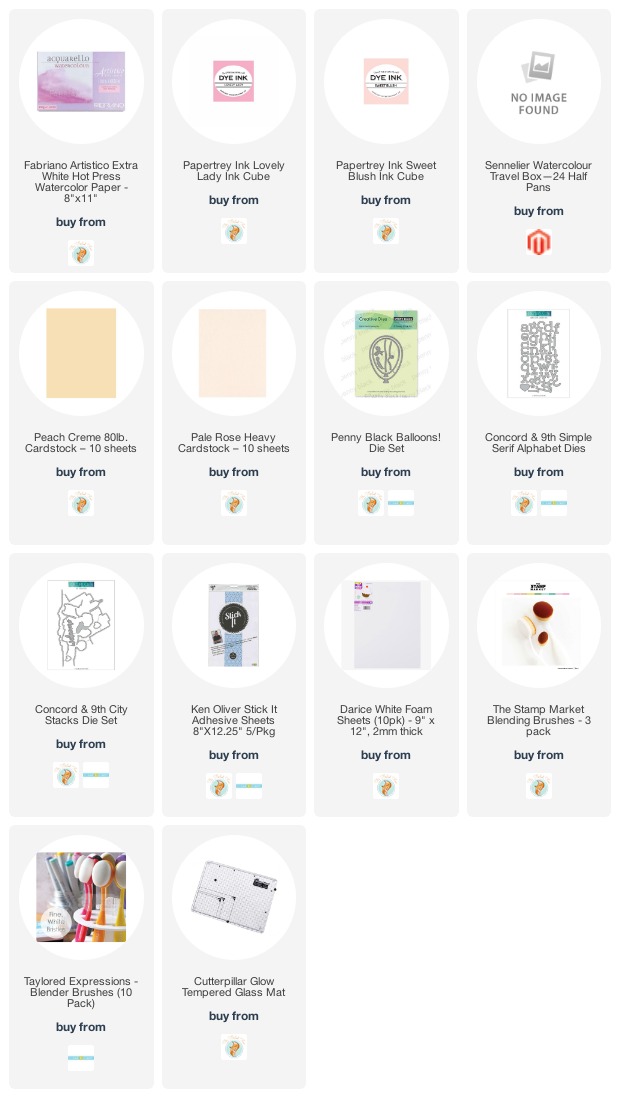 ---
Posted: August 28, 2018
Filed under: City stacks, City Stacks dies, Coloured pencil
| Tags: Concord & 9th, Faber-Castell Polychromos Colour Pencil
5 Comments
These little houses and trees came from the Concord & 9th 'City Stacks' set. I love the possibilities with this set. You can stamp a simple single house or a detailed layered scene. I decided to line my images in one long line extending across the front and back of the my card.
I stamped in versafine clair nocturne ink and did all my colouring with polychromos pencils. I used the co-ordinating dies to create masks to make the stamping easier when tucking those trees in amongst the houses. I also die-cut a cloud edge from cardstock as a guide for my pale blue pencil coloured clouds. I have a class coming up in September where we will be watercolouring these cute stamps to create some city scenes. Check it out on my Upcoming classes page.
Supplies
Stamps: City Stacks (Concord & 9th)


Dies: City Stacks die set (Concord & 9th)


Paper: hot pressed watercolour paper, masking paper


Ink: versafine clair nocturne


Pencils: Faber Castell polychromos

---
Posted: July 30, 2018
Filed under: City stacks, City Stacks dies, Concord & 9th
| Tags: Canson watercolour paper, Concord & 9th, Inktense
7 Comments
You might not have guessed I would go for this set but I have had so much fun playing with all the possibilities. I am sharing this card and my process over on the Foiled Fox blog today so pop on over there to read about how I made it.
The set is called 'city stacks' and there is a matching set of dies to cut out the row of houses, the hill of trees, the collection of skyscrapers and the bank of clouds. This card is definitely a stack of layers, five to be exact including the card base, but I have made a some one and two layer cards with this set also.
When I saw all the fun that could be had with this set I decided to design a class around it so you can check that out on my upcoming classes page. To see what Laurel Beard dreamed up with this set check out her card on the Foiled Fox blog last week. Now tell me, even if this isn't your style, can you see why I love this set so much?
Supplies
Stamps: City Stacks (Concord & 9th)


Dies: City Stacks die set (Concord & 9th)


Paper: Canson XL cold pressed watercolour paper, Neenah natural white


Ink


Pencils


Adhesive

---