Posted: May 10, 2021
Filed under: Altenew, dancing peacock embossing folder
| Tags: Altenew, delicata inks, Ranger Distress inks
7 Comments
After creating a very colourful panel with the dancing peacock embossing folder I was happy to come up with a more muted and aged looking panel. Like most crafters I am always pleased to use my supplies in many different ways.
Once again I worked with hot pressed watercolour paper in case I wanted to add water but as it turned out I other than a small spritz to stop the paper from tearing in the folder I didn't use water. This card turned out to be very much a 'limited supplies' card as the green ink (bundled sage) was applied in the embossing folder and then more with a blending brush after embossing. The gold ink (delicata golden glitz) was applied direct to paper so it just landed on the raised sections. Simple but effective definitely describes this technique.
I played with a sentiment strip but ended up embellishing with only green embroidery thread and two brass toned butterflies given to me by a friend quite some crafty time ago. I am hoping for another day of simple but effective creating today!
(Compensated affiliate links used when possible)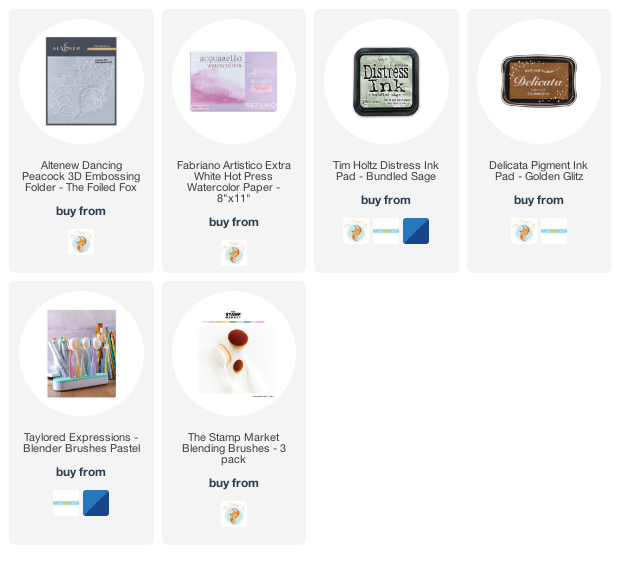 ---
Posted: April 26, 2021
Filed under: Altenew, dancing peacock embossing folder, Heather lowercase die set, Papertrey Inks, Pink Fresh studio
| Tags: Altenew, Papertrey ink, Pink Fresh studio
6 Comments
Today is another fun day on my blog because the Foiled Fox and I have teamed up to share this amazing embossing folder with you and to announce the winner of our recent giveaway. In a shared post earlier in April we asked you to tell us what is on your wish list. I really enjoyed reading your answers and share some of your wishes. Today's card is a result of a wish list longing I've satisfied recently. I kept seeing cards with beautiful backgrounds achieved by using an embossing folder. I ordered a few and the Foiled Fox sent me a couple of lovely ones from Altenew including the 'dancing peacock' one you see here.
To create this dramatic panel I used hot pressed watercolour paper knowing that I would be spritzing the panel with water to make the inks blend. A spritz of water on the cardstock can also keep the panel from tearing when it is inside the folder going through the die-cutting machine. As I wanted the pattern to be raised on my card front I inked the non-raised side of the embossing folder with four peacock tones from Papertrey ink. I gave the folder a light spritz of water to get the inks blending.
The inks and the very detailed embossing folder did exactly what I'd hoped and created a blended textured panel. The inks didn't cover the whole area so I used a paintbrush and some water to spread the inks to the edges and let the panel dry. I waited for it to air dry but I think it would have been fine to use the heat tool. Once dry I placed it back into the embossing folder and ran it through the machine again to sharpen the edges of the design.
To complete the card I trimmed the embossed panel to 4⅛" x 5⅜" so it would be framed with a narrow white frame. I cut the letters of the word 'celebrate' with Pinkfresh Studio's 'Heather lowercase' die set and snuggled them together to fit along the lower edge of the card front. To overlap the letters neatly I attached some directly to the panel and popped others up on foam tape.
And now what you've all been waiting for, the winner of gift certificate to spend in the Foiled Fox store. Congratulations, Jo Anna! The Foiled Fox will be in touch.
Thank you to everyone who entered the giveaway. Among the list of crafty items people are wishing for there were several mentions of new PB floral and sentiment stamps – no surprises there! A few people are wishing for markers, both Karin and distress – again I totally understand. Some of you are after inks, including the new distress colours; did you see the newest one released over the weekend, 'salvaged patina'? Well, I now know I need some salvaged patina in my life! At the risk of sounding like I want 'all the things' I will stop here and once again thank the Foiled Fox for collaborating with me and supporting my blog and creativity, something I love sharing with you.
(Compensated affiliate links used when possible)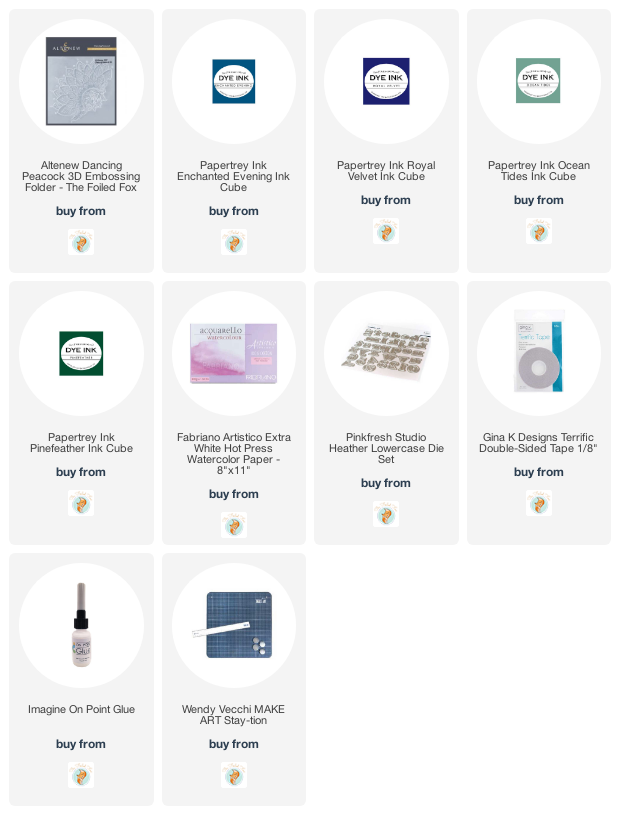 ---