Posted: April 17, 2021
Filed under: blissful blossoms, Bullet Journal, Dingbat notebooks, Penny Black, Uncategorized
| Tags: Bullet Journal, Dingbats notebook, distress markers, Papertrey ink, Penny Black stamps
4 Comments
Here is my month at a glance record with the April blossom theme. If you look closely you will see I left no space for April 1st so I tacked it on at the end of the March page and moved on!
I used the same blissful blossom stamp from Penny Black that I used on the title page and to-do list. This time I masked some strips for blending pink before writing the days and the month title. You can see some evidence of bleed through in the top left corner but it's just blossom so I like the shadowy effect.
(Compensated affiliate links used when possible)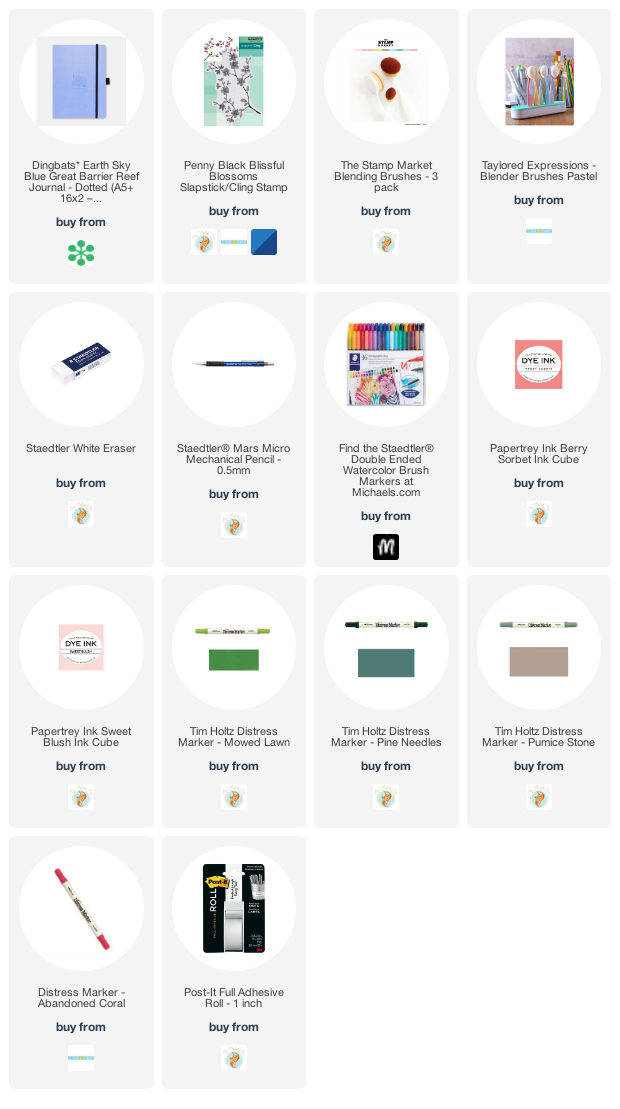 ---
Posted: April 10, 2021
Filed under: blissful blossoms, Bullet Journal, Dingbat notebooks, Papertrey Inks, Penny Black
| Tags: Bullet Journal, Dingbats notebook, distress markers, Papertrey ink, Penny Black stamps
9 Comments
April's bullet journal pages do not feature snow! I haven't seen any blossoms yet but I'm sure I will before April is over so I chose blossoms for this month's theme. As I've done for January, February and March, I masked a shape in the middle of the page with a large piece of post-it paper and did all my stamping and blending inside the masked area.
This is the first page I've used stamps for in my bullet journal so there was some experimenting involved. The stamp I chose is a 'brushstroke' stamp designed to look painted and I never use these stamps without adding some water and blending. Stamping 'blissful blossoms' on the non-watercolour paper meant minimal water so as to not get too much bleed through to the back of the page.
For both the title page and the to-do list page I inked the blossoms with pink ink cubes then added the rest of the colour with distress markers. I spritzed the stamp ever so lightly with water before stamping and blended the flowers and leaves ever so lightly on the page with a blender pen.
There was some bleed through but it wasn't bad and I stamped over the top of it with the same blossoms when creating my April month spread that I'll share another day.
Hope April is off to a good start for you. We have had gorgeous sunshine all week but I have seen there is rain coming. But you know what they say, "April showers bring May flowers"!
(Compensated affiliate links used when possible)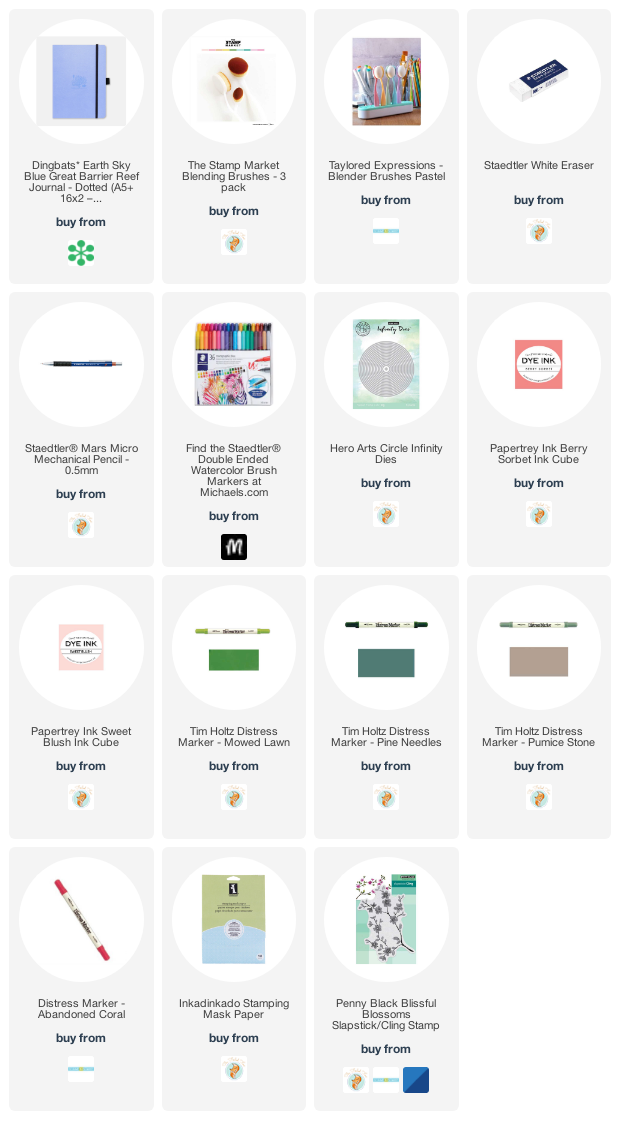 ---
Posted: January 18, 2019
Filed under: blissful blossoms, royal swirl
| Tags: Penny Black creative dies, Penny Black stamps, Ranger Distress inks
14 Comments
It is hard to believe I haven't inked this pretty stamp before now. I made up for it by repeat stamping on a large panel to make into a set of cards. I put the 10″x 7″ hot pressed watercolour panel in my stamp positioning tool and ended up stamping PB 'blissful blossoms' four times.
Each time I stamped I followed the same order. First I inked the whole stamp in scattered straw distress ink and dabbed some wild honey and abandoned coral ink here and there on the flowers, spritzed it with water. After stamping I cleaned the stamp, then inked all the stems and leaves in peeled paint ink, spritzed and stamped again. I kept partially inking with markers, spritzing and stamping until the flowers were well coloured. Before moving the panel and stamp to do another print I blended over the stamping with a paint brush and water.
I repeated the process three more times to fill the panel. I was able to orient the stamp so the stems and flowers filled the space and looked like one big patterned panel.
Once the panel was done I had to decide how to divide it for different designs. I could have done four of the same card but no, I wanted to come up with a few options. I pulled out a pretty PB die, a PB sentiment set and some green cardstock to create a set of five cards.
The decorative die does not cut right across, it cuts out the scroll work but scores either side for folding. On several of the cards I cut on the score line for a border instead of a fold.
By double matting and popping up the panel even the last scrap became a card. All the sentiments are from the handy dandy 'happy snippets' set.
Supplies
Stamps: blissful blossoms, happy snippets (PB)


Dies: pop on a fold -royal swirl (PB)


Inks: scattered straw, dried marigold, abandoned coral, peeled paint, versamark, shady line versafine clair


Markers: peeled paint, dried marigold, abandoned coral, ground espresso


Cardstock: hot pressed watercolour, neenah cream, olive green


Also: Stamp positioner, white embossing powder, linen twine

---