Posted: June 7, 2021
Filed under: Cow's it going?, Lion, Pink Ink Designs, Sea Turtle, whale
| Tags: Faber-Castell Polychromos Colour Pencil, Pink Ink Designs
19 Comments
Recently I put together a set of animal themed cards as a gift for an animal lover I know. I did not realise how much I would enjoy colouring these animal images from Pink Ink Designs. I own five of these large stamp sets featuring animals and have only watercoloured them up until now. (the one not featured in today's post is the dragon). Coloured pencil on kraft turned out to be quite effective for the beasts! I used Faber Castell Polychromos pencils and will always recommend them.
The artist who designs these stamps is very talented and as you can see on the whale there are some whimsical details added to the otherwise realistic image. I stamped the whale in cobalt archival ink then coloured with blue, white and black pencils before adding white dots over the top with a gel pen.
The highland cow is a beauty, no added whimsy but plenty of personality. She's been on the blog before. I stamped the image with papertrey weathervane ink and rusty hinge distress then added colour with pencils (Faber Castell polychromos).
I don't remember ever colouring a lion before so I had a reference photo in front of me to work out where the shadows were and where the colours of the fur changed. The stamp has a crown on the lion which I didn't want for this card so I left it un-inked and filled the gap with more of his mane.
The image is stamped in Papertrey 'classic kraft' ink and all the colouring is once again pencil. As I worked on these animals I saw again and again the impact of white pencil highlights.
The turtle has also been on the blog before, in watercolour and pearlescent paint. As with the other animals she looks good in pencil on kraft. She has plenty of whimsy in her patchwork shell. Choosing dark blue for her shell was not so realistic but her underbody and fins were inspired by a photo I found.
I'm sure you are wondering what is next for these amazing animal stamps ( or maybe you're saying enough already, where are the flowers and trees?!) I think each of these animals deserves it's own art journal feature at the very least, so yes, they'll be back.
Supplies
(Compensated affiliate links used when possible)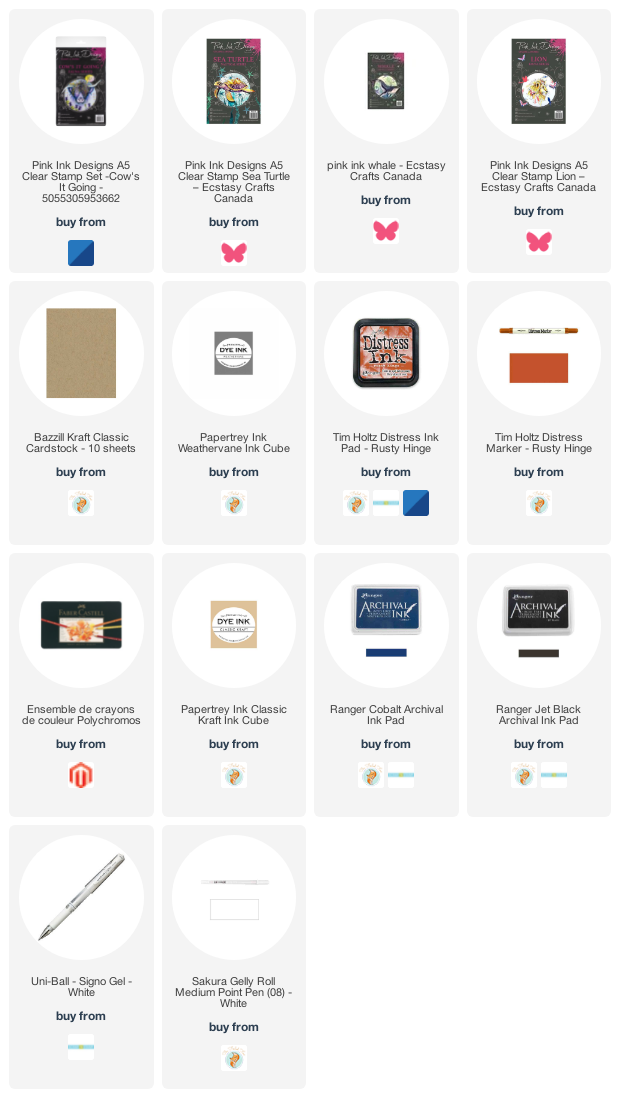 ---
Posted: May 14, 2021
Filed under: Cow's it going?, Pink Ink Designs, Stampin Up, subtle
| Tags: Fabriano Watercolour Paper, Pink Ink Designs, Stampin Up
18 Comments
How much do you love this big highland cow? I hope you don't mind this departure from my usual subject matter but there is something about this cow (and some other beauties from Pink Ink Designs) that amuses and inspires me! When I saw this stamp I knew it would make the perfect birthday card for someone I know who finds highland cows adorable. Although confused by my behaviour, Crop A While here in Ottawa ordered it for me and I'm so glad.
This card is stamped and painted with dye inks, classic kraft papertrey ink as a base colour then four distress colours to highlight, shade and add personality to the beautiful face and hair-do. I worked in a stamp positioner so I could add the colours bit by bit to build up the image. I did some painting and blending with a paint brush but kept white areas also as they add so much to the design.
After I had completed the painting part I decided not to add anything more but instead ran the panel through the die cut machine inside the SU subtle embossing folder. If you look at the close up image you might just see the linen texture achieved. The 'cow's it going' stamp set includes eleven smaller stamps along side this one including some distinctly Scottish ones so I'm looking forward to following that theme another time. My name is Heather after all, Heather McDonald originally!
Hope you are having a good hair day, like this cow obviously is!
(Compensated affiliate links used when possible)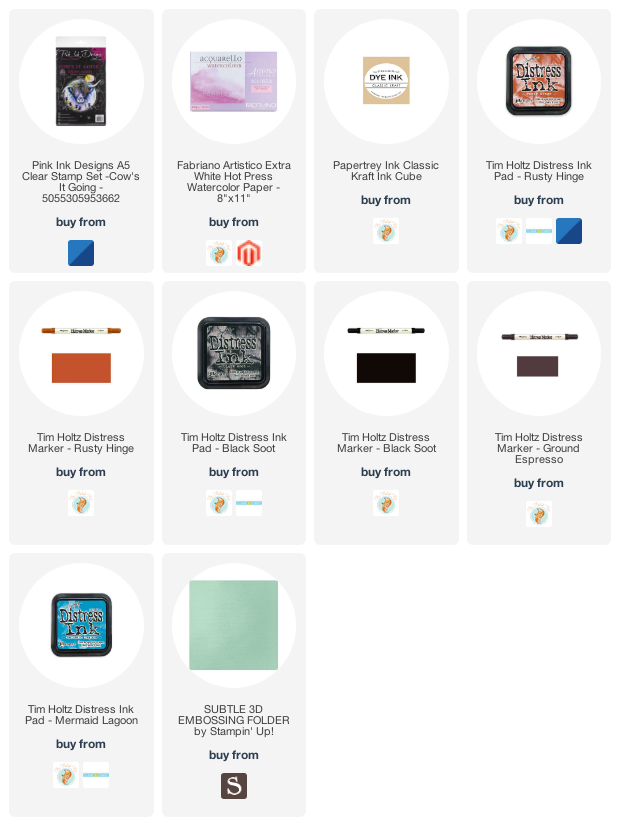 ---