Posted: June 7, 2021
Filed under: Cow's it going?, Lion, Pink Ink Designs, Sea Turtle, whale
| Tags: Faber-Castell Polychromos Colour Pencil, Pink Ink Designs
19 Comments
Recently I put together a set of animal themed cards as a gift for an animal lover I know. I did not realise how much I would enjoy colouring these animal images from Pink Ink Designs. I own five of these large stamp sets featuring animals and have only watercoloured them up until now. (the one not featured in today's post is the dragon). Coloured pencil on kraft turned out to be quite effective for the beasts! I used Faber Castell Polychromos pencils and will always recommend them.
The artist who designs these stamps is very talented and as you can see on the whale there are some whimsical details added to the otherwise realistic image. I stamped the whale in cobalt archival ink then coloured with blue, white and black pencils before adding white dots over the top with a gel pen.
The highland cow is a beauty, no added whimsy but plenty of personality. She's been on the blog before. I stamped the image with papertrey weathervane ink and rusty hinge distress then added colour with pencils (Faber Castell polychromos).
I don't remember ever colouring a lion before so I had a reference photo in front of me to work out where the shadows were and where the colours of the fur changed. The stamp has a crown on the lion which I didn't want for this card so I left it un-inked and filled the gap with more of his mane.
The image is stamped in Papertrey 'classic kraft' ink and all the colouring is once again pencil. As I worked on these animals I saw again and again the impact of white pencil highlights.
The turtle has also been on the blog before, in watercolour and pearlescent paint. As with the other animals she looks good in pencil on kraft. She has plenty of whimsy in her patchwork shell. Choosing dark blue for her shell was not so realistic but her underbody and fins were inspired by a photo I found.
I'm sure you are wondering what is next for these amazing animal stamps ( or maybe you're saying enough already, where are the flowers and trees?!) I think each of these animals deserves it's own art journal feature at the very least, so yes, they'll be back.
Supplies
(Compensated affiliate links used when possible)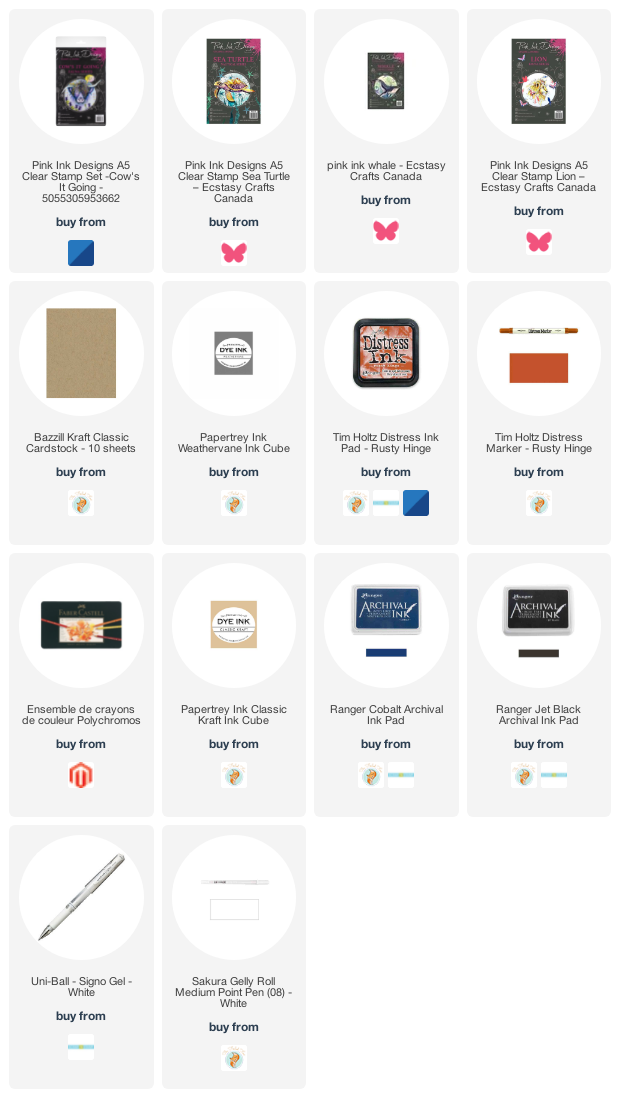 ---
Posted: February 11, 2021
Filed under: Brusho, Finetec paints, Pink Ink Designs, Sea Turtle
| Tags: Finetec artist mica watercolour paint, Pink Ink Designs
9 Comments
I've never been one to stamp or paint many animals so when I saw this stamp by Pink Ink Designs I surprised myself and the owner at Crop A While by snapping it up. I have to admit I've been intrigued by sea turtles over the last little while. There is a youtuber we watch pretty regularly who lives on the West Australian coast who often shares footage of sea turtles. They're graceful in the water but pretty challenged when they make their way onto land to nest. And the baby turtles who have to fight their way to the ocean to survive, that is fascinating and nerve wracking to watch.
You will probably notice this sea turtle is rather unique with a patchwork shell. I have another one painted ready for a journal page where I ignored all the patchwork and tried to paint it more realistically. This one was fun however as I chose colours to fill all those little patterns.
The turtle is embossed in black on hot pressed watercolour paper. I added the background first by wetting the panel then sprinkling brusho over it. I can't remember which brusho powder it was, maybe a blue and a green. I kept the strongest colour away from the turtle as much as I could with water and a paper towel but I didn't need the turtle to be white; it was fine to paint over the brusho colour.
I used pearlescent paints to paint most of the turtle but there are areas just painted with brusho also. To co-ordinate with the pearlescent paint I matted with antique gold shimmer cardstock.
Hope your day is going swimmingly!
(Compensated affiliate links used when possible)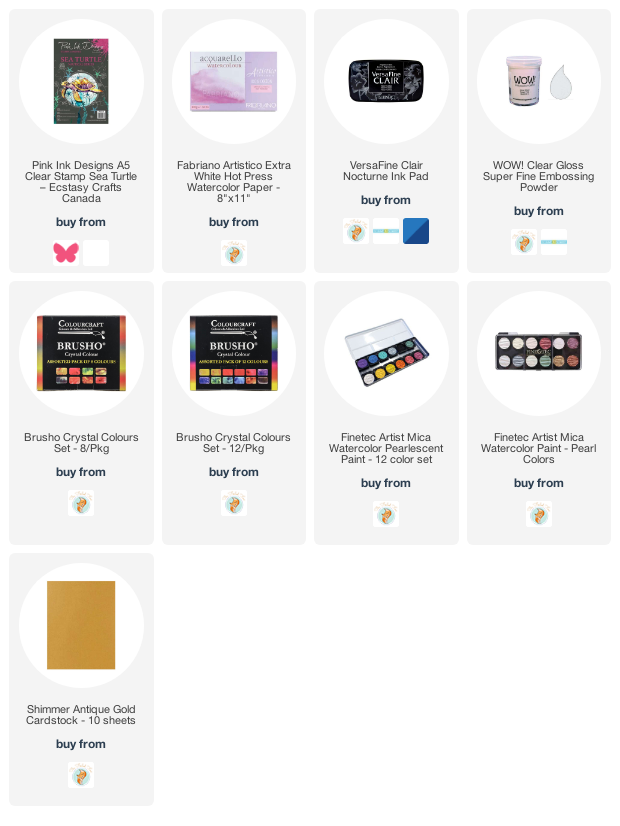 ---