3D Tulips
Posted: June 11, 2021
Filed under: Paper Rose, so extra supporting sentiments, tulips 3D
| Tags: Catherine Pooler inks, delicata inks, Paper Rose
6 Comments
My embossing folder collection has grown a bit more this week. I ordered a couple from Paper Rose Studio and tried out the Tulips 3D folder today. After a few experiments with watercolour paper and neenah cardstock I used the same technique on both these cards with different inks.
The green panel above was done with neenah solar white cardstock and the pink below is watercolour paper. As I didn't end up adding more than a spritz of water the effect is the same on both panels. I embossed the cardstock then used blending brushes to add Catherine Pooler spruce ink to the card above and bellini to the card below. For added detail and shimmer I used delicata inks direct to the panel, shimmer white over the spruce and rose gold over the bellini.
To complete the cards I added tulip diecuts from Penny Black (promise me II) and sentiment strips from Paper Rose Studio. I have seen printed sentiment strips from a few companies now and decided to try these. They are printed on slightly glossy cardstock and are designed to pair with die-cut words. There are several copies of each sheet of words or phrases so if I botch the cutting I can try again.
I know tulip season is over but I had to give this folder a try. I also know tulips don't come in green but I think the spruce one is my favourite of the two.
I appreciated all the suggestions and comments about the alcohol ink panels. I am considering a few of the ideas and will do a video as requested as soon as possible. Thank you for taking the time to enter the discussion; I love hearing from you and gathering new ideas.
(Compensated affiliate links used when possible)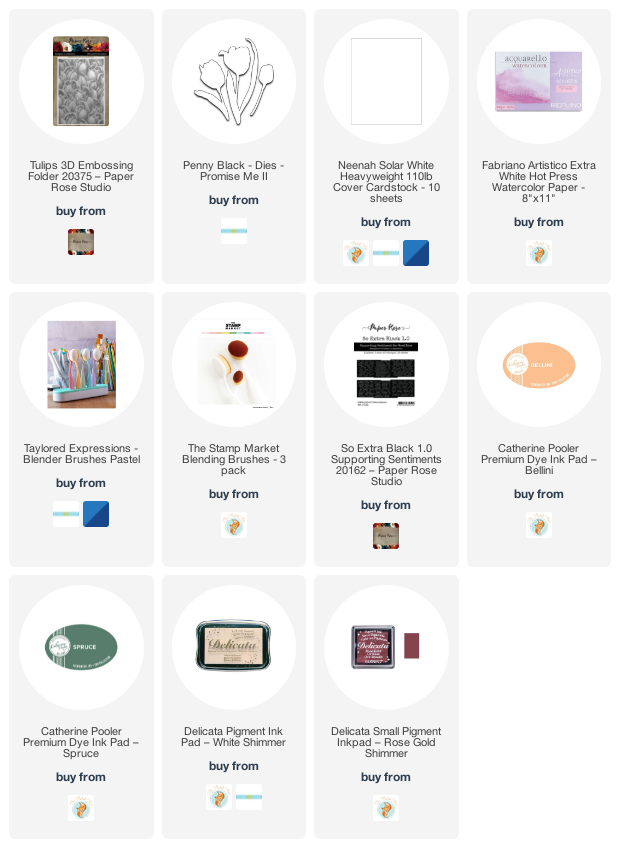 ---