Alcohol ink experiments
Posted: June 9, 2021
Filed under:
Alcohol Ink
| Tags: Ranger Alcohol Ink
23 Comments
I've taken a bit of time in the last week to experiment with some neglected mediums in my workroom. It has been both enjoyable and challenging as I try to remember process and techniques I haven't tried in a while. These three alcohol ink panels used different combinations of turquoise, eggplant, currant and gilded alloy inks. The panels are larger than my usual card size, more than double at 6″x 9″ and I'm wondering how to use them.
I could cut them up and put them on card bases but I thought I would ask you what you for ideas. They would probably make nice journal or notebook covers.
I used a different type of paper for these. It is made by Nara, I ordered from Amazon just to see what it was like. It was very similar to yupo or grafix white craft plastic which I have used in the past. To create the patterns I used copious amounts of isopropyl alcohol and a hand ink blower to move the ink forwards and backwards creating dried edges and soft diluted 'clouds'.
If I don't come up with any ideas right now I may end up cutting circles from the panels to make Christmas cards; the patterns make very pretty Christmas balls. Let me know what you think and if you would like to see a video of any of the above processes.
Before I go thank you so much for your enthusiastic response to the pencil coloured animals. It seems we have animal lovers as well as plant lovers around here which is wonderful. What about lovers of abstract colourful patterns?!
(Compensated affiliate links used when possible)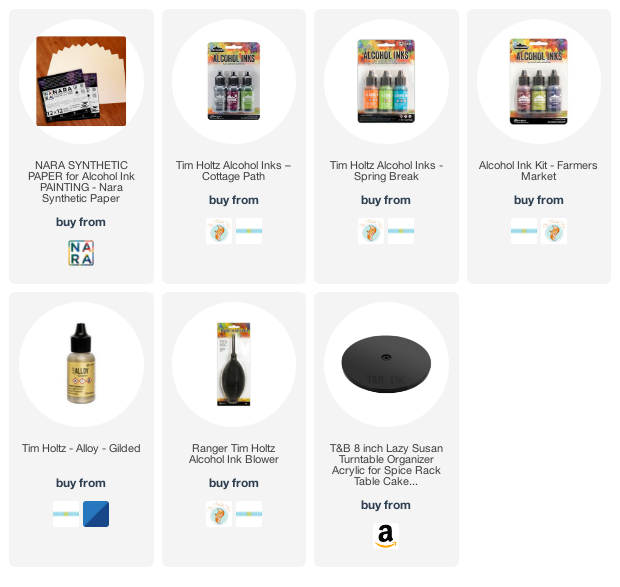 ---