Companions & a winner
Posted: May 24, 2021
Filed under: Classes, companions, Karin brushmarkers, online class, Penny Black
| Tags: Karin brushmarkers, online class, Penny Black stamps
5 Comments
I have a video and a prize winner to share today but first thank you for participating in the giveaway. I really enjoyed reading what your favourite flower stamps are and I'm planning to go back and read through again and feature some of them in upcoming posts. Several of you named stamps that have been on the blog recently, some of which feature in the new online class FLORAL FAVES. Others mentioned older classics which I hadn't thought about in a while. Dancing Daisies came up several times so I pulled it out and made a sample for the class. But without further ado let me announce the winner of a registration in my new FLORAL FAVES class!
Denise Bryant
Gorgeous card! I love the design and colors! The effect of the layering to frame the design is so pretty!
My favorite flower stamp is Penny Black's 'Together'. It reminds me of the agapanthus plants my grandmother grew in her yard.
Congratulations, Denise, I will be in touch by email.
Another stamp mentioned among the favourites was PB companions which features in today's card.
After watercolouring on bristol cardstock I can recommend it. I wouldn't choose it over hot pressed watercolour paper but it worked well and is more of a bright white, if you like that for your stamping.
Flowers continue to my focus right now as I proof read for the 15th time and put the finishing touches on the lessons in the FLORAL FAVES class ready for Wednesday (when the lessons will be available). I also planted more flowers in the garden over the weekend. I transplanted the morning glories I grew from seed; they look rather spindly but they started out that way last year and ended up a big success.
(Compensated affiliate links used when possible)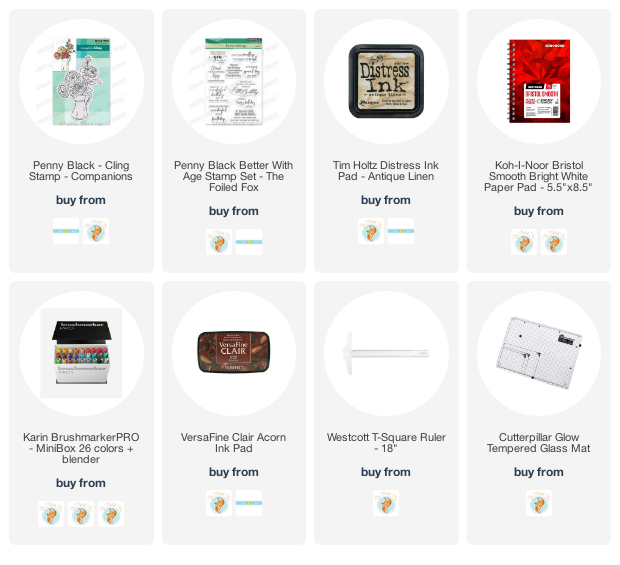 ---