Streaming
Posted: January 26, 2023
Filed under: Penny Black, Stamped Landscapes, streaming
| Tags: Fabriano Watercolour Paper, Penny Black stamps, Ranger Distress inks, Staedtler watercolour brush pens
8 Comments
As I write this a snow storm continues outside so there will be scenes like this one to enjoy in days to come. The whole scene is one of Penny Black's beautiful scenic stamps; this one is called 'streaming'. I worked on hot pressed watercolour paper in a stamp positioner and had splattered masking fluid over the panel before I began.
I used a few different inks so I could blend in some areas and get sharp images in others. The first thing I stamped was the top of the stamp including the horizon in uncharted mariner distress ink. Once I could see the horizon I painted more of the same ink to fill the sky adding a little black soot to the blending at the top to darken the sky. I let the panel dry before stamping the stream also in uncharted mariner ink. I took my time blending the stream because I wanted a bit of variety in the depth of colour. You can probably see a few areas that look quite dark where I added black ink to create the look of shadow at the water's edge.
I inked the trees in black archival ink and black starless sky ink (from Ciao Bella) I also used black and blue markers here and there to add ink to fiddly places. I painted some of my own shadowy snow drifts to fill out the scene.
(Compensated affiliate links from Foiled Fox, Ecstasy Crafts & Scrap n Stamp)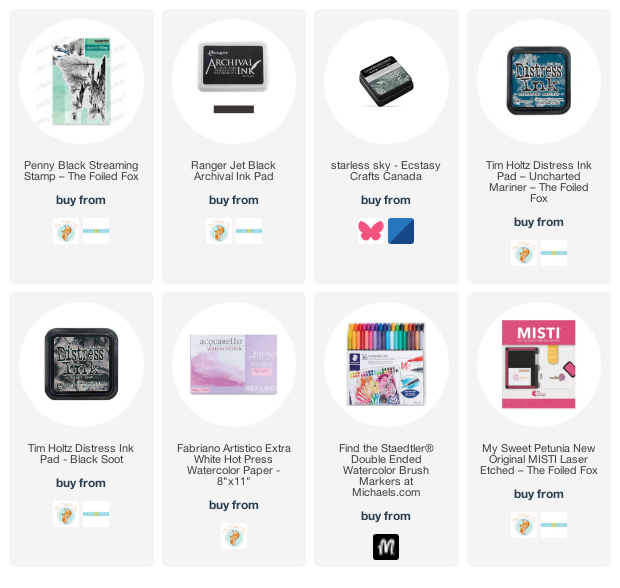 ---