Meadow Blossoms with Inktense
Posted: May 6, 2020
Filed under: Concord & 9th, Inktense pencils, meadow blossoms
| Tags: Concord & 9th, Inktense
6 Comments
I've coloured these pretty 'meadow blossoms' from Concord & 9th a few times now, this time cutting them out with the co-ordinating die. I stamped the large spray of flowers in Gina K's skeleton amalgam ink which is beige. I used inktense pencils for the watercolouring including the back panel of stripes. Inktense pencils are watersoluble but unlike some watercolour pencils they are permanent once dry. Many other watercolour pencils are not permanent meaning they will continue to move and dilute whenever liquid is added. One type is not better than another but they need to be used differently.
I used hot pressed watercolour paper for both layers and, although hot pressed is quite smooth it still has texture so you can see some of the pencil shading on the flowers where I first coloured with the pencils on dry paper. The pencil lines diluted once I painted over the top with water but not completely becoming part of the detail of the design. As the inktense are permanent once dry I decided to layer colour on the petals. Some I started with purple, the large one I did the base colour in red. To paint the leaves I coloured only a small amount, painted with water to fill the leaf or just picked up colour from one leaf to complete another one. I did switch to a black fineliner to do the flower centres and add some black dots. I used white paint to add some white dots.
I decided to create my own striped background for the die cut using the fuchsia pencil. Rather than drawing on the background panel directly I pulled colour from the pencil tip onto my glass mat with a wet brush and painted loose stripes on a piece of watercolour pencil using a t-ruler to keep them parallel. As sometimes happens on my work table there seemed to be some stray brusho floating around so I ended up with some random blue spots! Popping up the floral panel seemed like a good idea so I used a technique Jennifer McGuire recently suggested in one of her videos. Rather than pop up a panel on foam tape or a foam cut out just die cut a few extra layers of cardstock and stack them up. I cut two extra die-cuts each with stick-it adhesive on the back and layered them under the painted one. I played with the idea of popping up part of the sentiment but ended up stamping in two different inks instead.
The inktense pencils used: chilli red 500, leaf green 1600, red violet 610, ink black 2200, fuchsia 700
Supplies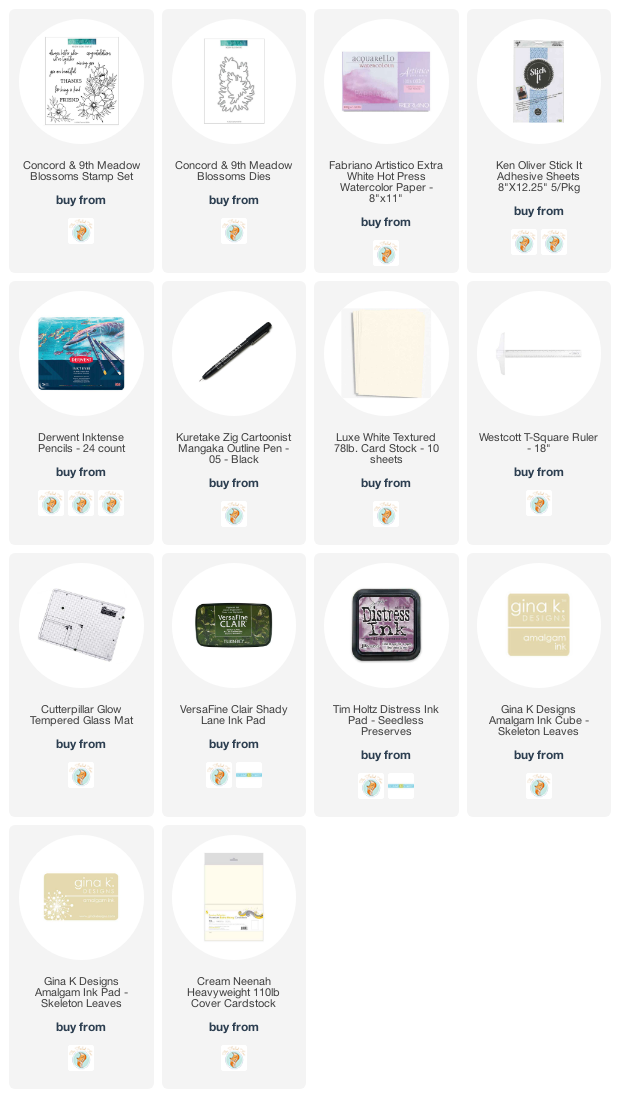 ---