Pencil Florals
Posted: September 10, 2020
Filed under: Anything but basic friendship, fine line floral, Inktense pencils, My Favorite Things
| Tags: Inktense, My Favorite Things
9 Comments
These sweet and quirky flowers are from the My Favorite Things set, 'fine line floral'. I'm sharing this card and process over on the Foiled Fox blog today and hope you will join me there.
There is a lot of fine line detail (as the name suggests) in the flower heads so they look good stamped with a detail ink. I decided to do some pencil colouring first but was able to add detail over the top with some stamping after all the colouring was done.
All three flowers are part of one stamp so I stamped in antique linen ink on kraft cardstock to do some no-line pencil colouring. I used inktense pencils which are water-soluble but can be used without water too. All the petals are coloured with a mix of white and a colour, blending the two with white to soften the transitions. I kept the panel in my stamp positioner the whole time I was colouring which made it possible to stamp the fine detail over the top. To add the fine detail I used distress markers and just shaded lightly on the stamp towards the base of the petals and at the top. I was pleasantly surprised to see how the detailed lines popped with just that extra bit of stamping.
I did some shading around the flowers to lift them a little and then added a sentiment from the MFT 'Anything but basic friendship' set with some twine to match the stems.
All the bits and pieces to create this card are available in the delightful Foiled Fox online store and their blog is overflowing with inspiration. See you over there!
Supplies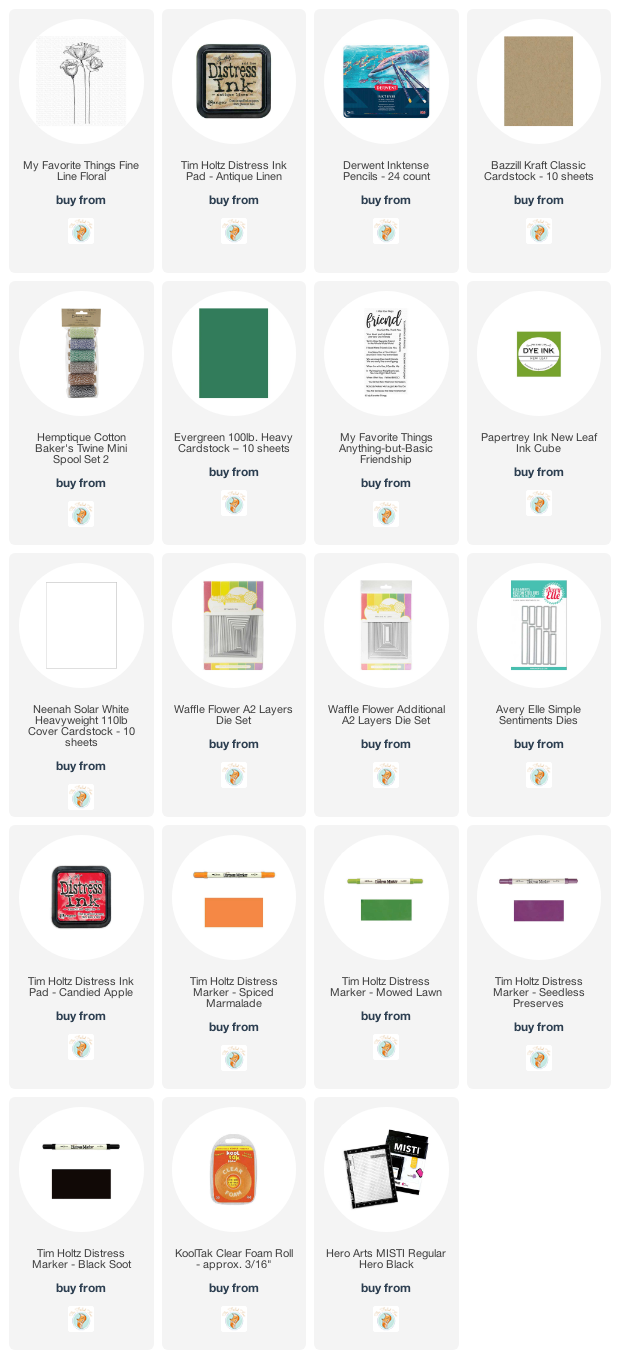 ---