Fields of Gold
Posted: September 4, 2020
Filed under: Darkroom Door, majestic mountains, Nature Walk, Stamped Landscapes
| Tags: Darkroom Door stamps, Fabriano Watercolour Paper, Ranger Distress inks
8 Comments
This card was inspired by @jenny_illustrations a watercolour artist I follow on instagram. She painted her scene but I used a selection of Darkroom Door stamps and some wet into wet techniques.
I worked on a panel of hot pressed watercolour paper splattered with liquid frisket. I wasn't necessarily wanting the look of snow, more the interest or vintage look of little dots over the panel. It could be snow, an early snow or a first snow but that is not something I am thinking about right now. Not for a minute am I wishing summer away, I would never do that. Summer is definitely my favourite season and it is still officially summer for another 18 days!
But back to the card. I taped it down to my glass mat which I also used as a palette where I squished my distress inks to provide me with ink to paint with. I spritzed the whole panel with water then painted weathered wood and faded jeans distress ink in the sky then tea dye and gathered twigs distress ink in the foreground. It was not meant to be gathered twigs; the lid said 'fossilized amber'! The lid was wrong but the colour, surprisingly worked maybe even better than amber would have giving me a gradation from light to dark brown.
While the whole panel was wet I stamped the large mountain stamp from DD 'majestic mountains' in faded jeans ink then, after a pause, the small trees from the same set in 'hickory smoke' then. after a longer pause, in 'black soot' ink. I used a small floral stamp from DD 'wildflowers vol 1' to stamp and restamp flowers in the foreground, first in 'tea dye' then in 'gathered twigs'. I dried the panel rather than wait and finished it off with tea dye and gathered twigs splatter.
I was pleased to see my taping sealed the edges well resulting in no leaks. I am trying a different painter's tape so it scored points on this project. I'm not sure why but this panel needed to be a side fold card. It has a little sentiment from DD 'nature walk' that says ' walk through the wildflowers'; you might not be able to read it but the recipient will.
I've done very few scenic cards lately so I enjoyed the process and result. I am pondering my next online class… scenic cards or Christmas cards? Feel free to weigh in with your thoughts.
Supplies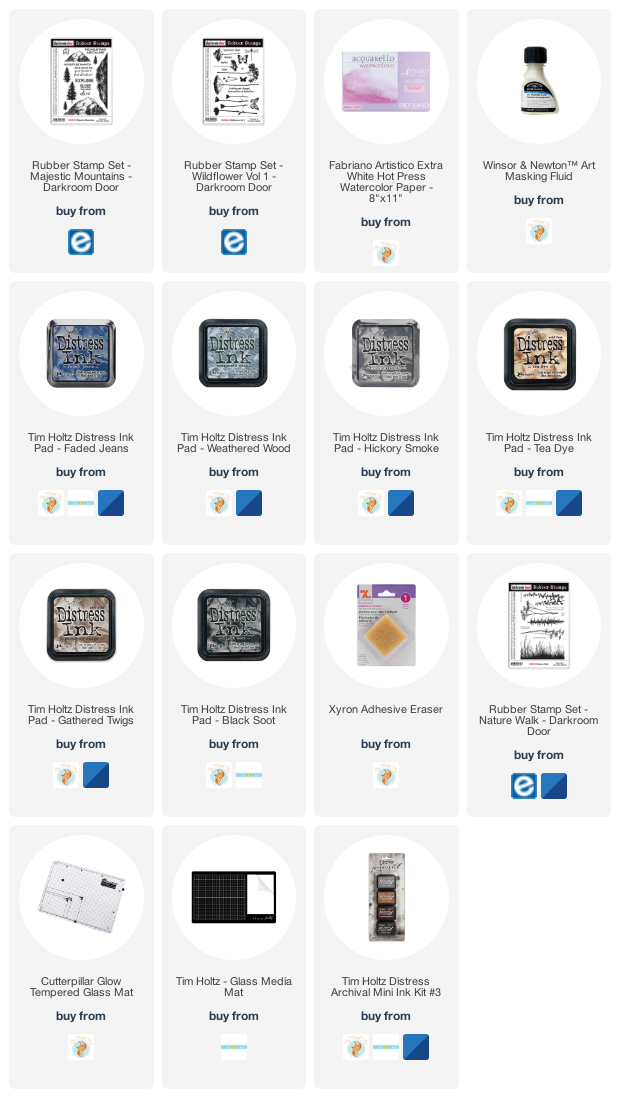 ---