Gingerbread Journal page
Posted: January 7, 2022
Filed under: Art Journal, Brusho, My Favorite Things
| Tags: Art Journal, Brusho, Dr Ph Martin Hydrus watercolor paints, My Favorite Things
7 Comments
Six years ago I was given a delightful and incredibly thoughtful gift. Four friends I met through teaching card making classes gave me an art journal. It's a large Dylusions 9″x11″, a very generous gift in itself.
The journal was just part of the gift. What amazed and touched me deeply was that these friends worked on individual pages in this journal far enough in advance to have completed four different spreads before they gave it to me. Each person completed a 2 or 3 page spread describing Christmas traditions they were familiar with.
I have in my journal pages about Polish and German Christmas traditions along with a description and illustration of Mummering in Newfoundland and a depiction of the carol, 'I Saw Three Ships'. The depiction is set in Bass Strait with a view of a King Island lighthouse, a nod to my birthplace! I was speechless when I opened the gift and it still brings me joy whenever I look at it.
After Christmas that year I began two different spreads in the journal having decided it was to be filled with Christmas themed art journalling. Although I began soon after receiving the journal I didn't finish a page until last week. I am embarrassed to have let it sit so long but in the interim I have completed many journal pages in other books and have ideas aplenty dancing around in my head – like sugarplums!
Gingerbread baking and decorating is a tradition for me and a fitting choice for my first Christmas spread. I started making gingerbread in Australia in 1995 after hearing a radio interview with Jill Dupleix whose recipe I use to this day, more often than not with gluten free flour now. This year I made several batches, a couple with friends on a Sunday afternoon where much mixing, cutting and decorating was enjoyed.
I used my own cookie cutters to trace the shapes onto watercolour paper painted with dark brown and light brown brusho. The background 'check tablecloth' I painted with a mix of Dr Ph Martin's deep red rose and hansa yellow. The gingerbread shapes sat for years with pale white patterns on them and it was only this year after trying quite a few white paints and pens that I was able to make the patterns bolder with a posca paint pen.
I finally added the recipe, glued the cookies down and added a title using MFT little lowercase letters (I think they are retired now but they worked to look like little gingerbread letters).
So that is the story of a wonderful journal, four kind and generous friends and an adventure started in 2015 which I am happily continuing even though I made a very slow start.
Supplies
(Compensated affiliate links used when possible)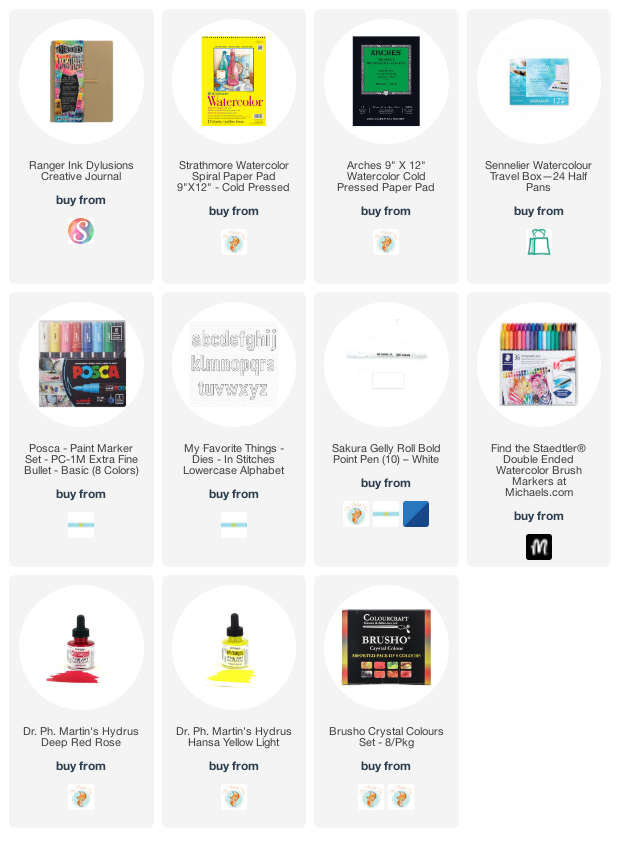 ---