Enjoy the Journey Journal page
Posted: July 23, 2021
Filed under: Art Journal, Darkroom Door, gel press, nomad, scratches, vintage car, World Map
| Tags: Art Journal, Darkroom Door stamps, distress oxide inks, gel press, gel printing, Ranger archival inks, Ranger Distress inks
3 Comments
This week I have shared a gel plate video and a series of cards made with prints and leftovers from that gel printing session. If you look closely at this journal page you will see a couple more prints put to use.
The Darkroom Door set, Nomad, recently arrived in my mailbox and the main reason I chose it was the pile of suitcases. I own one old suitcase which belonged to my grandmother; it houses the 'dress up' collection. It is not unlike the third one in the left hand stack. The stamp set also has a single suitcase, some passport stamps and two sentiments, one included on this page.
To add even more vintage-ness to the vintage suitcases I stamped them on a grid and striped prints from the gel printing session. I used corrugated cardboard to make the patterns on the gel plate originally. I stamped the suitcases in archival inks then added extra colour with distress inks and gel pens. To create the background I smooshed blueprint sketch distress inks on a piece of acetate, spritzed water over the ink then transferred it to the masked journal pages. With the blue protected I blended a brown base, also with distress inks. Over the top of the inking I added some impressions with the DD world map and scratches background stamps. To balance the suitcases I added the vintage car and sentiment on the right hand side.
Maybe these pages came from my longing to be out and about seeing new and old places, or a longing to be poking around antique and thrift stores. The latter will probably happen before the former.
Are you longing for a trip somewhere? Are you thinking near or far?
(Compensated affiliate links used when possible)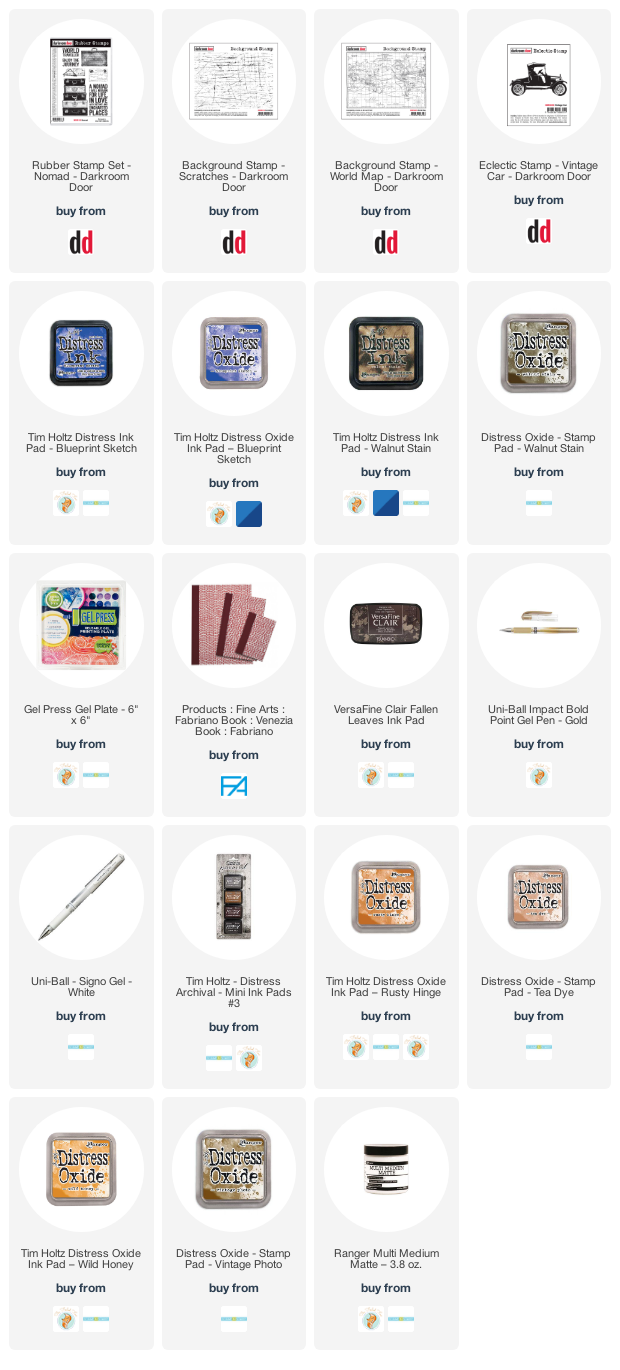 ---