Posted: April 11, 2023
Filed under: brushed stars, classic motorcycles, Darkroom Door, postage stamps, this way, vintage car, word labels, World Map
| Tags: Darkroom Door stamps, One-Layer cards, Ranger archival inks, Ranger Distress inks, Tsukineko Versafine inks
5 Comments
You've seen me use the 'this way' stamp behind a trio of butterflies and a classic car as well as featured on a journal page. It reminds me a little of tire tread so I have paired it again with some vehicles. For this motorbike card I masked the edges of a cream panel and stamped 'this way' and 'brushed stars' in antique linen distress ink.
After removing the masking tape I added one of the motorcycles from the classic motorcyles set in black along with a little happy birthday. I haven't masked edges like this in a while but it makes it easy to make a simple but eye catching one layer card. You could fill the masked area with any stamping you wanted then add a bold black image over the top.
I also used 'this way' in the vintage style watercolour background of this card. I combined, the arrow pattern of 'this way' with postage stamps and world map. There is also splatter and a torn edge to keep the background looking aged. I stamped the DD vintage card on teabags and added stitching and word labels to complete the card.
(Compensated affiliate links from Foiled Fox, Scrap n Stamp)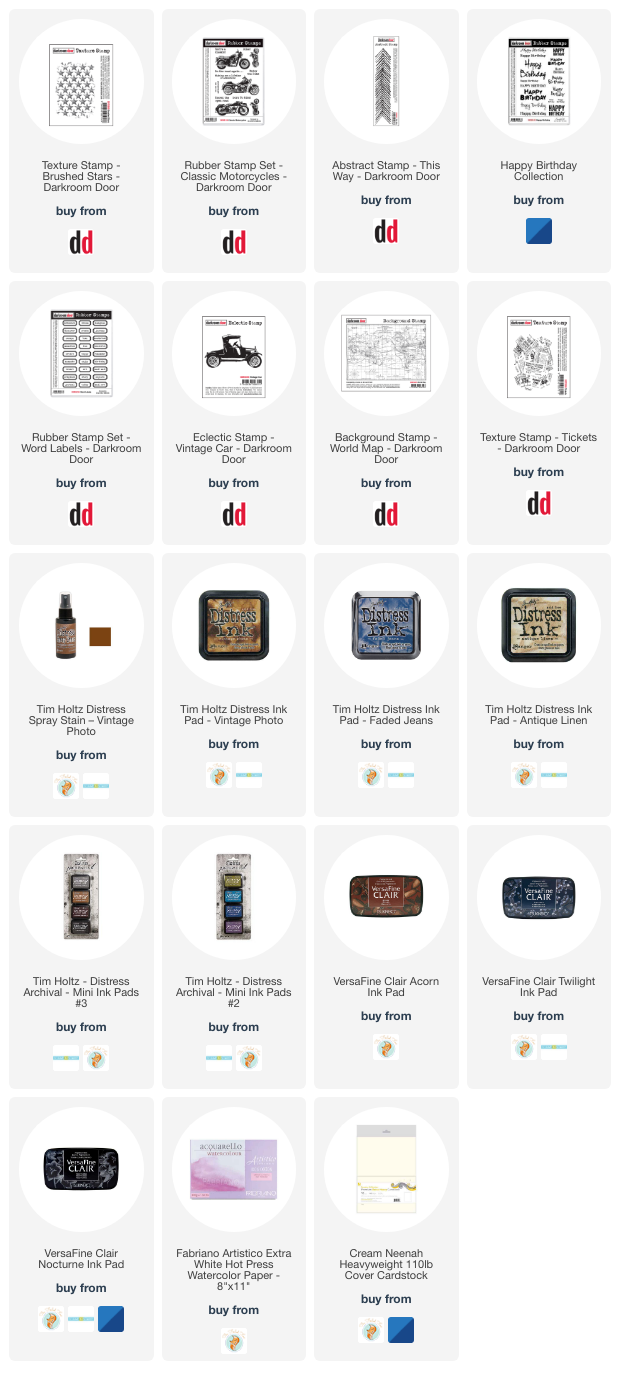 ---
Posted: July 23, 2021
Filed under: Art Journal, Darkroom Door, gel press, nomad, scratches, vintage car, World Map
| Tags: Art Journal, Darkroom Door stamps, distress oxide inks, gel press, gel printing, Ranger archival inks, Ranger Distress inks
3 Comments
This week I have shared a gel plate video and a series of cards made with prints and leftovers from that gel printing session. If you look closely at this journal page you will see a couple more prints put to use.
The Darkroom Door set, Nomad, recently arrived in my mailbox and the main reason I chose it was the pile of suitcases. I own one old suitcase which belonged to my grandmother; it houses the 'dress up' collection. It is not unlike the third one in the left hand stack. The stamp set also has a single suitcase, some passport stamps and two sentiments, one included on this page.
To add even more vintage-ness to the vintage suitcases I stamped them on a grid and striped prints from the gel printing session. I used corrugated cardboard to make the patterns on the gel plate originally. I stamped the suitcases in archival inks then added extra colour with distress inks and gel pens. To create the background I smooshed blueprint sketch distress inks on a piece of acetate, spritzed water over the ink then transferred it to the masked journal pages. With the blue protected I blended a brown base, also with distress inks. Over the top of the inking I added some impressions with the DD world map and scratches background stamps. To balance the suitcases I added the vintage car and sentiment on the right hand side.
Maybe these pages came from my longing to be out and about seeing new and old places, or a longing to be poking around antique and thrift stores. The latter will probably happen before the former.
Are you longing for a trip somewhere? Are you thinking near or far?
(Compensated affiliate links used when possible)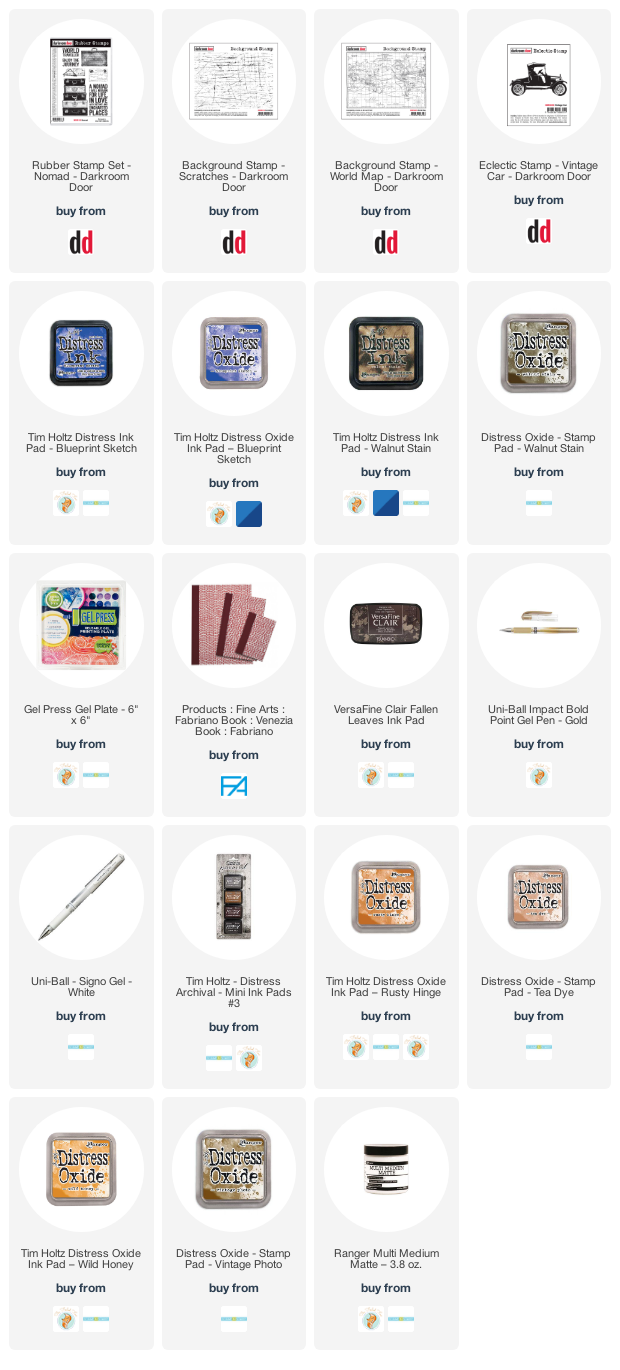 ---
Posted: December 9, 2020
Filed under: 1920s Chic, classic cars vol 1, classic motorcycles, Darkroom Door, vintage car
| Tags: Darkroom Door stamps, distress markers, Ranger Distress inks
3 Comments
The new vintage car stamp pairs perfectly with one of the ladies from the classy 1920's chic stamp set, both from Darkroom Door. I made two slimline cards and went with a rainbow colour scheme.
To position the car behind the woman I stamped her first, masked her with a post-it note mask I had cut out and then stamped the vintage car over the top. As both were stamped in nocturne versafine clair pigment ink I was able to emboss in clear powder to make it easier to paint a multicoloured background. I used distress inks smooshed on my glass mat but painted water around the images first so I could drop colour in and blend one colour with the next. On the card below I stamped the car three times in Memento London fog ink and once in a rainbow of distress inks. I applied the rainbow with a marker and spritzed the stamp before stamping so the colours began to blend before hitting the watercolour paper panel.
I stuck with London fog ink for the first two sentiments from DD classic cars vol 1 and switched back to the markers when stamping the birthday sentiment from DD happy birthday set. In keeping with the rainbow car I blended the same inks over the card base with blending brushes. The sentiment on the first card is from the DD classic motorcycles set
Speaking of dresses, but none quite so chic as the stamped one, I am continuing to wear dressed every day during December as I fundraise for the Dressember campaign which fights against human trafficking. My fundraising total has reached $795. If you would like to contribute just click over to my Dressember page. Thank you, thank you to those who have already done so.
(Compensated affiliate links used when possible)

---