Posted: December 17, 2021
Filed under: berries, Dies, jumbo joy, Penny Black, Taylored Expressions
| Tags: Penny Black creative dies, Penny Black stamps, Ranger Distress inks, Taylored Expressions
3 Comments
Today's cards are similar to a recent collection I posted stamped with the delicate pines stamp. I created eight cards this time and repeated some designs because I'm getting down to the wire with these last cards.
I stamped the 'brilliance' foliage stamp on a large 11″x14″ cold press watercolour panel in rustic wilderness and peeled paint inks. I blended the leaves with water and with a gold wink of stella pen so some have some shine.
I played around with a few options for colouring the berries but ended up leaving them green. Red paint pen was not bad but not better and vanilla sparkle embossing powder didn't work either, so green and natural they stayed. I used a few dies from Penny Black and a sentiment strip from Taylored Expressions and eight more cards were completed. Some were sent straight away and didn't even make it to the photo shoot!
I have received some lovely cards this week from across the city, country and world. Thank you so much for brightening my day and inspiring my creativity.
By the way, we have added another Art Journal Adventure workshop at Crop A While on Saturday January 22. Click here for more information
(Compensated affiliate links used when possible)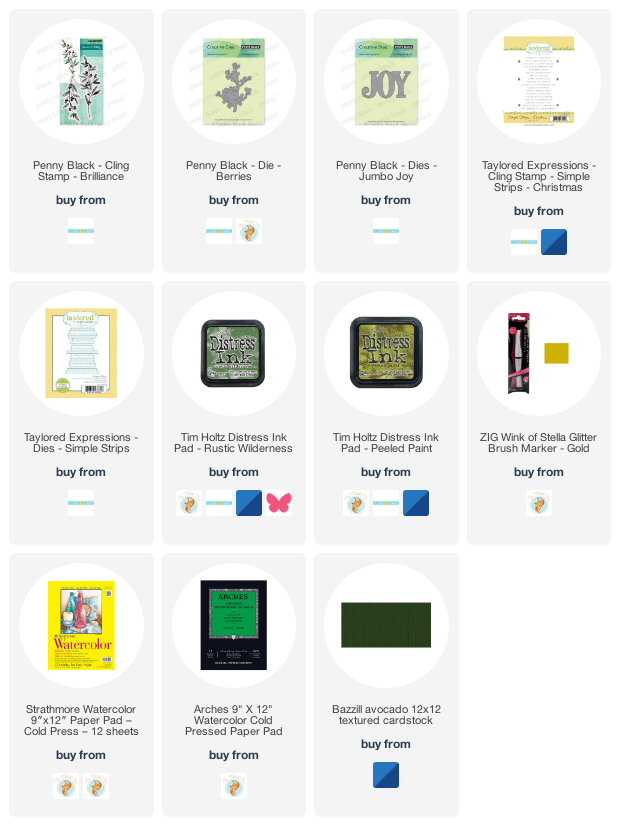 ---
Posted: December 19, 2019
Filed under: Darkroom Door, Ink to Paper, jumbo joy, Penny Black, pine cones, season of joy stamps
| Tags: Darkroom Door stamps, Fabriano Watercolour Paper, Ink to Paper, Kuretake Gansai Tambi watercolour paints, Penny Black creative dies, WOW embossing powders
11 Comments
The pine needles and pine cone stamps I used for this card are from Darkroom Door and I love how realistic they are. The stamps are quite large and there are several sizes and shapes of cones which makes for lovely feature images and fillers as well. I used one pine cone stamp but two of the pine needle stamps and worked on hot pressed watercolour paper which had been splattered with masking fluid. If you look at the close up below you can see large white dots as well as tiny ones; they're all made by the masking fluid.
I stamped the pine cone three times using a stamp positioner and four different brown distress inks. A spritz of water started the browns blending and I did a little blending with a paint brush as well.
I stamped the green pine needles with forest moss and evergreen bough distress inks and the fine needles in the background with iced spruce. I added some green splatter then some gold splatter using one of the gansai tambi starry colours. I used the 'jumbo joy' die from Penny Black to cut out the word joy from the stamped panel and cut three layers from shimmer gold cardstock as well so I could stack them up just a little offset so the gold peeps out on the side.
I stamped the rest of the Christmas carol lyric using a stamp from Ink to Paper's 'season of joy' set and some gold embossing powder. The overall pattern may be a little messy but it reminds me of what I see if I look up into the branches of the very messy pine tree in my front yard, which is currently covered with snow but not gold splatter!
I have been blessed to receive some beautiful handmade Christmas cards in the mail this week and I am enjoying them on my window ledge. I hate to say it but as yet I have not sent a single one! As I've said before there are twelve days of Christmas so I haven't run out of time yet!
Supplies

---