Posted: December 19, 2019
Filed under: Darkroom Door, Ink to Paper, jumbo joy, Penny Black, pine cones, season of joy stamps
| Tags: Darkroom Door stamps, Fabriano Watercolour Paper, Ink to Paper, Kuretake Gansai Tambi watercolour paints, Penny Black creative dies, WOW embossing powders
11 Comments
The pine needles and pine cone stamps I used for this card are from Darkroom Door and I love how realistic they are. The stamps are quite large and there are several sizes and shapes of cones which makes for lovely feature images and fillers as well. I used one pine cone stamp but two of the pine needle stamps and worked on hot pressed watercolour paper which had been splattered with masking fluid. If you look at the close up below you can see large white dots as well as tiny ones; they're all made by the masking fluid.
I stamped the pine cone three times using a stamp positioner and four different brown distress inks. A spritz of water started the browns blending and I did a little blending with a paint brush as well.
I stamped the green pine needles with forest moss and evergreen bough distress inks and the fine needles in the background with iced spruce. I added some green splatter then some gold splatter using one of the gansai tambi starry colours. I used the 'jumbo joy' die from Penny Black to cut out the word joy from the stamped panel and cut three layers from shimmer gold cardstock as well so I could stack them up just a little offset so the gold peeps out on the side.
I stamped the rest of the Christmas carol lyric using a stamp from Ink to Paper's 'season of joy' set and some gold embossing powder. The overall pattern may be a little messy but it reminds me of what I see if I look up into the branches of the very messy pine tree in my front yard, which is currently covered with snow but not gold splatter!
I have been blessed to receive some beautiful handmade Christmas cards in the mail this week and I am enjoying them on my window ledge. I hate to say it but as yet I have not sent a single one! As I've said before there are twelve days of Christmas so I haven't run out of time yet!
Supplies

---
Posted: November 18, 2019
Filed under: floral Christmas, framing florals Christmas, Ink to Paper, season of joy dies, season of joy stamps
| Tags: Ink to Paper, One-Layer cards, Ranger Distress inks
5 Comments
If you went to Sunday School when I did you will probably know which song my title alludes to. Maybe you even sang the tongue twister verse as well! You will probably recognise some of these stamps from two posts I did last week. I can't seem to leave them alone. For someone who usually doesn't do much with the little bitty stamps I have certainly taken to these ones.
Today's cards are once again one layer cards although they almost weren't right at the end! I often say at my classes that I make the mistakes so you don't have to! Should I have stamped the word Joy on both cards before I did anything else? Yes! But instead of doing that I die-cut masks of the letters using dies from the Ink to Paper 'Season of Joy' co-ordinating die set. I centred the masks on my card bases carefully with the help of my 'stay-tion' magnetic board and then I stamped all over them.
When creating a busy all over pattern it is important to stamp your elements in order of size, big ones like pinecones first and little ones like stars last. I failed to recognise that the letter stamps from the Ink to Paper 'Season of Joy' stamp set were the biggest elements of all. It still worked because I had my masks in place but lining up the letters inside the masked area at the end was a wee bit tricky. (Yay stamp positioner!) If I had stamped the letters then covered them with masks I would have had the same effect without the trickiness! Now you know, just in case you might try this fun exercise yourself.
It really is fun working with all the little foliage stamps from the 'floral Christmas' and 'framing floral Christmas' sets from Ink to Paper. I have now used them for wreaths, bands, circles, hanging swags and these 'all over' designs. Once again I used the Papertrey ink cubes along with a few distress inks and versamark just for the gold embossed stars.
I guess you can see I am sticking to my resolution of stamping envelopes at the same time as cards. These ones are ready to be packaged for this weekend's 'WALL CANDY Art Expo' in Ottawa. If you are in the area please come to Aberdeen Pavilion at Landsdowne and visit Liane and me at the Paper Duet booth. The Expo will be full of amazing art so you might get a little Christmas shopping done.
Of course if you are shopping for yourself you can find all the links below. Thanks for dropping by.
Supplies

---
Posted: November 1, 2019
Filed under: Ink to Paper, Peaceful forest stamps, season of joy dies, season of joy stamps
| Tags: Ink to Paper, Ranger Distress inks, WOW embossing powders
31 Comments
I am excited to tell you about another holiday tradition today. I have teamed up with the Foiled Fox to host a giveaway. All you need to do is leave a comment here on my blog or over on the Foiled Fox telling us about one of your holiday traditions. Do you do the ugly Christmas sweater thing or perhaps decorate your tree with vintage ornaments, do you head to the beach or the mountains or light the fire and cozy up at home? We would love to know!
Thank you again to those of you who have shared holiday traditions in the comments. Not surprisingly food was mentioned quite a few times. Another tradition that came up a more than once was carol singing and that's what I'm going to share today. If you haven't left a comment on my blog or the Foiled Fox blog yet please do, we would love to hear from you. Make sure you pop over to the Foiled Fox to read about Shauna's sweet stocking tradition and see her lovely card.
Here in Canada we have a couple of carol singing traditions. Every December two or three days before Christmas there is carol singing in the park at the end of our street. If we already have snow and cold temperatures then we might be standing on the ice rink with a fire off to the side. On Christmas Eve we go to the carol service at our church, always ending with Silent Night during which we light individual candles.
Carols by candlelight in Australia is very different. Major cities like Sydney and Melbourne have a big event at a large outdoor concert venue with celebrities and all the bells and whistles. Thousands of people bring picnics and blankets and enjoy the concert and carols from early evening until after sunset when everyone lights candles if there isn't a fire ban! I attended the big event occasionally, more often I attended a local 'carols by candlelight' with our church in a nearby park.
Today's card features a sentiment from one of my favourite carols. I used the Ink to Paper 'peaceful forest' stamp set and stamped on hot pressed watercolour paper so I could blend the ink after stamping. I used distress pine needles, shabby shutters and hickory smoke inks, overlapping the trees so there would be some little bleeds from green to green to grey here and there.
I wanted the die-cut letters to match the trees exactly so I swiped ink across a scrap of watercolour paper then blended it with a wet brush. Once dry I used the 'season of joy' dies to cut the word and a stamp from the 'season of joy' stamp set to complete the first line of the carol. I used two layers of vellum so the letters and embossed words would stand out from the busy background. I added gold embossed stars and created a textured gold card base from Tonic cinnamon silk specialty cardstock.
Do you have a favourite carol? I have had a few over the years, Joy to the World, O Holy Night and my current fave, In the Bleak Mid-winter.
Supplies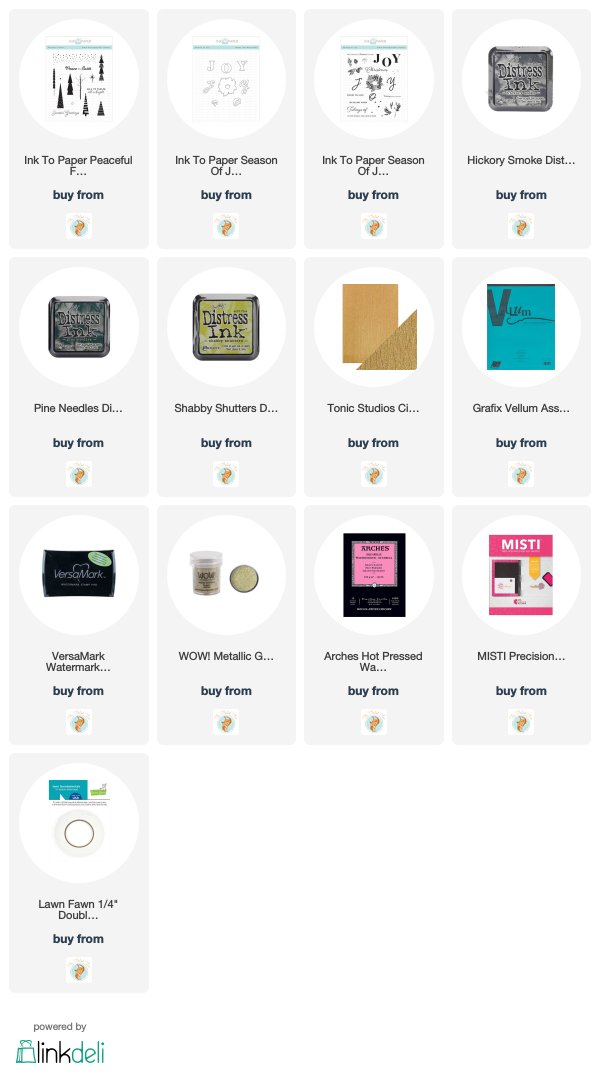 ---