Holiday Traditions – Christmas Carols
Posted: November 1, 2019
Filed under: Ink to Paper, Peaceful forest stamps, season of joy dies, season of joy stamps
| Tags: Ink to Paper, Ranger Distress inks, WOW embossing powders
31 Comments
I am excited to tell you about another holiday tradition today. I have teamed up with the Foiled Fox to host a giveaway. All you need to do is leave a comment here on my blog or over on the Foiled Fox telling us about one of your holiday traditions. Do you do the ugly Christmas sweater thing or perhaps decorate your tree with vintage ornaments, do you head to the beach or the mountains or light the fire and cozy up at home? We would love to know!
Thank you again to those of you who have shared holiday traditions in the comments. Not surprisingly food was mentioned quite a few times. Another tradition that came up a more than once was carol singing and that's what I'm going to share today. If you haven't left a comment on my blog or the Foiled Fox blog yet please do, we would love to hear from you. Make sure you pop over to the Foiled Fox to read about Shauna's sweet stocking tradition and see her lovely card.
Here in Canada we have a couple of carol singing traditions. Every December two or three days before Christmas there is carol singing in the park at the end of our street. If we already have snow and cold temperatures then we might be standing on the ice rink with a fire off to the side. On Christmas Eve we go to the carol service at our church, always ending with Silent Night during which we light individual candles.
Carols by candlelight in Australia is very different. Major cities like Sydney and Melbourne have a big event at a large outdoor concert venue with celebrities and all the bells and whistles. Thousands of people bring picnics and blankets and enjoy the concert and carols from early evening until after sunset when everyone lights candles if there isn't a fire ban! I attended the big event occasionally, more often I attended a local 'carols by candlelight' with our church in a nearby park.
Today's card features a sentiment from one of my favourite carols. I used the Ink to Paper 'peaceful forest' stamp set and stamped on hot pressed watercolour paper so I could blend the ink after stamping. I used distress pine needles, shabby shutters and hickory smoke inks, overlapping the trees so there would be some little bleeds from green to green to grey here and there.
I wanted the die-cut letters to match the trees exactly so I swiped ink across a scrap of watercolour paper then blended it with a wet brush. Once dry I used the 'season of joy' dies to cut the word and a stamp from the 'season of joy' stamp set to complete the first line of the carol. I used two layers of vellum so the letters and embossed words would stand out from the busy background. I added gold embossed stars and created a textured gold card base from Tonic cinnamon silk specialty cardstock.
Do you have a favourite carol? I have had a few over the years, Joy to the World, O Holy Night and my current fave, In the Bleak Mid-winter.
Supplies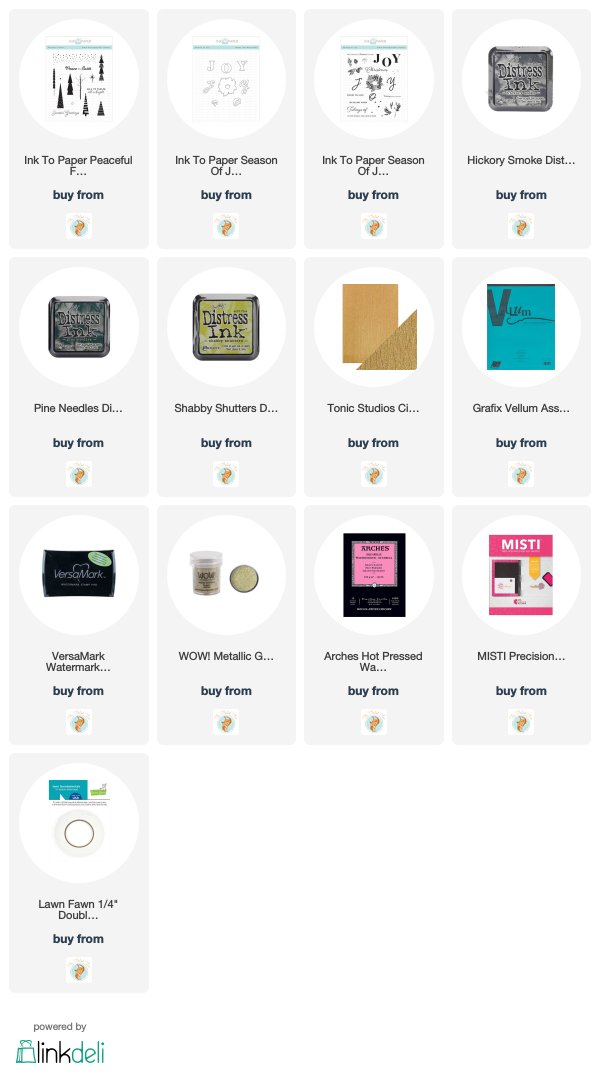 ---