Snowy flight
Posted: November 4, 2019
Filed under: plaid, snowy flight
| Tags: Concord & 9th, My Favorite Things, Penny Black stamps, Ranger Distress inks
10 Comments
This sweet little bird shivering on a branch is called 'snowy flight', it's a recent stamp from Penny Black. I started by painting and stamping the whole stamp on a larger panel but ended up zooming in with a circle die. I have framed it with a tartan or plaid panel stamped with Concord & 9th's 'plaid' stamp set. I was in two minds about the patterned framing but I like how warm and cozy the plaid looks, a bit of a contrast to the little bird I'm afraid!
Both the bird and the plaid I stamped on hot pressed watercolour paper that I had splattered with masking fluid earlier. Before stamping the bird I splashed and splotched some diluted 'chipped sapphire' distress ink over the panel to create a bit of sky. I added more at the end when I had finished painting the bird, branches and berries. I kept the stamp and panel in the stamp positioner so I could ink the stamp with distress markers, stamp it then blend with a paintbrush. The branches are ground espresso or gathered twigs, the berries and bird's breast are 'festive berries' and the rest of the bird is hickory smoke and black soot.
To create the plaid background (does anybody else call it 'tartan'?) I stamped the large stamp in hickory smoke ink then blended over it with water to soften the look and cover any white areas. Once that was dry I added the red lines with festive berries ink. I definitely did this one in the stamp positioner so I could move the panel and keep the line stamp in one place. Removing the masking fluid is always very satisfying, it revealed tiny white flecks on the plaid and bigger 'snowflakes' on the bird panel.
Thank you for dropping by today, you will find all the supplies linked below and if you look closely you will see I provide two options for some products. If you purchase through my links to either the Foiled Fox in the US or Scrap n Stamp in Canada I receive a commission at no extra cost to you. Thank you for supporting my creative endeavours in this way.
Supplies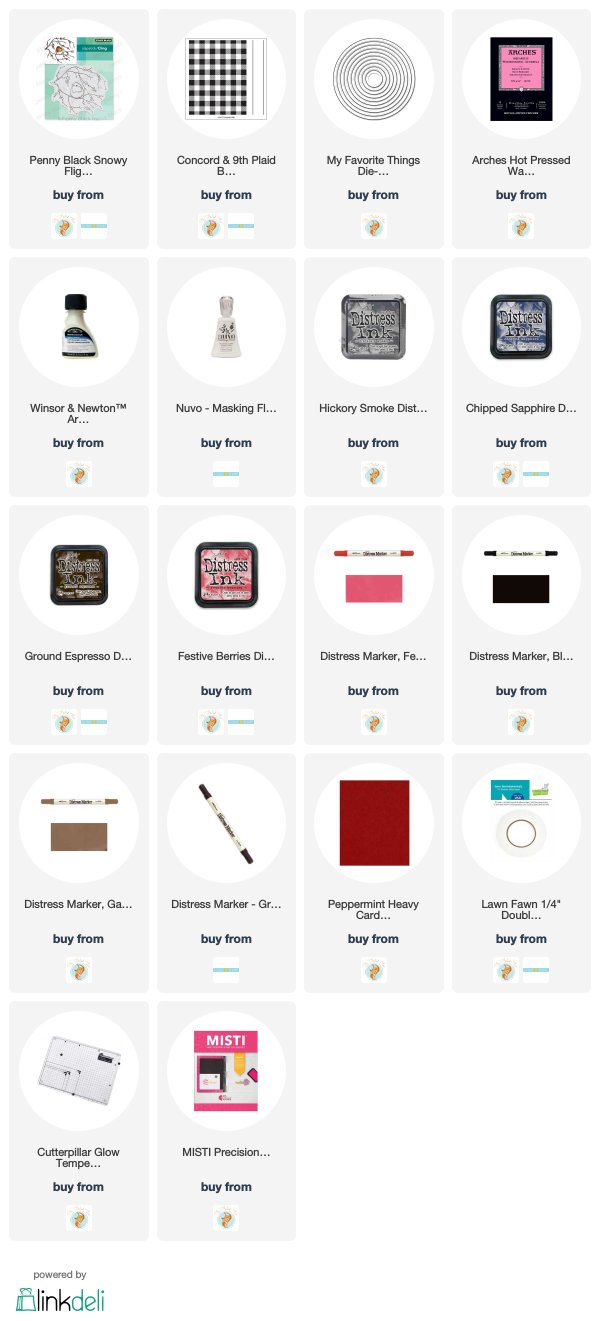 ---