A couple of little wreaths
Posted: November 8, 2019
Filed under: floral Christmas, framing florals Christmas, Ink to Paper, Papertrey Inks
| Tags: Finetec artist mica watercolour paint, Ink to Paper, Papertrey ink
9 Comments
I am having fun with two sets from 'Ink to Paper'. When I first saw the 'floral Christmas' and 'framing florals' sets I knew exactly what I wanted to do with them: a little wreath making! I also have in my hands some new inks from 'Papertrey Ink' so I put them to work on these two wreaths. So far I'm impressed but they will of course need to go through watercolour testing too!
Even though I didn't need to I stamped both these wreaths on hot pressed watercolour paper, habit I guess. I drew a light pencil circle as a guide for the wreath above and used the pine circle stamp to start the wreath below. The stamps are all small enough to fit on a little acrylic block so I used that rather than a stamp positioner. On the pine cones above you can see that I didn't get the second outline stamp lined up perfectly with the filler stamp, I actually like it a little offset as it looks like snow on the pine cone (something I now have in my driveway!) I stamped the berries in 'Americana' ink but then painted over the top with some shimmer red from my Finetec pearl set of paints. The red frame is also shimmer cardstock . To complete the card I added a little red bow and a sentiment banner popped up over the top.
For this second wreath I stamped the pine circle stamp from the ' framing florals Christmas stamp set' but I didn't ink the whole circle. I left gaps which gave me spaces to stamp the pine cones. I used all 'ink to paper' inks again except for one twiggy element I stamped in golden glitz delicata. All the inks are listed below. Once again I finished off the wreath with a little bow and some gold shimmer cardstock.
The sentiments for both cards are from ink to paper's 'Be Merry mini' set. Oh, and they both got the splatter treatment too.
Stay tuned because you will be seeing more from these sweet sets!
Supplies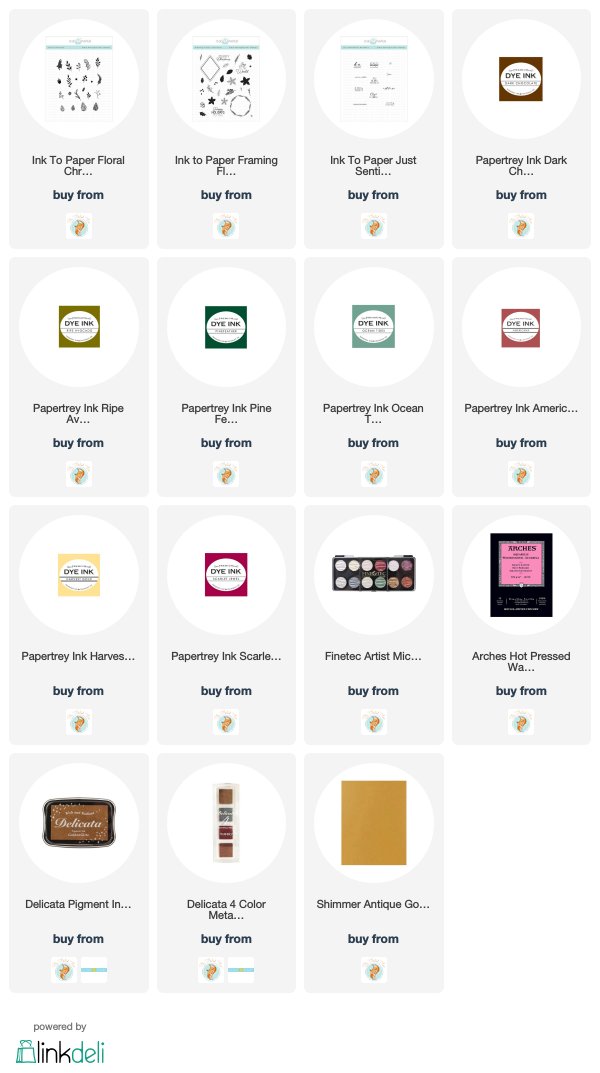 ---