Watercolour on coloured paper
Posted: May 10, 2019
Filed under: bunches for you, flower fantasy, peaceful time, Penny Black, Watercolour
| Tags: canal paper, Penny Black stamps, sennelier watercolours
10 Comments
I came across some interesting paper at Art Noise when I was in Kingston on the weekend. It is called canal paper and is made by Paperterie St. Armand in Montreal. The pad of paper I bought has six different colours, all made from cotton rag; the fibres are left from clothing company offcuts. There is no bleaching or dyeing, the colour of the papers is from the colour of the cotton fabrics.
The paper is not the only new thing I tried out on these cards. I also have some delicious new Sennelier watercolours. I was interested to see how they looked on the coloured paper and also how the paper held up to a watercolour wash.
These cards are one layer making use of the natural deckled edge on one edge of the paper pad. I scored the paper then taped it to my glass mat, lining up the frog tape with the grid on my mat to create a masked panel in the centre of the card front. I used three colours of paint on each card and matching envelopes. I was impressed that no paint seeped under the edge of the tape so I had crisp edges to my watercolour panels.
I stamped the new line art stamps from Penny Black with Ranger archival inks and was very happy with the crisp prints on the paper, I thought there might be a bit of bleed as the paper has quite a soft surface but the stamping was crisp and there was no bleed through with the watercolour washes. For the two cards above I simply stamped the image over the watercoloured section. On the card below I did the same then added some extra painting to the flowers using the same paint colours. The colour of the paper makes the paint colours more muted than they would be on white or cream but I liked the more rustic simple style on these cards. You could definitely use this technique with the traditional white watercolour paper and achieve much brighter results.
My cards measure 5″x 4¼" so I decided to make custom envelopes from the same paper. I used the We R Memory Keepers 1-2-3 punch board to make an envelope to fit and before I taped it together I masked a section of the front so I could watercolour in the same colours used for the cards.
Supplies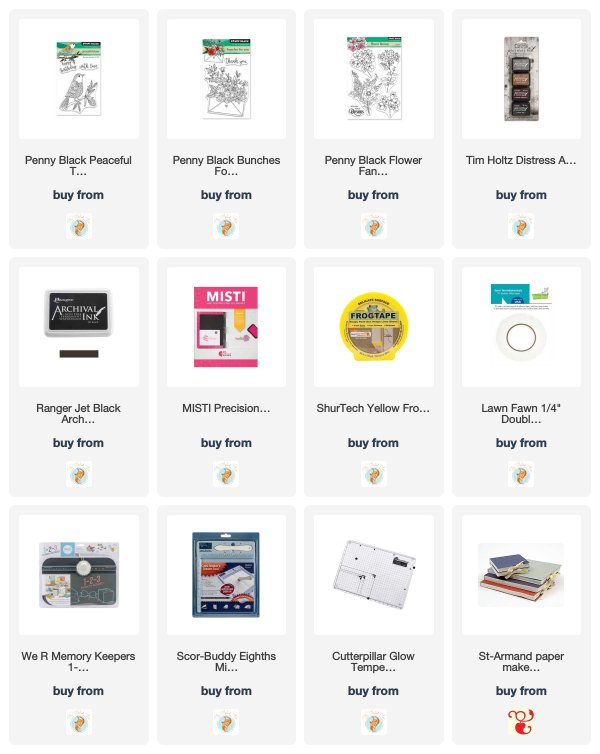 ---