Fine line florals with distress inks
Posted: May 9, 2019
Filed under: Concord & 9th, fine line florals, thankful leaves turnabout
| Tags: Concord & 9th, Ranger Distress inks
5 Comments
I have another card featuring the fine line florals set from Concord & 9th. I am using a similar technique as in my previous video but I've created a patterned panel that covers the whole card front this time. The single flower stamps from this set are made up of very fine radiating lines which look like transparent petals whether blended with water or not. I like the way part of each flower is still lined where as other sections are a soft blend of pink and purple ink. I'm using hot pressed watercolour paper which captures more of the fine lines than cold pressed does.
The Foiled Fox and I have a three-colour challenge happening during May and today's card is features a simple pink, purple and green colour scheme which packs plenty of punch with its soft pinks through to dark purple. The stamp set includes flower centres and little splattery dots but no leaves so I pulled out a little spray of leaves from the C&9 turnaround leaves set.
I hope you get inspired to try this technique or try a three-colour card for our challenge.
These fabulous big letters are from the C&9 'big thanks' set and I love the font.
Thanks for dropping in today. Hope you have a creative day!
Supplies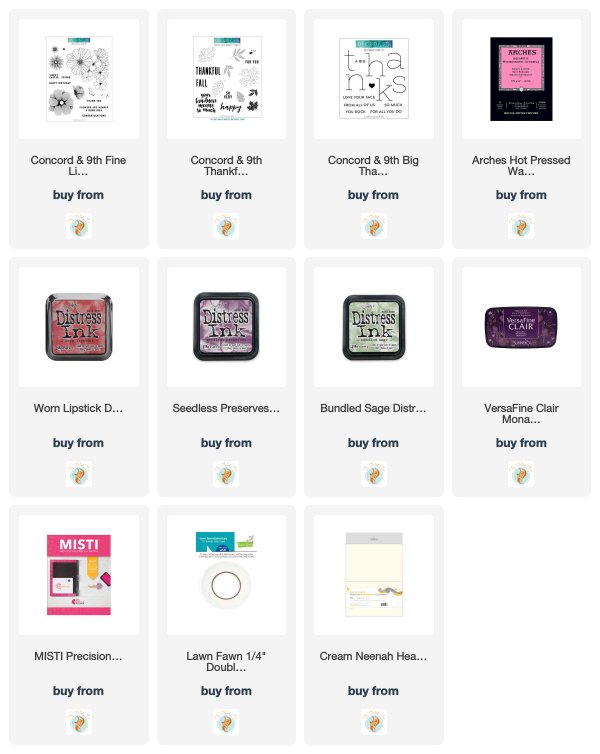 ---