Posted: May 9, 2019
Filed under: Concord & 9th, fine line florals, thankful leaves turnabout
| Tags: Concord & 9th, Ranger Distress inks
5 Comments
I have another card featuring the fine line florals set from Concord & 9th. I am using a similar technique as in my previous video but I've created a patterned panel that covers the whole card front this time. The single flower stamps from this set are made up of very fine radiating lines which look like transparent petals whether blended with water or not. I like the way part of each flower is still lined where as other sections are a soft blend of pink and purple ink. I'm using hot pressed watercolour paper which captures more of the fine lines than cold pressed does.
The Foiled Fox and I have a three-colour challenge happening during May and today's card is features a simple pink, purple and green colour scheme which packs plenty of punch with its soft pinks through to dark purple. The stamp set includes flower centres and little splattery dots but no leaves so I pulled out a little spray of leaves from the C&9 turnaround leaves set.
I hope you get inspired to try this technique or try a three-colour card for our challenge.
These fabulous big letters are from the C&9 'big thanks' set and I love the font.
Thanks for dropping in today. Hope you have a creative day!
Supplies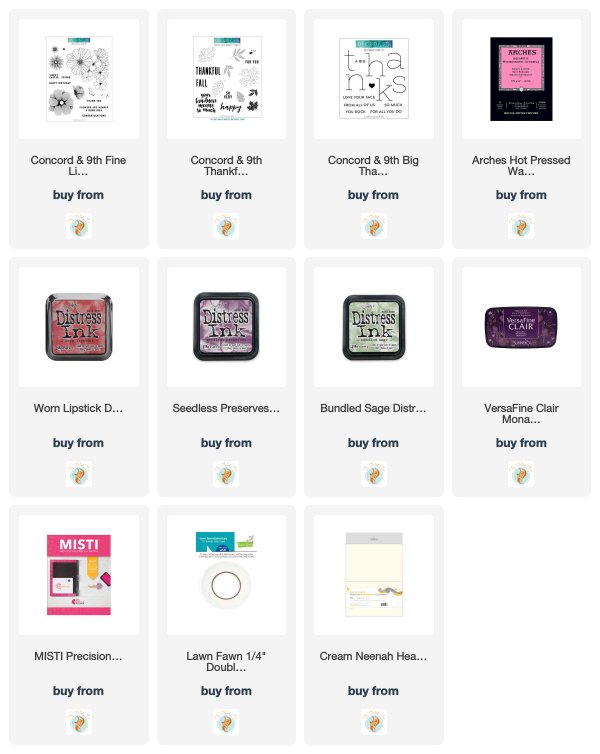 ---
Posted: October 3, 2018
Filed under:
thankful leaves turnabout
| Tags: Concord & 9th, Ranger Distress inks, Ranger Distress stains, WOW embossing powders
16 Comments
In creating this card I didn't quite follow the directions properly for a turnabout stamp. I didn't attach my piece of watercolour paper to a 6'x6″ square of cardstock but my piece was close to 6″ so it wasn't a waste of paper. (It is worthwhile to watch one of the Concord & 9th videos explaining how the turnabout stamps work. You know, if all else fails read the instructions, ha!) I also chose not to ink all the leaves on the turnabout stamp so as to feature the line images more than the solid ones. I inked the line images in versamark, stamped, rotated the watercolour panel and repeated. Once I had oriented the panel in all four directions I embossed all the line leaves in gold powder. I also inked some of the small leaves in forest moss distress ink. I used distress inks pressed onto my glass mat as paint to fill in all the embossed leaves.
As I hadn't stamped all the images on the turnabout stamp I had a bit of space between leaves so I loosely painted antique linen distress stain around the leaves. I stamped one of the sentiments included in the set on a square of hot pressed watercolour paper, painted some antique linen around it and dragged the edges across a rusty hinge distress ink pad to frame the panel.
Rusty hinge is my current fave distress ink colour. I have been through a few favourites which remain in my top ten. Chipped sapphire is a long time favourite; it is deep blue after all. Spiced marmalade changed my mind about orange; I used to pick it last. Stormy sky is such a beautiful grey blue and gets along with all the colours. Forest moss tends to be the colour of all my leaves; I have to remind myself that leaves come in light green and bright green too. Seedless preserves is the prettiest deep pink around, dark or diluted it's a winner. What are your favourite ink colours? Let me know; I might have to add to my collection.
I'm so thankful you dropped in today; take care.
Supplies
Stamps: thankful leaves turnabout stamps


Inks: forest moss, dried marigold, rusty hinge distress inks, versamark


Stain: antique linen distress stain


Paper: hot pressed watercolour, neenah natural white

 
Tools: cutterpillar glass mat, misti stamping positioner


Also: gold embossing powder, Ken Oliver gold liquid metal

---
Posted: September 24, 2018
Filed under:
thankful leaves turnabout
| Tags: Concord & 9th, Ranger Distress inks
39 Comments

I have joined forces with the Foiled Fox this week to celebrate gratitude. We have so much to be grateful for we thought it would be fun to share some of those thoughts in the blog posts and comments.
I have gratitude themed cards for you this week and the Foiled Fox is giving away a $25 gift certificate to three of our readers who leave a comment here on my blog and/or on the Foiled Fox blog telling us something they are grateful for. It does not have to be related to art and craft at all.  You have until the end of Friday, October 5th to add a comment to any of this week's gratitude posts. We will randomly choose a winner from each gratitude post and announce them on Tuesday, October 9th.

I am thankful for the beauty around me. My blog posts often reflect the natural world I see outside. I love to include flowers, trees and scenery including those crisp snowy scenes I stamp and paint in the colder months. Today's card is in anticipation of all the colourful  leaves I will enjoy in the months to come. They are beginning to turn now but it goes on for weeks and there is quite the range of colours from all the trees in my yard. I don't generally get pink leaves though, so you are going to have accept some artistic licence on today's colour choices. This card was created using the Concord & 9th 'thankful leaves turnabout stamp set'. The set includes a large stamp designed in such a way that you stamp it once on a 6″x6″ panel, rotate it 90°, stamp again and repeat until it has been stamped four times. The end result is a panel filled with leaves but with just enough overlap to look attractive not crowded. If you don't want a 6″x6″ finished panel you can trim it down or just attach your smaller panel to a 6″x6″ piece of scrap cardstock for stamping and rotate the whole thing.

You can read my whole process for this card over on the Foiled Fox blog and enter the giveaway by leaving a comment here or there telling us one thing you are thankful for. I'm looking forward to hearing from you.
Supplies
Stamps: thankful leaves turnabout stamps


Inks: Victorian velvet, dried marigold, rusty hinge, gathered twigs, versamark


Paper: hot pressed watercolour, neenah natural white, pink cardstock


Tools: cutterpillar glass mat, misti stamping positioner


Also: rose gold embossing powder
.
---