Posted: December 8, 2021
Filed under: Alcohol Ink, beneath the birches, conifer, Dies, modern xmas tree, Penny Black
| Tags: Penny Black creative dies, pinata alcohol ink, Ranger Alcohol Ink
4 Comments
Today's additions to the Christmas card stack are on alcohol ink backgrounds. If you have been visiting my blog for a while you will have seen the backgrounds before. I posted the panels back in June and asked you all for your thoughts on how to use them. Some of you suggested adding a quote or verse, others thought they would be good as backgrounds for cards. I liked both ideas but have chosen to cut up two of the panels for cards.
The backgrounds on the three cards above are all from one panel; I popped them up on the card base and added trees. As there was gilded alloy alcohol ink on the original design I cut the centre of the modern trees from gold shimmer cardstock.
The backgrounds on the two cards below are cut from another panel. You can see where they joined up originally.
All the die-cut elements are neenah solar white cardstock (and the shimmer gold) and the card bases are also neenah solar white. This is as close to mass production as I get, same basic design but some variety within the backgrounds and added elements.
I thought about adding sentiments, just little ones below the panels but decided I liked them plain and simple. I'll add a sentiment inside and hopefully they'll be written and posted this week!
There are a few more alcohol ink pieces plus some paint pour scraps that have become backgrounds for die-cuts. They are still in process on my work table so you'll see them soon.
Have a great day!
(Compensated affiliate links used when possible)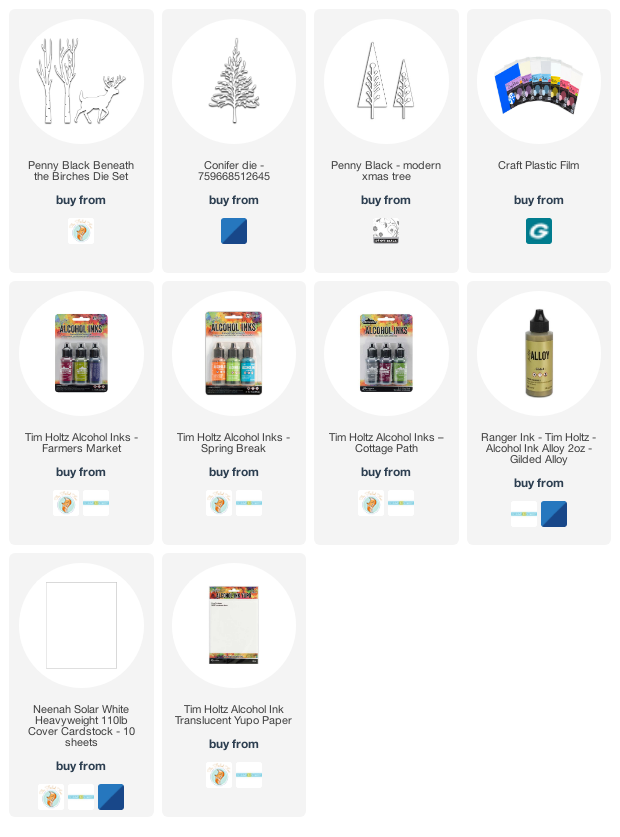 ---
Posted: September 10, 2017
Filed under: beneath the birches, picket fence
| Tags: Penny Black creative dies, Penny Black stamps, Ranger Distress stains
13 Comments
This card was inspired by one included in my August class; that one was more of a lakeside silhouette where this one is a little less rustic. I began with a piece of watercolour paper splattered with masking fluid. Once it was dry I taped it down to prevent warping and painted the whole panel with distress stains. I wanted the sky to look star-filled but it could just as easily be snow-filled. I die cut birches and a picket fence and then a sad thing happened. My die cutting machine sits on top of a cube storage cabinet which is quite good because I don't have to bend to use it and it makes me get up from my work table and move around. The cube storage cabinet houses a lot of my supplies and sits flush against the wall. Apparently not so flush that a die can't fall down behind it. So let me just say you won't be seeing those birch trees on a card any time soon. To retrieve the die I will need to empty a lot out of my cabinet and that's just not going to happen right now!
Glad I got this little card made though.
Supplies
Dies: picket fence, beneath the birches (PB)
Stamps: just a note (PB)
Inks: scattered straw, chipped sapphire, worn lipstick distress stains (Ranger) versafine onyx black (Tsukineko)
Paper: hot pressed watercolour paper (Fabriano), epic black & solar white cardstock (Neenah)
---