Posted: December 9, 2022
Filed under: chipboard, christmas ornaments, gel press, grafix, Sizzix, Tutorial
| Tags: collage, gel press, gel printing, grafix, Tutorial
3 Comments
I have been creating collage panels with my many gel prints lately, most for Christmas cards. The striped and patchworked collages looked so pretty I decided to try the process on Grafix chipboard.
I collaged on both sides and love the way they turned out. I made a video of the process then made more chipboard decorations in different colours.
I used a serious chipboard cutting die to cut the ornaments. It is from Sizzix and I was pleased to see how clean the cuts were. If you have a digital cutting machine you would be able to cut the chipboard into any number of shapes.
After cutting out the shapes I used a gold gel pen to add stitching lines and gold paint to coat the edges. A crop-a-dile made quick work of punching holes so I could add ribbon to the shapes.
(Compensated affiliate links from Foiled Fox, Scrap n Stamp)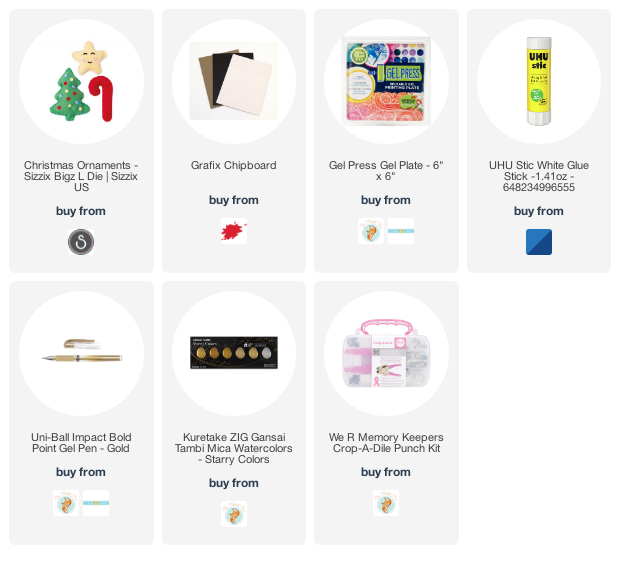 ---
Posted: December 2, 2022
Filed under: book spines, Darkroom Door, gel press
| Tags: Darkroom Door stamps, Fabriano Watercolour Paper, gel press, gel printing, grafix, Ranger Distress inks
7 Comments
Just one more bookish card? Of course not; there will always be more bookish cards, especially as Darkroom Door keeps creating more bookish stamps! Today's card, which of course can be sent to a fellow reader on any occasion, features the new 'reading' sentiment strip as a background wallpaper and as the sentiment. Darkroom Door has a range of sentiment strips each containing 9-10 sentiments. I could cut them up into individual stamps but I have kept them all as strips so I can stamp them all at once if I want to. I did so on today's card to create a background in rusty hinge distress ink on watercolour paper. I painted water over the top of the stamping to blur it but you can still read most of the bookish mantras.
I also used the DD stamp 'book spines' to create my line up of books. I stamped it on three different gel prints and embossed each one in a different metallic ink. I cut up all the prints then rearranged the books to have green, blue, yellow and brown books across the shelf. Even though I chose random gel prints I love the way the texture of plastic lids and packaging has become aged leather on the book spines.
After attaching my books to the background I stamped just one phrase from the sentiment strip by masking above and below the words then added it to the card. A little shading along the top of the books give a bit of dimension.
This turned out to be the perfect card for today because I have been part of the Coptic Challenge at 'The Handmade Book Club' this week. Today is the last day of instruction which covers sewing the book together. When I have completed my book I will post it on the blog. It is the second time I have participated in the five day challenge; both experiences have been very enjoyable and the instruction is fabulous.
So, read one more chapter and have a great weekend.
(Compensated affiliate links from Foiled Fox, Scrap n Stamp)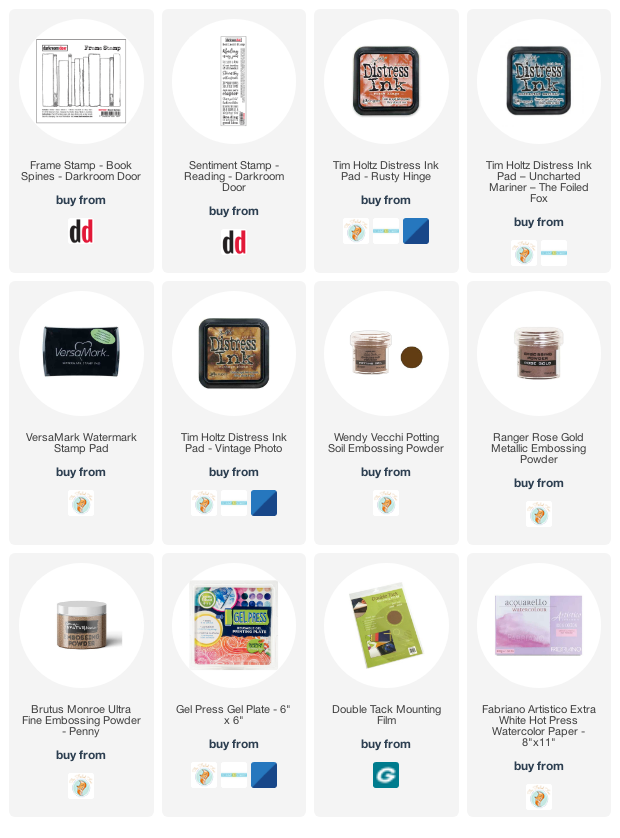 ---
Posted: November 18, 2022
Filed under: christmas elegance, gel press, Penny Black
| Tags: gel printing, Penny Black creative dies, Penny Black stamps
6 Comments
You might recognise the type of background I used for today's card. It is one of my gel printing clean up sheets. I think this one looks a bit like plaid. I used the Penny Black 'Christmas elegance' die to cut the tree from the panel and splattered with gold paint.
I attached the die cut panel to an embossed piece of white cardstock, also plaid. The sentiment is a little tricky to see; I think it might have been better to stamp it in navy ink rather than emboss those tiny words. All in all the card is simple and elegant and I like that combination!
By the way I have updated the classes page with my final in-person class for the year. I wish I could tell you the new online class is also ready! I'm working on it!
(Compensated affiliate links from Foiled Fox, Scrap n Stamp)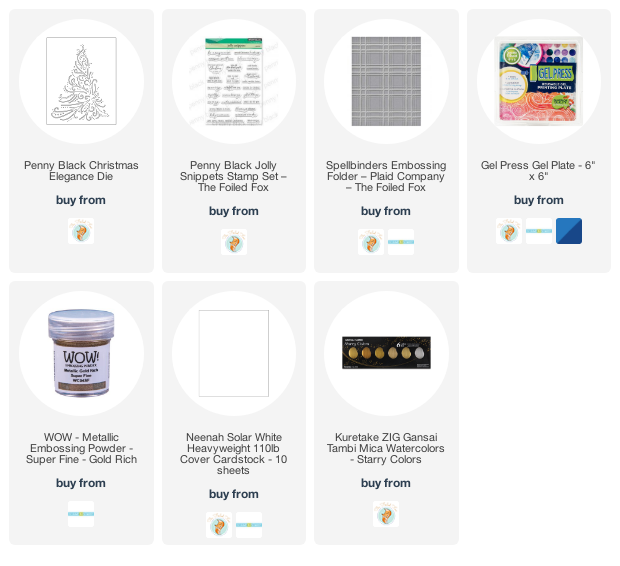 ---
Posted: August 11, 2022
Filed under: Art Journal, Finetec paints, gel press, Mixed Media
| Tags: Art Journal, collage, Finetec artist mica watercolour paint, gel printing
10 Comments
I have echinacea or cone flowers growing happily in my garden and now happily in my almost finished 6″x 6″ art journal. A friend recently gave me a great big dictionary for cutting up so I ripped out the 'book' page and the 'journal' page and used them to cover the whole double page spread before I did anything else.
There were a few words I didn't want covered up so when I was ripping then gluing I took care to keep them exposed. The word 'boomerang' appeared so I didn't cover that one up even though it has nothing to do with this journal page. I am an Aussie after all. 'Bookish, bookmark, bookshelf, bookworm, book-club and bookend are all visible, some of them highlighted. Somewhere in the gluing I lost the word 'journal' but 'journey' is still there.
I used a black all pencil to darken the edges of the torn pieces and softened it with water. I also added white gesso over the top to mute the background a bit. I should have done those two steps in the opposite order so the gesso didn't reactivate the pencil. I blended some tea dye or possibly antique linen ink around the edges and then wished I hadn't, after all I don't have to vintagefy everything!
I cut the petals, cone, and green bits from different gel prints using a photo I'd printed out to guide me with the shape. After everything was glued down I used black, white and gold gel pens to add details and metallic paints on the cone details as well. I added white and gold splatter and a mix of washi tape and gel print circles dotted around the the place.
Hope you are surrounded by books and flowers…if you like them as much as I do!
Supplies
(Compensated affiliate links used when purchasing from Foiled Fox, Scrap n Stamp and Ecstasy Crafts)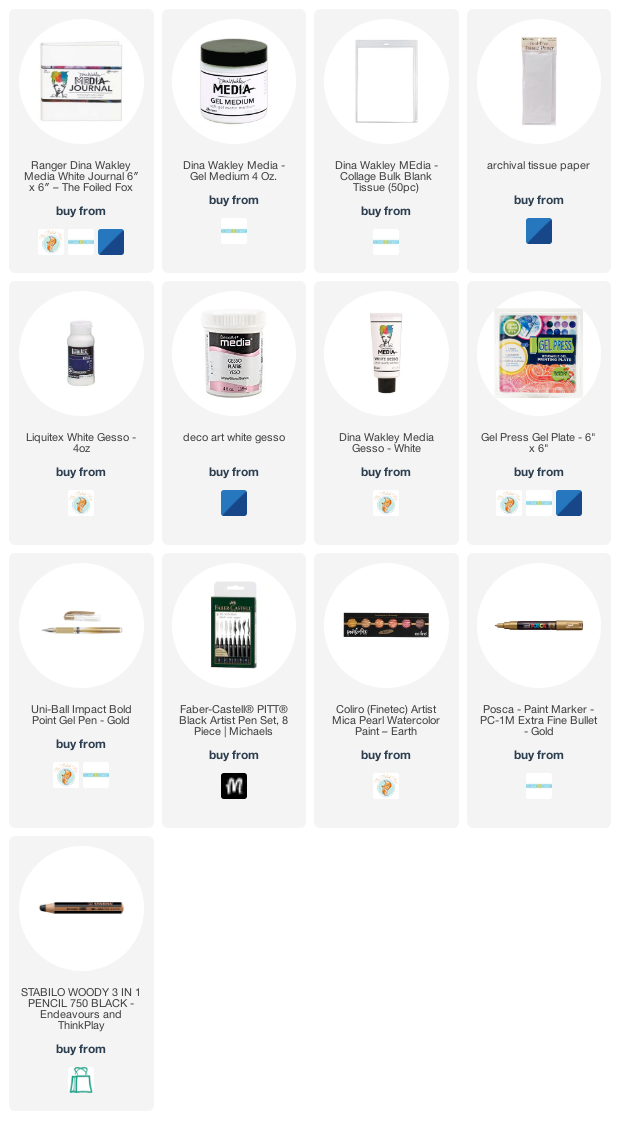 ---
Posted: August 2, 2022
Filed under: Darkroom Door, fine flowers vol 2, gel press, mesh, Nature Walk, Wildflowers Vol 2
| Tags: Darkroom Door stamps, gel press, gel printing
7 Comments
Another gel print post? Yes indeed, and no apologies. If you have tried gel printing you will know it is a little addictive. Today's post features cards stamped with Darkroom Door flowers. Some are stamped on clean up sheets, others on gel prints. A clean up sheet is thick drawing paper I keep at the right of my gel plate for rolling excess ink off my brayer. As you can see in the panels above and below I can end up with some very colourful sheets.
I stamped flowers from the DD set' 'fine flowers vol 2" and the 'mesh' texture stamp in Ciao Bella Oceania ink. The ink is a pigment ink which stamps beautifully on gel prints and dries quickly so I don't end up smudging it.
This deep red background is also a clean up panel. I am always excited to see landscapes or skies appear in an abstract print or clean up sheet. Those two strips of white added a hint of clouds to a very bold sunset! I stamped the silhouette flowers from the DD set, wildflowers vol 2.
The last two cards are made from gel printed panels not clean up sheets but are very distressed. The print I pulled and cut up to make a couple of garden cards include plenty of distressed texture from a printing session including a little bit of text.
There was some blue in the print so I chose a co-ordinating ink to add the large grassy stamp from the DD 'nature walk' set. I've said it before it is a favourite set which I reach for again and again. I think I used versafine clair paradise ink.
I was crafting with a friend when I made these two cards and she had a tiny butterfly punch so the card below features a few co-ordinating butterflies. I haven't seen many butterflies in my garden this year but there have been plenty of bees in the day and fireflies at night.
None of these cards have sentiments on them at this stage, I like to have blank cards on hand to use for any occasion. Thanks for dropping by today; I know it's been quiet around here lately. I plan to be back soon with more projects and inspiration.
Supplies
(Compensated affiliate links used when possible)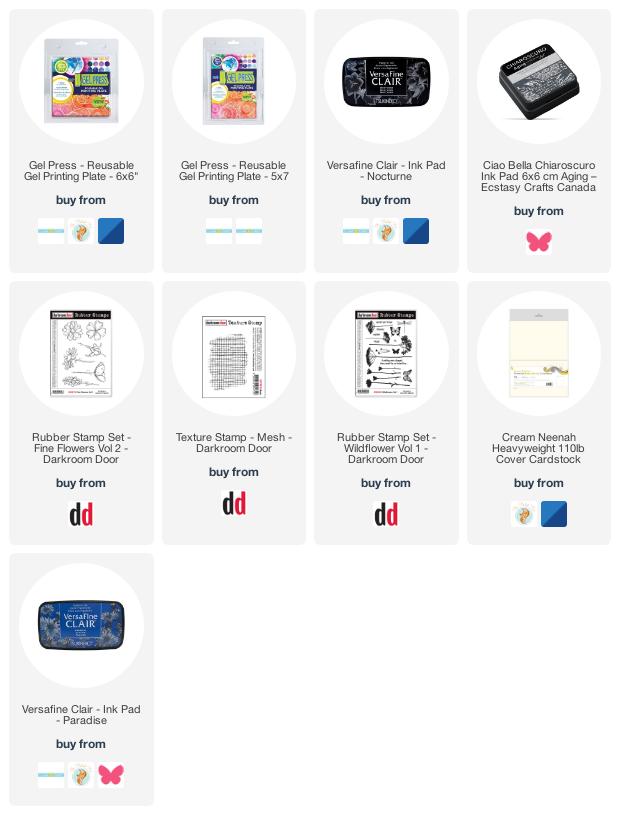 ---
Posted: July 21, 2022
Filed under: butterfly dance, Dies, Paper Rose, Penny Black, shall we dance
| Tags: gel press, gel printing, Penny Black creative dies, Penny Black stamps
8 Comments
I have a couple more cards incorporating gel prints today. This first one is made with a clean up sheet; maybe you can recognise the criss cross of brayer marks on the paper. When I stamped the PB 'butterfly garden' stamp over the background it was a bit too delicate to show up well. Highlighting petals and wings with a white gel pen worked to keep the design subtle but still noticeable.
I cut the gel print to fill the card front and added a sentiment from the Paper Rose Studio 'so extra' sentiment strips.
The gel print below has a delicate blue pattern over bronze made when the paint separates on the gel plate before you get a chance to take a print. I used a bronze print to pull the blue paint which had separated evenly over the whole plate. You can't tell from the photo but the bronze has a metallic sheen to it.
I cut flowers from navy cardstock using the Penny Black 'shall we dance' die to complete a card I can use for any occasion.
The Penny Black sale continues at The Foiled Fox so if you have a wish list, take a look.
Supplies
(Compensated affiliate links used when possible)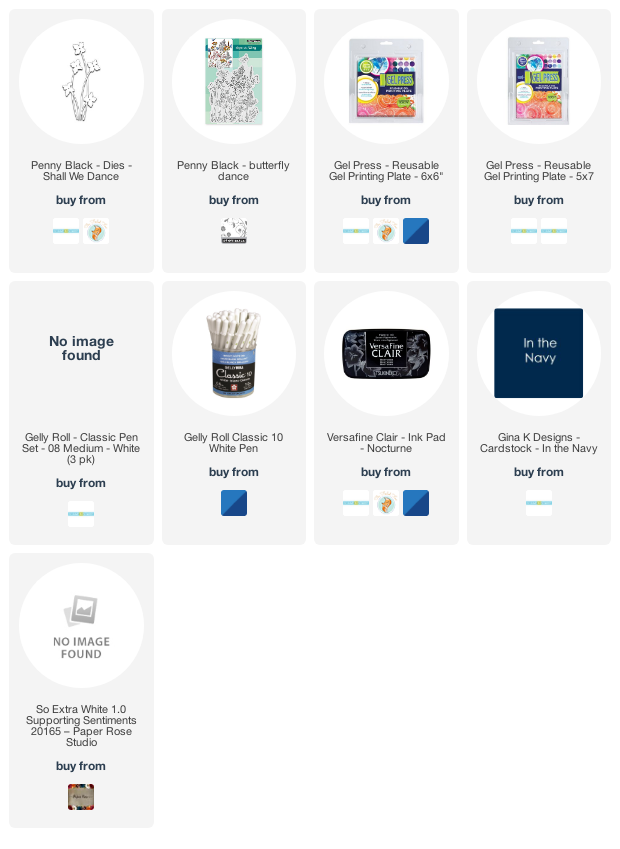 ---
Posted: June 17, 2022
Filed under: alphabet medley, Art Journal, Darkroom Door, gel press, polka dot stencil, remington lowercase alphabet
| Tags: Art Journal, Darkroom Door stamps, Darkroom Door stencils, gel press, gel printing
5 Comments
The shenanigans continue in my Art Journal Adventures workshops. Last month the theme was collage & texture and the range of pages was amazing. We all chose different papers, colours and focal images but followed a similar method to put them together.
For this spread I relied heavily on my growing collection of gel prints. The little cottage picture is from a greeting card and I used it as a starting point when settling on colours. All the papers you can see are gel prints I made except for one kraft scrap down the bottom with text stamped on it. I added gesso as well as texture using modeling paste through the Ciao Bella patchwork stencil.
During each session of the class it was definitely a treat to walk around and be inspired by the ideas coming to life on all the pages. Some participants had their own stash of gel prints to draw from, others used some of mine. It was fun to see my prints pop up on other people's pages. I loved it!
This week we are working on Tea and Coffee themed pages and next month it will be texture & movement. If you are close by and haven't tried gel printing, I'm teaching another introductory class on July 9.
The sweet cottage with sheep at the gate looks nothing like my house! I do grow morning glory but that is about the only similarity. Home is definitely where my people are which means I have two homes very far apart. Although very much at home in Canada I claim Australia as home too, how could I not, some of my favourite people are there!
Supplies
(Compensated affiliate links used when possible)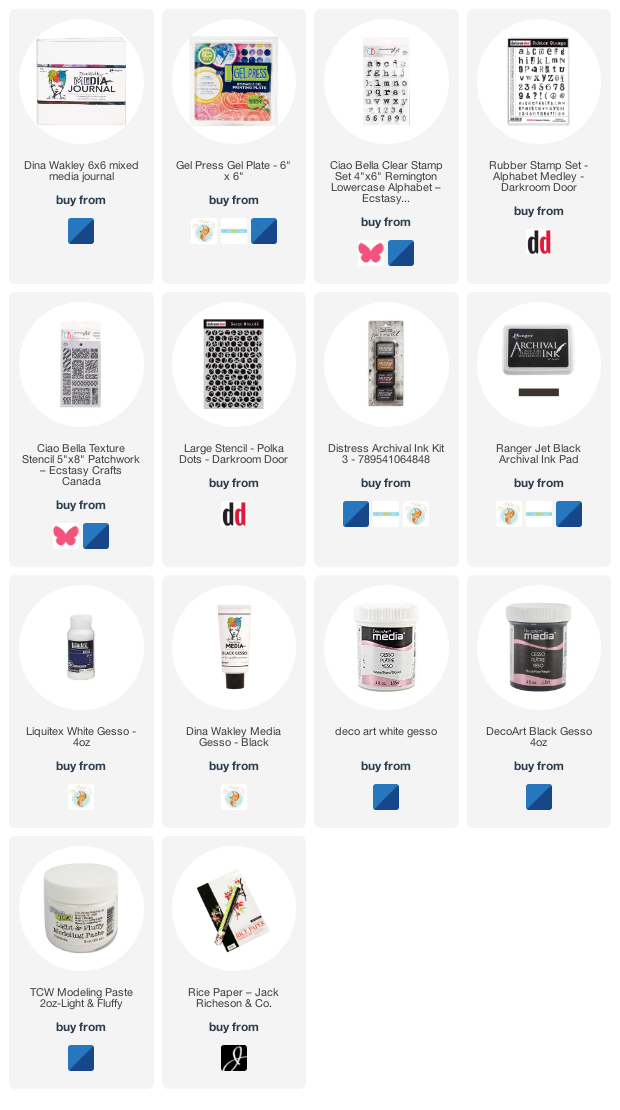 ---
Posted: May 20, 2022
Filed under: Art de Fleur vol 1, Darkroom Door, gel press, Nature Walk, tall flowers, Wildflowers Vol 2
| Tags: Darkroom Door stamps, gel press, gel printing, Ranger archival inks
7 Comments
Last week I taught a couple of gel printing classes and had a blast seeing others fall in love with the process and results. As you might imagine I have many prints now, a big box waiting to be used. I thought I would use a few scrappy patchy prints as backgrounds. Some of these prints are ghost prints where I pick up a patchy layer of paint left on the gel print after a more distinct print has been taken. I also have some patchy distressed looking prints taken from a damaged gel plate. I don't know how the surface got damaged but I still use it as a place to roll out paint before brayering on the main plate or to clean off excess paint after brayering on the main plate. The little dots you see on today's prints are from imperfections in the damaged plate.
On the print above you can see not only the specks of black paint from the plate but also the leftover paint from the border of the plate. Most gel printers love being able to pick up some of those colourful leftovers on a future print.
Both the print above and the one below were made from excess paint so there is very little defined pattern but instead some lovely specks, blends and blobs.
I chose to make cards from these prints not just because I wanted distressed backgrounds but also because it shows how even the scrappy, incomplete, messy prints can be worth saving.
The only colour on the background print above was some black. I used rustic wilderness, wild honey and frayed burlap archival inks to stamp flowers and grasses from Darkroom Door sets, nature walk and wildflowers vol 2.
The ghost print above was pulled with rice paper. When I stamped the purple flowers in versafine clair they soaked through the paper and spread to give the image a halo surrounding it. Although it was an interesting effect I switched to archival inks for the rest of my stamping as they sit of the surface and dry quickly.
I used similar colours to stamp flowers from DD sets, tall flowers and art de fleur vol 1 over the purple ghost print.
The print above was by far the busiest one I used so a bright contrasting colour seemed like a good idea. I used thistle, wild honey and faded jeans archival inks to stamp flowers from DD sets, nature walk and wildflowers vol 2. I also added some text with a stamp from the nature walk set
To attach the cards to the neenah card bases I used double sided adhesive sheets. I added some black and white paint splatter and Darkroom Door sentiments.
If you have read right to the end you are a champion. If you are a gel printer I hope you are inspired to use a few of those patchy prints you might otherwise discard. I have been using them in my art journals but it is nice to see them on cards too and it's not as if I am going to run out anytime soon!
Supplies
(Compensated affiliate links used when possible)

---
Posted: May 6, 2022
Filed under: ...is coming, Dies, gel press, Metropolitan, Penny Black
| Tags: gel press, gel printing, Penny Black creative dies
3 Comments
This little green truck card was made on request, and probably not a focal point I would have come up with myself. The end result however made me very happy and all but the kraft buildings and road sign were cut from gel prints.
I could have cut all the components from coloured cardstock but I chose instead to use gel prints and mixed the green and blue paints on the gel plate in order to match the green of the truck requested. I love the added texture a gel print gives. The sky is very textured because it was printed on my damaged gel plate. I use it mainly as a palette where I mix colours or roll off excess paint. I pull prints off it now and again during a session and the patchy blue and white print made a perfect sky. I don't have a truck die but I did some mods to a van die-cut and 'ta-da' I had a little green truck on its way to graduation!
Would this be a good time to mention there are a couple of spaces left in next Friday's gel printing workshop?
Supplies
(Compensated affiliate links used when possible)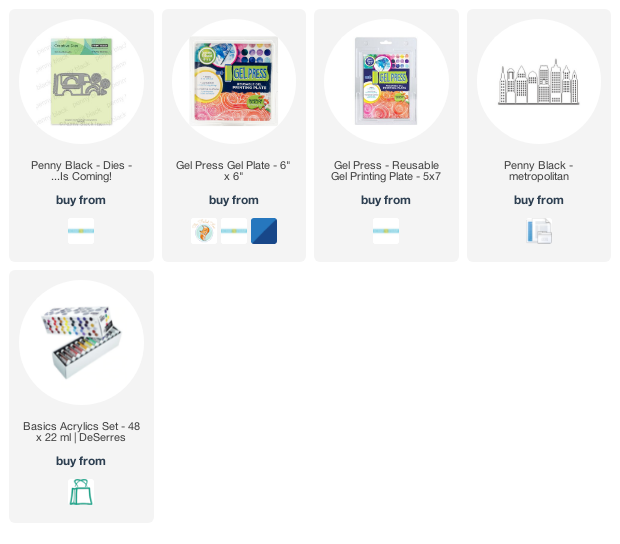 ---