Posted: March 10, 2021
Filed under: branch of love, daydream, dotlets, Penny Black, rain or shine
| Tags: brutus monroe embossing powder, distress markers, Fabriano Watercolour Paper, Penny Black stamps, Penny Black stencils, Ranger Distress inks
11 Comments
I've created with the Penny Black 'daydream' stamp before but you might not recognise it as the same stamp used on today's card. Last time I stamped the large rubber cling stamp once in blue. This time I've stamped it twice to almost fill the card front in pink and deep red. I've also added some filler foliage.
I kept the stamp in the stamp positiioner while I completed one print of the stamp then rearranged the panel and stamp to be able to stamp again in a slightly different direction to cover the lower third. I inked the stamp first with worn lipstick distress ink, added shading with an aged mahogany distress marker, stems with ground espresso and centres with black soot. I spritzed ever so lightly because I didn't want to loose much definition but I did want the inks to blend a bit. After one impression I blended a few areas with a paintbrush and stamped more aged mahogany where needed to help define the petals. Once the ink and blending was dry I coloured around the black centres with a mustard seed marker.
To add filler around the red blooms I stamped the fronds from the PB 'branches of love' set in bundled sage ink then blended over them with a paintbrush and minimal water. I also used a blending brush to blend some bundled sage circles through the PB 'dotlets' stencil. I splattered some moss green pearlescent paint then popped up an embossed sentiment to finish the card.
Thanks for dropping by today; you do brighten my day!
(Compensated affiliate links used when possible)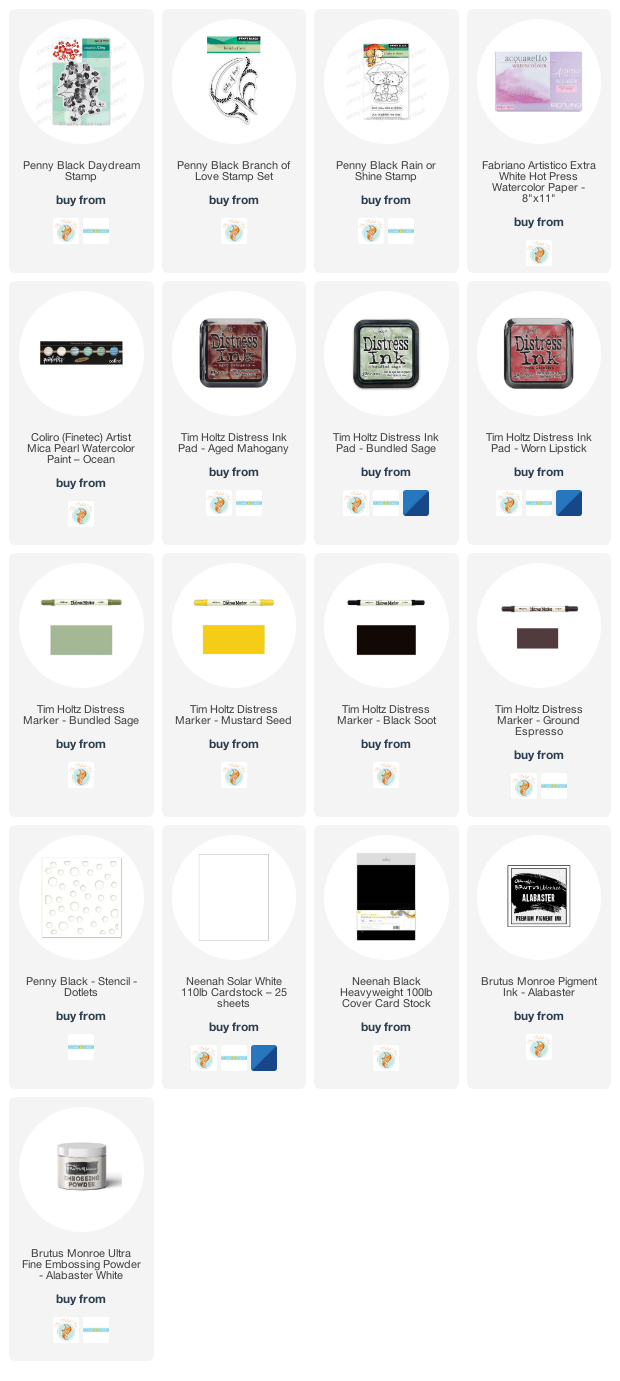 ---