Posted: January 27, 2021
Filed under: Alcohol Ink, grafix, neighbourhood border, Penny Black
| Tags: grafix, grafix craft plastic, Penny Black creative dies, Ranger Alcohol Ink
5 Comments
I teamed up with Grafix to create a couple of snowy projects on their Duralar plastic films. The card you see on the left and below was inked on white craft plastic, also know as DuraBright white. It is totally opaque and has a bit of weight to it. For the votive wrap I used Dura-Lar matte film which is lighter weight and has a frosted transparent appearance which was what I wanted so the light from a votive would shine through.
I used stream and denim alcohol inks and felt to apply the inks to the plastic films. To create the snowflake patterns I die-cut a Penny Black snowflake from felt and stuck it to the wooden back from a old stamp. You can see the whole process in the video below.
I cut the Penny Black neighborhood border from Dura-Bright white for both the votive and the card.
You can see in the video and the photo above how the colours in the votive surround look different with a light inside; I guess it would depend too whether your battery votive candle was a white one or more of a yellow glow.
I'm really enjoying working with the Dura-bright white for alcohol ink projects and will be trying more techniques on the Dura-Lar matte in the future. If you are looking for the bright white remember it also goes by the name white craft plastic. Crop A While might have some and Deserres does carry it.
I've been working on a few different alcohol ink techniques so there will be more cards to share and another video next week.
(Compensated affiliate links used when possible)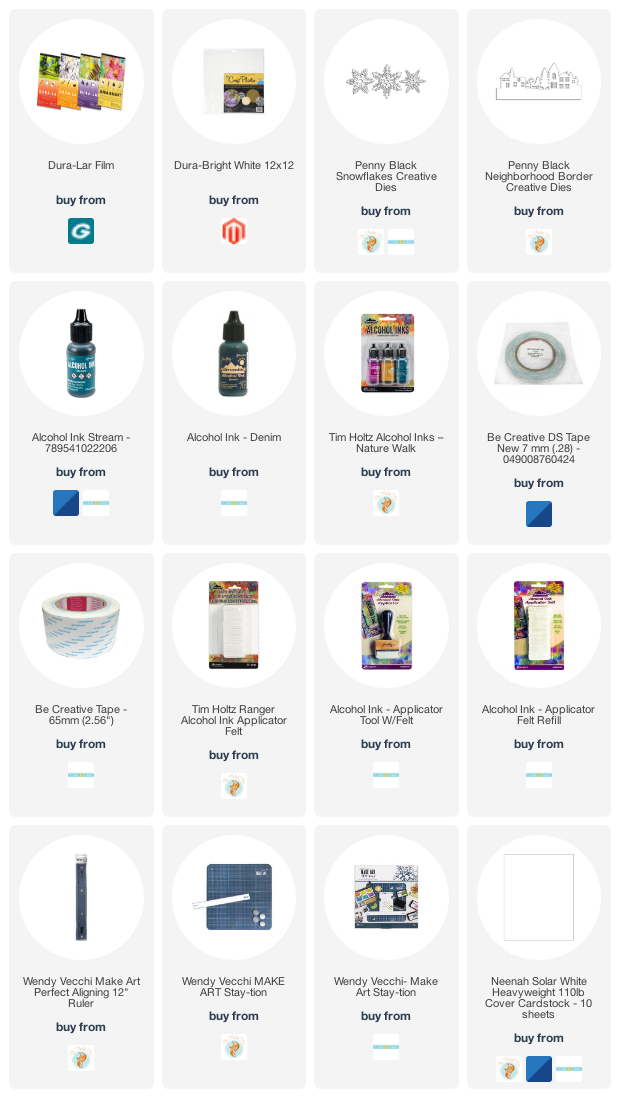 ---
Posted: December 4, 2018
Filed under: Brusho, holiday hello, neighbourhood border, winter trees
| Tags: Brusho, Penny Black creative dies
9 Comments
I have three simple cards to show you today, simple that is if you have some watercolour backgrounds sitting around as I often do. Even if you don't it would not take too long to create a large multicoloured panel with brusho, distress stains or some other watercolour medium then when its dry splatter white paint over it to look like stars or snow.
I trimmed my background panels then added a hand cut snow bank to the card above plus the deer from the Penny Black 'holiday hello' set. I know it is very minimal but I rather like the way the deer could be looking up into the vast sky.
On the second card all I added to the star filled sky was the PB 'neighborhood border' die. All the die cuts are neenah solar white cardstock. For some I used liquid glue, others I attached using stick it adhesive.
I added the shooting star when I created the watercolour sky with the same white paint.
The background sky for this final card is the last scrap of a large panel I painted very randomly with turquoise and blue brusho. I tore a strip of white cardstock to create the snow bank, die cut a tree to tuck behind it and a sleigh to sit on top. The tree is the smaller one from the PB set, 'winter trees'   and the sleigh is also from Penny Black.
I'm going to leave these without sentiments for now; they might be handy to use as thank you cards after Christmas.
Supplies
Dies: winter trees, sleigh, neighborhood border, holiday hello (PB)


Cardstock: hot pressed watercolour paper, neenah solar white


Paint: brusho, white gesso


Also: stick it adhesive, on point gule

---
Posted: November 16, 2018
Filed under: Alexandra Renke, neighbourhood border, starry night, whirl wreath
| Tags: Alexandra Renke cardstock, Penny Black creative dies, Penny Black stamps, Ranger Distress inks, Tsukineko Versafine inks
6 Comments
It's all soft and subtle on the blog today. I have two projects featuring the beautiful Alexandra Renke cardstock the Foiled Fox recently started carrying in their store. The weight of the cardstock is somewhere between a good quality printer paper and a piece of cardstock. There is definitely enough weight to die cut nicely.
I chose the elegant 'whirl wreath' by Penny Black and cut one out of 'pink dots' cardstock. I attached it around the centre circle with adhesive but left the branches unattached ( so I will be careful putting it in a envelope) The background is 'rose stripes' which matches the pink dots perfectly. I cut the bow out of a piece of cardstock from my stash and layered a few together to give it some extra weight. I blended around the edge of the striped panel with tattered rose distress ink and attached everything to a cream cardbase.
I chose to add a natural twine bow to the die cut bow then had to co-ordinate the sentiment with antique linen distress ink.
For my little neighbourhood card I use three patterns of Alexandra Renke cardstock, the rose stripes, gray stripes and medium mud watercolour. I know it is hard to see the details of the die cuts in my photo but in real life the pink striped neighbourhood is clear against two lines of gray striped trees in front of a gray mud starry sky.
I have been wanting to try a white on white layered die cut scene and I probably still will but chose to try it with these pretty papers first. The neighbourhood is layered over two layers of trees cut with the 'trees and hills' dies which are layered over a gray piece cut with the starry sky night die attached directly to a white card base.
I featured some of the subtle colours and patterns from Alexandra Renke today but I do have some bold patterns and solids to share another day.
Have a great weekend.
Supplies
Stamps: Christmas sentiments, winter days (PB)


Dies: whirl wreath, neighbourhood border, starry night die, trees & hills die set (PB)


Cardstock: Alexandra Renke medium mud watercolor, gray stripes, rose stripes & Neenah solar white, cream, pink


Inks: tattered rose, antique linen distress ink, smokey gray versafine ink


Also: hemp twine
---